Windows Live Photo Gallery is one of the most comprehensive and user-friendly of the free image-editing programs available on the internet. Once you've downloaded and installed the software on your computer, a number of options are available that you can start using straightaway.
You'll need:
a computer with an internet connection (the latter is only needed for the photo-sharing options within Windows Live Photo Gallery)
the photos you plan to edit or share saved in a folder on your computer or to an external storage device
an account with a photo-sharing website.
Below the various things that you can do with Windows Live Photo Gallery are discussed in general. See our other photography guides for more specific instructions.
Editing photos
Rotating, resizing and cropping photos are just three of the popular editing functions of Windows Live Photo Gallery. Clearly labelled buttons make these adjustments very easy to make.
To fine-tune your images further, you can also reduce the 'noise' (tiny spots that look a bit like film grain that appear on photos shot in low-light conditions), adjust the colour 'temperature' to make pictures appear warmer or cooler in tone, or even remove the colour altogether and convert your photos to black and white.
Is your image blurry? Windows Live Photo Gallery will let you increase its sharpness, as well lighten shadow areas or darken highlight areas.
All of these edit options are very easy to use and often require just one click on their respective buttons. For more in-depth explanations of them, see our guides How to edit pictures in Windows Live Photo Gallery and Windows Live Photo Gallery: key photo effects.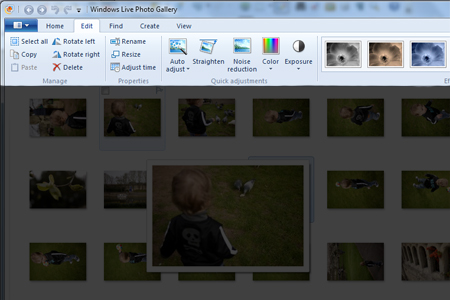 Tagging photos
A 'tag' is a label you attach to your photo to make it easier for your family and friends to find and for you to organise. There are a number of different types.
A 'Descriptive tag' consists of words like 'sunset' or 'summer'. The button for it is located in the lists in the top of the screen.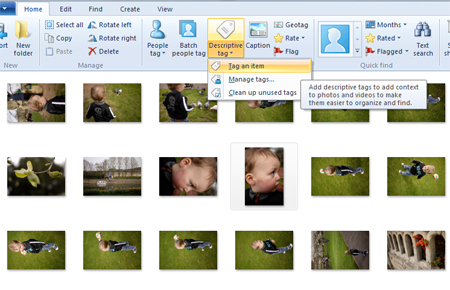 A 'People tag' will identify an individual. For example, you could apply the tag 'Emma' to a photo taken of your granddaughter's first birthday party. These tags make it easier to identify all your pictures of Emma, and later you can instruct Windows Live Photo Gallery to group all of them on one screen based on this tag.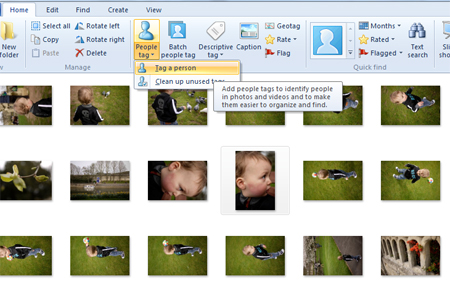 Another useful feature is the 'Batch people tag'. You'll find the button for this next to the 'Descriptive tag' button (see image above). When you click Batch people tag, Windows Live Photo Gallery will analyse all the faces in your photos and group them together according to the ones it deems to be similar. As you can see in the image below, it's remarkably accurate!
If you're happy with the group, then just click Tag as in the new screen that appears and type in the name of the person in the photos.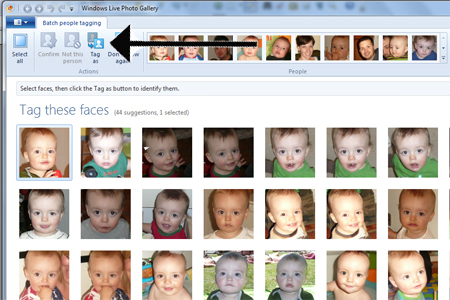 Windows Live Photo Gallery lets you tag your digital photos individually, or you can apply a tag to a group of pre-selected photos. A new addition now allows you to add  'Geotags', which specify the location in which an image was taken.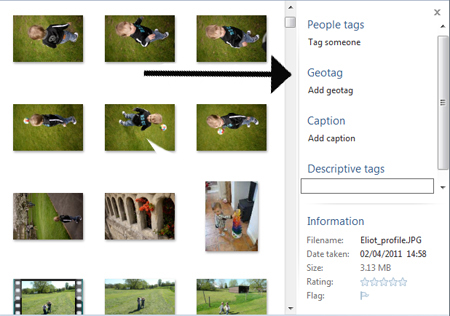 Sharing photos
One of the best features of Windows Live Photo Gallery is its ability to directly upload your pictures to photo-sharing websites like Flickr and Facebook. In this sense, Windows Live Photo Gallery really is a one-stop shop for all your photographic needs.
Once you've downloaded your pictures from your camera and finished making any edits, you can post them online in just one click for all your friends and family to enjoy.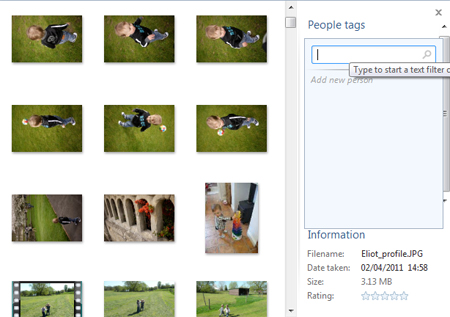 Viewing photos
Even if you don't wish to edit or share your photos with anyone else, Windows Live Photo Gallery is an easy way to view your pictures and enjoy them on your computer. The software has a slide-show function that can be fun to show at parties.
To find out in more depth how to make your own slide show, read our guide How to make a slideshow in Windows Live Photo Gallery.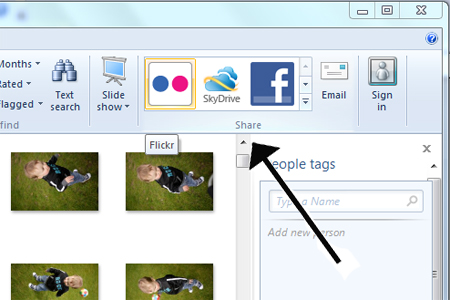 Jeff Meyer writes about camera techniques and other aspects of photography for PhotoRadar.com.