Buying in bulk at wholesale prices can make sense both for everyday essential items that you use time and time again and for supplies for special events from a small family celebration to a huge wedding party. You can save money, time and inconvenience by shopping less often, avoiding tiring shopping trips, additional spending temptations, long check-out queues and heavy bags to carry back home.
In this guide you'll learn, step-by-step, how to navigate an online wholesale distributor's site, find the items you want, and place your first order.
We're going to use Costco as an example of this kind of site. However, there are other sites that work in the same sort of way that you can also use.
You'll need:
a computer with an internet connection
a debit or credit card for payment.
This guide is based on a PC running Windows 7 and Internet Explorer 8, but the steps in this process are very similar for Mac users or if you're using a different browser.
Follow these step-by-step instructions to buy wholesale goods online
Step 1: Go to Costco UK, and before you begin your wholesale shopping experience, please read the '3 WAYS TO SHOP' message on the right hand side that explains how the site will personalise your experience and how to get the best prices: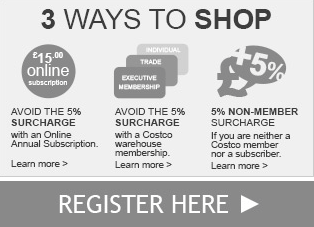 Step 2: Along the top menu, names similar to shopping aisles, e.g.: 'Technology & Cameras', 'Furniture & Home', 'Toys, Baby & Seasonal'. 
If you click on these names you can browse the site, much like wandering around, looking at the contents of different aisles of a store.
We're going to click on Food, Wine & Household. 

Step 3: Like many supermarket websites, there are highlighted products at the top of the screen and you can go into a specific 'sub-category' to find more products.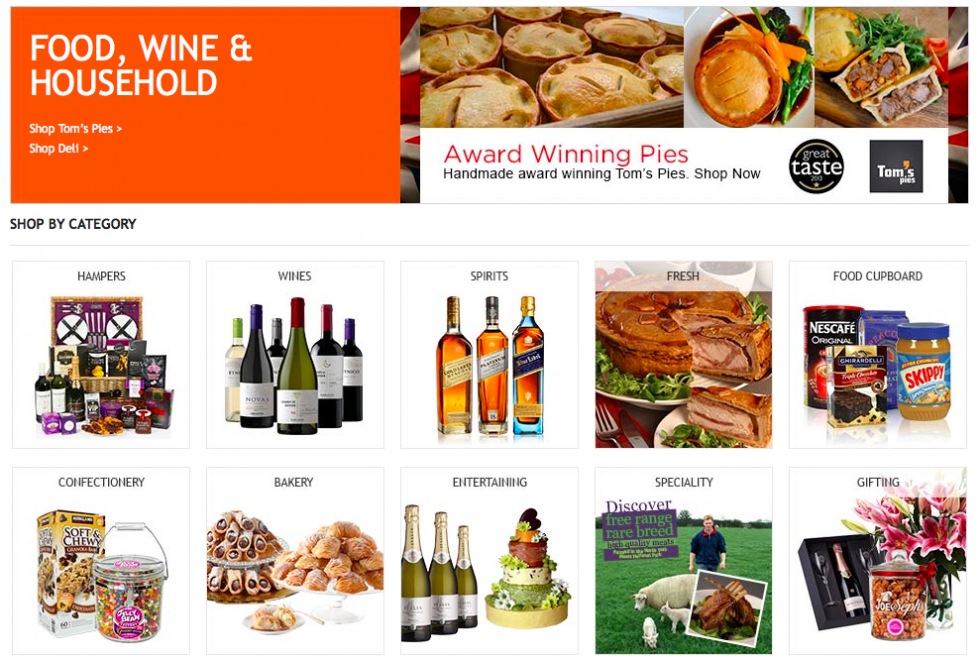 Step 4: You can also search for specific products using the search bar along the top.

We're going to search for some bargain cheese for making sandwiches at a Spring Online event. Type in 'cheese' and hit Enter or click the search button. 
Step 5: A page of results will come up. You can filter results by 'Price: High - Low', 'Price: Low - High', 'Relevance', 'Name A-Z'. We're going to choose Price: Low - High.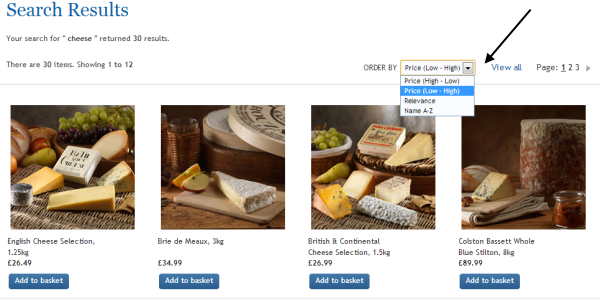 Step 6: Click on the picture or description of an item to be taken to the details of that item.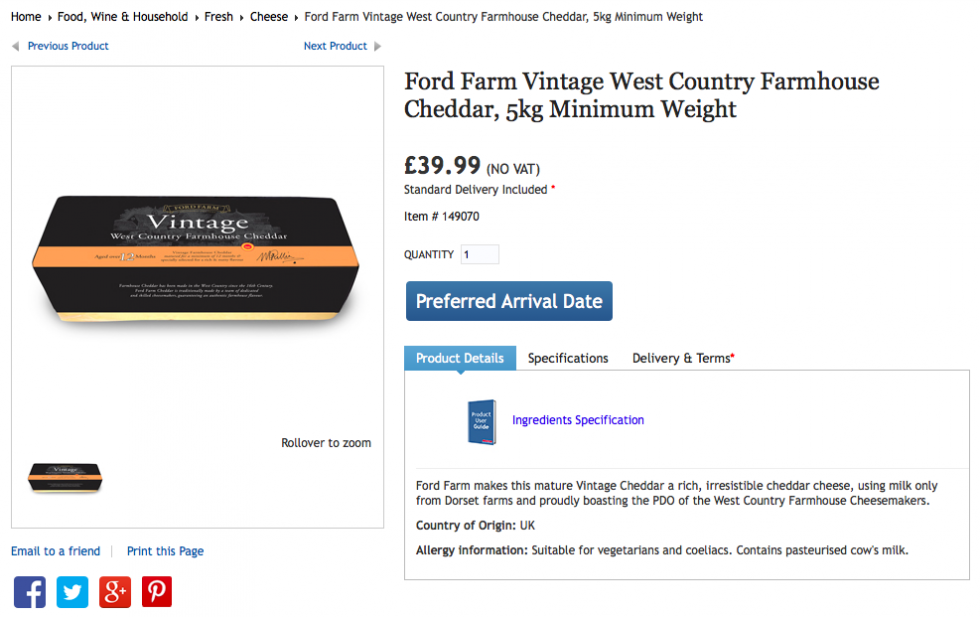 Step 7: If you like what you see, simply click on Preferred Arrival Date. Select your preferred date and then click Add to basket. Doing this will save the details of this item until you're ready to go to the checkout, just as if you'd put a product into your shopping trolley. The default quantity is set to one pack; if you want more of any item, simply change the quantity of items until you get the number you need. 
Step 8: Continue shopping until you've all the items you need. 
Step 9: At any time, you can hover over CHECKOUT for an overview of your shopping.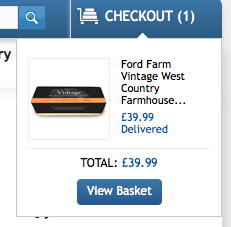 To make changes, click View Basket and you will be shown your items in more detail. Here you can amend the number of items and remove from your 'cart'. You will also see the breakdown of prices, but remember that non-members will have additional fees added when you check out. 
You can also enter any promotional codes. After you've viewed your full shopping basket, you can continue shopping or checkout.

Step 10: When you're ready, click the Proceed to Secure Checkout button. This will take you to a registration or login screen. 
Step 11: As you'll be new to their website, you'll be asked to enter your name, contact details, email address and a password. Be very careful to choose a safe password, which has to be entered twice to check for accuracy. (You must fill in all this information, but don't worry, if you miss an item you'll be prompted and not allowed to go further until you've completed the page.)
You can also tick to sign up to a newsletter and special offers if you wish. When you've done this, click on Register to move on.
Step 12: The 'Your Details & Delivery' page asks for your name, billing address, delivery address (if different), and contact phone number. You must fill in an item if it's marked with a red asterisk (*), but again you'll be prompted if you miss any information. 
You then need to choose to either pay £15 for an annual subscription, which will save you money if you intend to use the website again for future purchases. Or you can add a 5% member surcharge. When you're ready, scroll to the order summary at the bottom and click Next.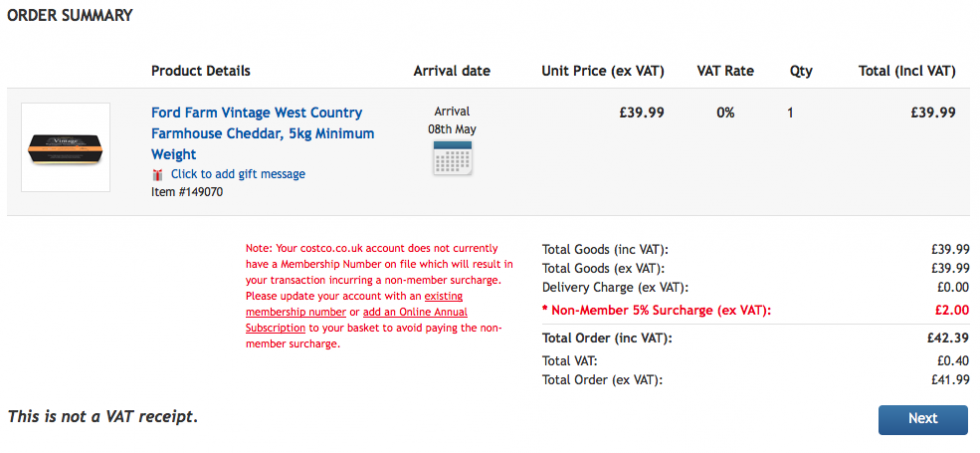 Step 13: At the Payment screen, you now need to enter your credit or debit card details.

Click Place Order Now if you're happy to make the payment.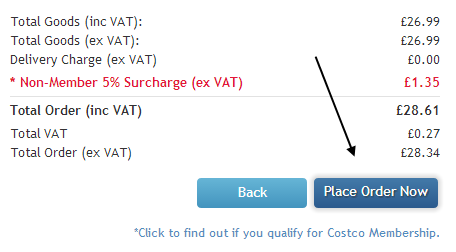 At this point, if you've signed up for 3-D Secure – an added layer of security for online credit and debit card transactions – such as Visa's 'Verified by Visa' and MasterCard's 'SecureCode', you might be asked for another password. Enter this as required.
Your order will start to be processed when you've entered your payment information successfully and you should see a confirmation message on screen. You should also receive an order confirmation email.
Jacklyn Williams is a Digital Unite tutor based in the South West.