eBay is a popular shopping website where individuals and businesses can buy and sell new and second-hand items.
There are two main ways to buy on eBay: either via an auction where you place bids and the highest bidder wins or using "buy it now" where a price has been set and you buy in the same way that you would at any online retailer.
In this guide, we're going to show you how to buy something on eBay, either by bidding in an online auction or buying at a fixed price.
You'll need:
a computer with an internet connection
a credit or debit card.
Follow these step-by-step instructions on how to buy on eBay
Bidding in an online auction
Step 1: Go to the eBay website
Step 2: You can buy or sell on eBay only if you're registered, so if you're new to eBay, click register (above the eBay logo).
(If you've already registered, click Sign in, enter your user ID and password and go straight to Step 5 in this guide.)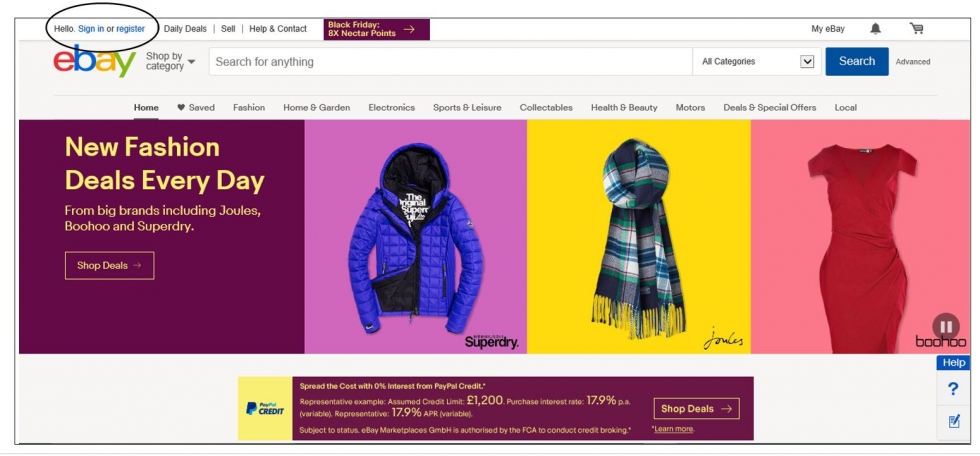 Step 3: To register, you'll need to fill in your name and email address and select a password. Once all that's complete, click the blue Register button at the bottom of the screen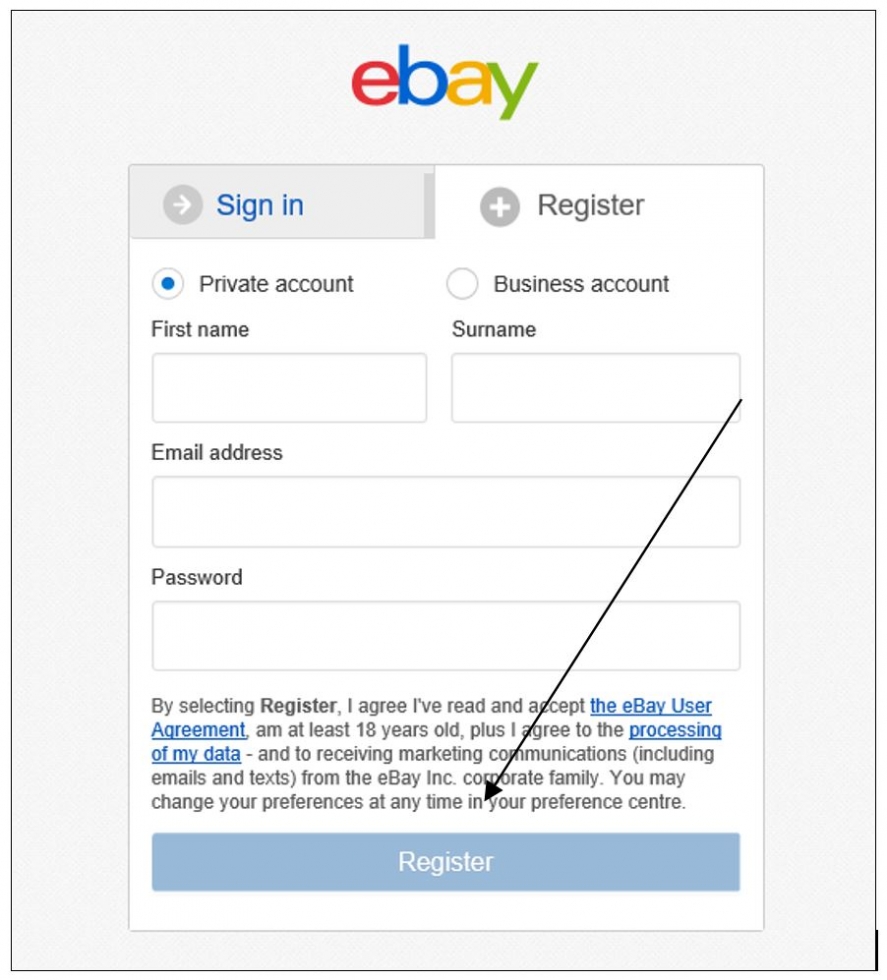 Step 4:  A new window will open, taking you back to eBay. You can search for items to buy by typing in the search bar and clicking on Search. If you know what you're looking for, be specific – for example, if you type iPad you will get a lot more results than if you type "iPad mini". 

Step 5: You'll now be shown a list of items that match your search criteria.
You can choose to display items in a variety of ways including filtering them as auction or buy it now.

On auction items next to the image and name is information telling you the number of existing bids and the highest bid. In the final column the amount of time left before the auction ends or the product is removed for instance "6d 20h" means that there are six days and 20 hours left to bid for ths item.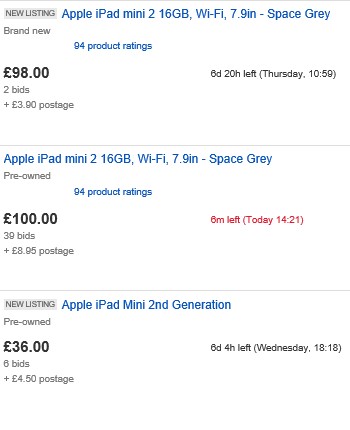 The listing will also tell you whether the item is new or pre-owned. Postage rates whether it is free postage and packing or there is a cost should also be listed here.
On a Buy it Now item you will get similar information and the cost you are expected to pay (as you would with any other online retailer). If there are several product variations within the range then there will be a price range given depending on which option you choose.
There is often free postage on buy it now items.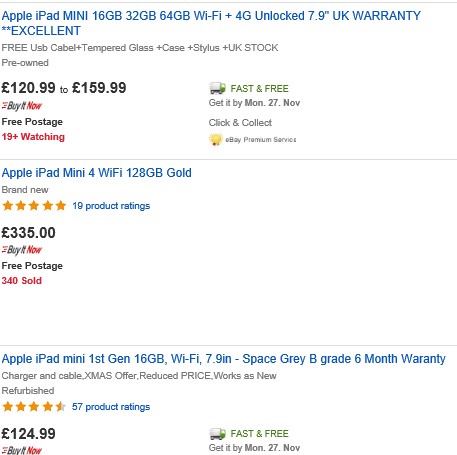 Step 6: Click on the item's image or name to get more details and to place a bid or to 'Buy It Now'. Before bidding, check that the seller is reliable by clicking on their user ID underneath 'Seller information'. This will show you the comments and ratings of any previous customers.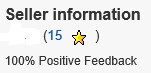 Step 7: To place a bid, enter the maximum amount you're prepared to pay in the box provided, and click the blue Submit bid button. So if the current bid is £22, but you'd be happy to pay up to £35, type in '£35′. The current bid will only go up to £23, assuming that no one else has placed a bid higher than £22. eBay will bid automatically for you against other buyers until your maximum bid is reached.
Avoid placing bids with obvious prices like '£10′, and try obscure bids such as '£11.52′ to give you a better chance of winning the auction by a few pence.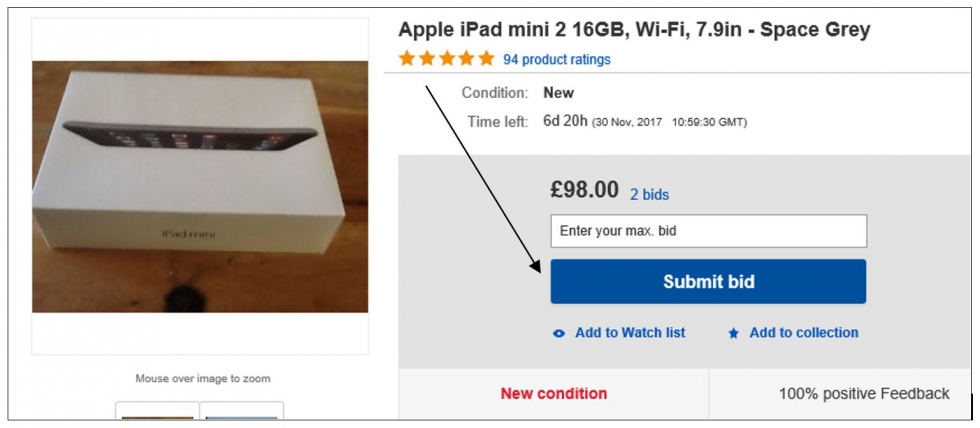 Step 8: When you're asked to confirm your bid, click Confirm Bid. A new page will open explaining that either you're the highest bidder or that you've been outbid, in which case you can enter a higher amount and click Bid Again.
If this is your first time using eBay then you will be asked to confirm your address details and to provide a mobile phone number for verification purposes. Once you have completed this click on Continue
A lot of bidding happens in the last few minutes or even seconds of an auction, so it's advisable to stay online and refresh the page to check that you haven't been outbid. You'll be notified by email if you're the highest bidder at the end of the auction. You'll be expected to pay before you receive the item (see Step 3 below).
Buying at a fixed price
Step 1: There's no need to bid if you're happy to pay a 'Buy It Now' price. Simply select the item from the listings page and click the blue Buy It Now button.
Step 2: A new page will open asking you to review your purchase. The total you now see will include any postage and packaging costs. If you're happy with the price, click the blue Continue button.
If this is your first time using eBay then you will be asked to confirm your address details and to provide a mobile phone number for verification purposes. Once you have completed this click on Continue
Step 3: You'll now be asked to type in your payment details. eBay use PayPal as an intermediary – you pay PayPal and PayPal passes on the payment, to prevent the seller seeing your bank details. If you've already got a PayPal account, you can just click Log in to make the payment. For more information, see our guide How to use PayPal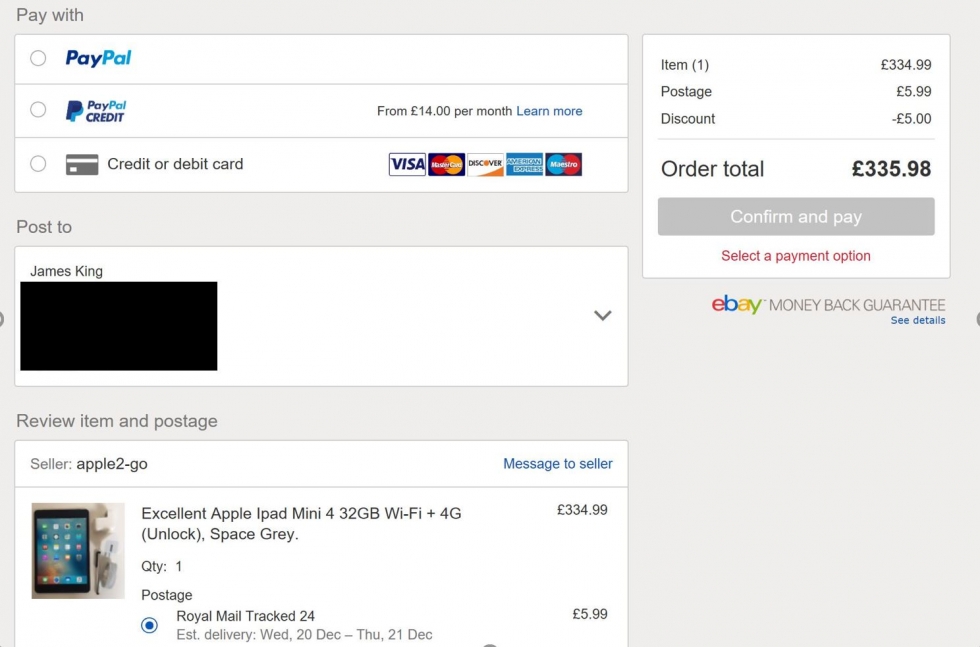 Many sellers now only accept payment from PayPal as this ensures that goods are paid for before being despatched and that also means that they can be sent immediately rather than waiting for funds to clear or cheques to arrive in the post.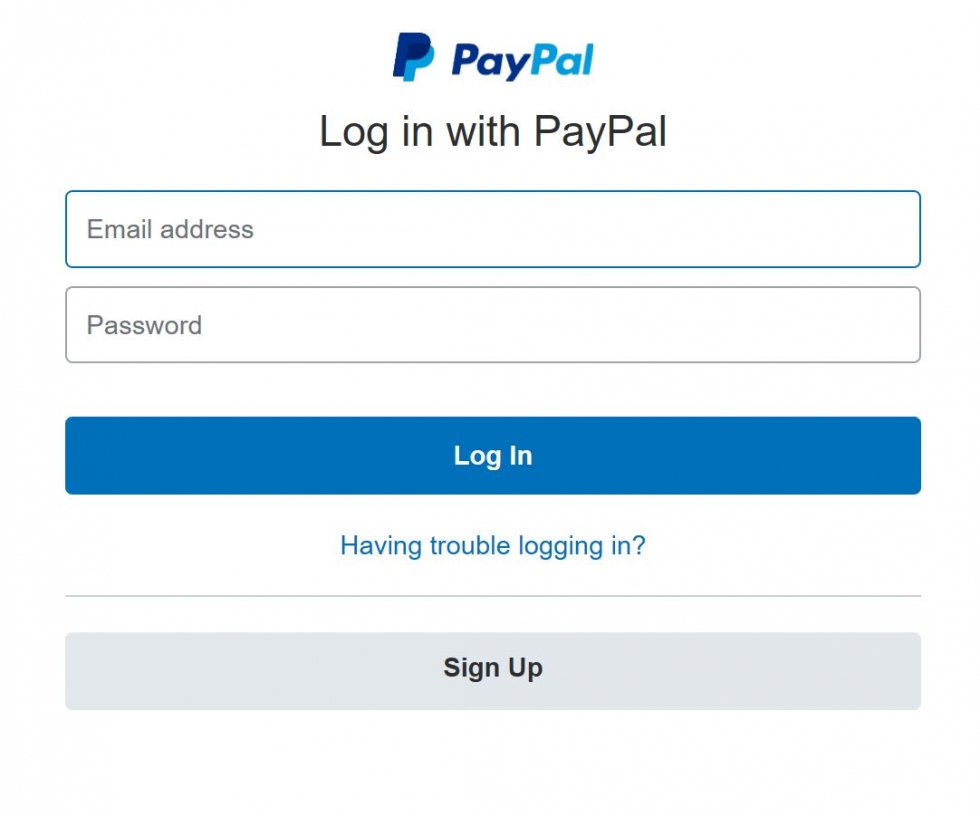 Alternatively, you can pay using credit or debit card by selecting that option.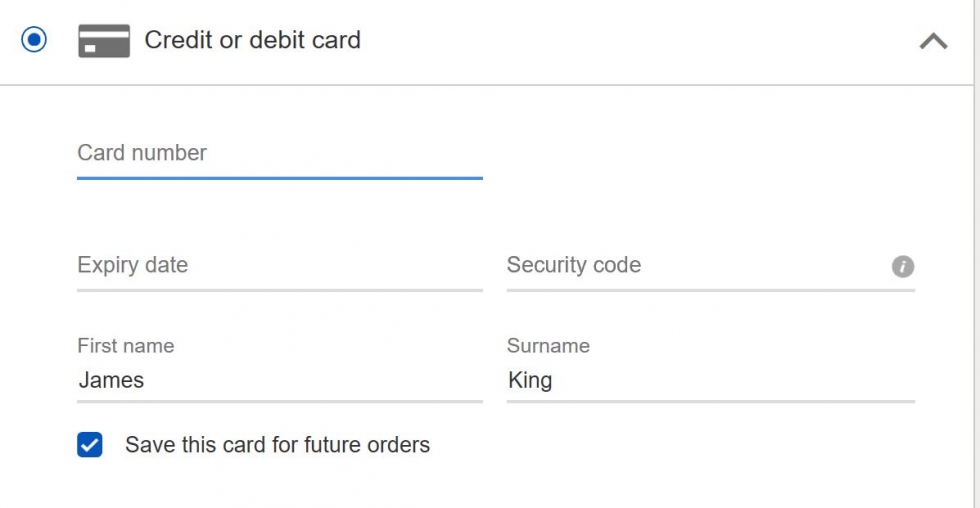 Step 4: A new page will open asking you to Confirm payment one more time.  Click this and the transaction is complete. The seller will be sent an email once payment is confirmed, and they will then send you the item via the delivery method specified. If it doesn't arrive, eBay has a customer services department to help. Most items bought with PayPal are covered by 'eBay Buyer Protection', so you should get your money back.
We hope this eBay guide has helped you to understand how to make a bid for something online and also how to use eBay's Buy it Now feature. We have lots of other shopping online guides available in the Next Steps links below. We recommend our guide on How to find online bargains.