Best ... free medical apps
Although your doctor should always be your first port of call if you have any health concerns, there is a range of handy health checks and useful guides available to smartphone and tablet users.
BMI Healthcare reviews the most useful health apps available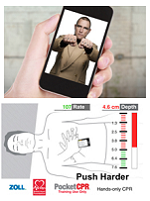 British Heart Foundation PocketCPR 
This app is available for free on android and iPhones. It provides feedback and visual and audio instructions on how to learn and practice hands-only cardiopulmonary resuscitation (CPR). Hardware in the phone measures the user's compressions and indicates if changes need to be made. 
Available for: iPhone, iPad, iPhone Touch and Android. 
Diabetes UK Tracker 
This free app, available on iPhones records blood glucose, blood-fat and blood pressure levels, calories, carbohydrates, HbA1c, insulin, ketones, and weight. The results can be shown in graphs over days and weeks and reminders can be added. This tool can aid the recognition of patterns and be shared with a GP or medical professional when needed.
Available for: iPhone, iPad or iPod Touch 
Dosecast
This free app acts as a reminder to take medications on time. It doesn't matter what time zone the patient is in as the app adjusts as needed to travel. Reminders can be set as needed to hourly, daily, weekly or longer. It can also advise on avoiding overdoses by setting the app to record a maximum number of doses per 24 hours. Detailed records can also be kept of what medication is being given in what dose as what time, which might assist a medical professional in an emergency.
Available for: iPhone, iPad, iPod Touch and Android
Instant Heart Rate 
This free app measures heart rate and pulse. It uses the phone's camera to detect the pulse in a user's fingertip and beeps in time with the pulse, generating a chart (an EKG-like graph) shows every heart beat. Reminders can be set to record information on a regular basis and can be used to track the heart rate at rest, from standing and pre/post exercise.
Available for: iPhone, iPad, iPod Touch and Android
WebMD 
This free app provides information that can guide a user in making decisions about personal health. The symptom checker is useful in identifying potential conditions or health issues. This is supported by medically-reviewed information about conditions and a database on drugs, supplements, and vitamins, with details about usage, side effects, warnings, etc. 
Available for: iPhone, iPad, iPod Touch and Android