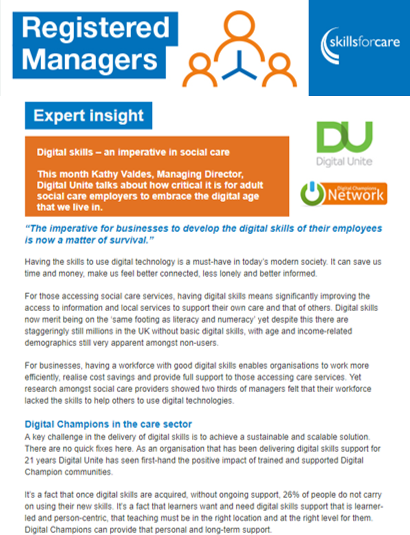 This month, Digital Unite's Kathy Valdes was invited by Skills for Care to provide her Expert Insight on how digital skills are an imperative in social care:
"The imperative for businesses to develop the digital skills of their employees is now a matter of survival"
Having the skills to use digital technology is a must-have in today's modern society. It can save us time and money, make us feel better connected, less lonely and better informed.
For those accessing social care services having digital skills means significantly improving the access to information and local services to support their own care and that of others. Digital skills now merit being on the 'same footing as literacy and numeracy' yet despite this there are staggeringly still millions in the UK without basic digital skills, with age and income related demographics still very apparent amongst non-users.
For businesses, having a workforce with good digital skills enables organisation to work more efficiently, realise cost savings and provide full support to those accessing care services. Yet research amongst social care providers showed two thirds of managers felt that their workforce lacked the skills to help others to use digital technologies
Digital Champions in the care sector
A key challenge in the delivery of digital skills is to achieve a sustainable and scalable solution. There are no quick fixes here. As an organisation that has been delivering digital skills support for 21 years Digital Unite has seen first-hand the positive impact of trained and supported Digital Champion communities.
It's a fact that once digital skills are acquired, without ongoing support, 26% of people do not carry on using their new skills. It's a fact that learners want and need digital skills support that is learner-led and person centric, that teaching must be in the right location and at the right level for them. Digital Champions can provide that personal and long term support.
So what exactly is a Digital Champion?
Put simply a Digital Champion is someone who helps others to understand the benefits of being online and can spend some time showing them how. Digital Champions do a range of simple things that can make a big difference to people who can't or don't use the internet, such as using web browsers or explaining computer terms and internet jargon
Digital Champions provide a friendly and accessible point of contact for those who need support with understanding, using and enjoying digital technology. An employee who becomes a Digital Champion at work can help colleagues to become Digital Champions themselves and create a continuous cycle of learning and peer-support.
New opportunity to train Digital Champions in care organisations
A couple of years ago Skills for Care joined our Digital Champions Network (DCN) in a pilot initiative. The aim was to help improve the digital skills of the adult social care workforce and enable employers to maximise the confidence and competence of their staff in using digital technology.  17 different care providers of varying size signed up with over 30 Digital Champions undertaking the Network's training and the scheme had an immensely positive effect on all those involved. 80% of the Digital Champions said they saw an increase in the digital capabilities of learners they worked with.
Now thanks to a significant Lottery grant as part of the national One Digital programme, Digital Unite and Skills for Care are delighted to be able to offer Registered Managers free membership of the Digital Champions Network. This means care organisations can access the Network's comprehensive and unrivalled programme of training and support and train up to 10 staff members as Digital Champions. We look forward to helping them start their own digital skills revolution.
To find out more about the Digital Champions Network supporting adult social care visit our website.