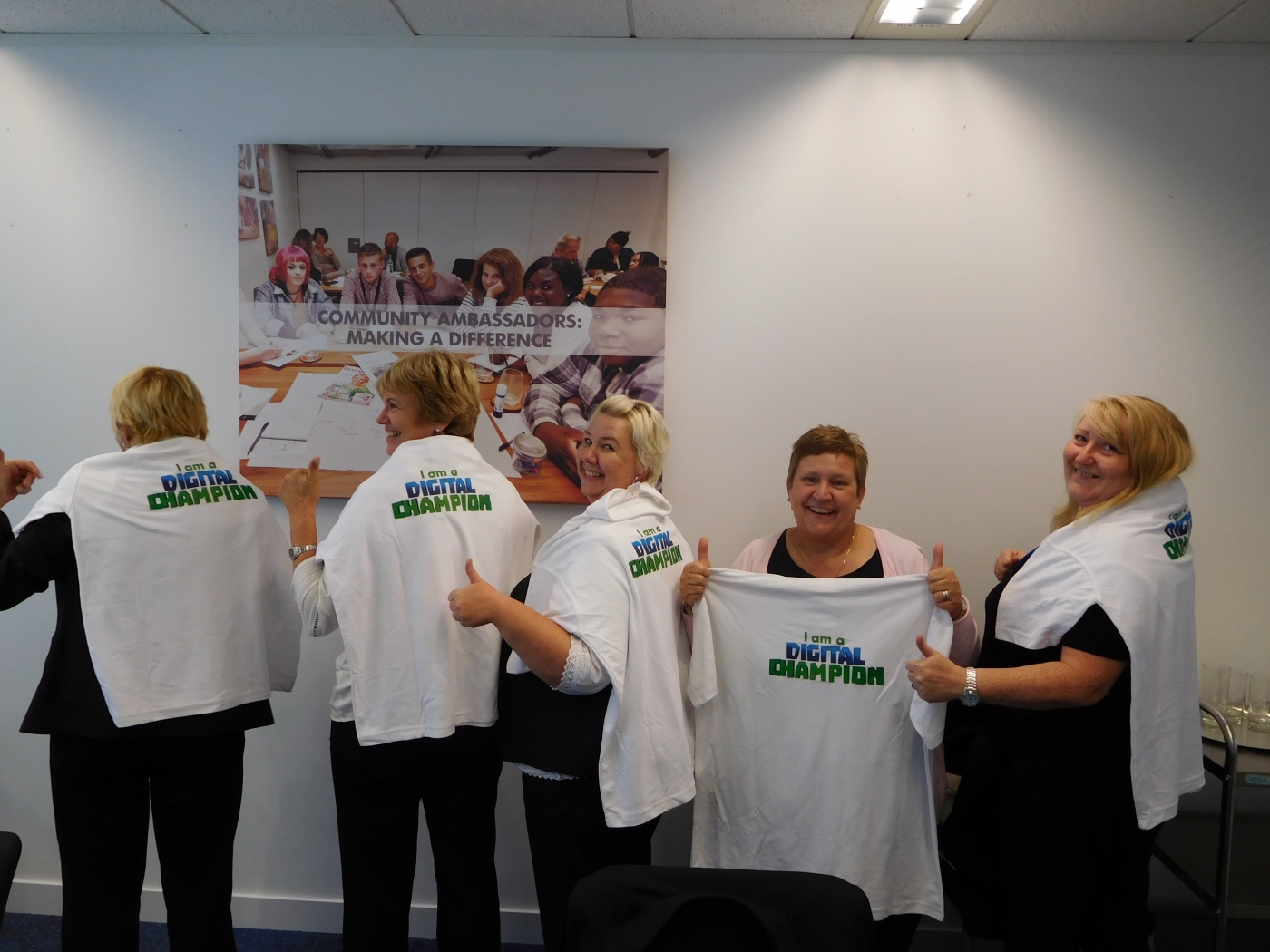 Digital skills provider, Digital Unite, has been successfully awarded a new three-year contract by Clarion Futures, the charitable foundation of Clarion Housing Group. The contract extension means that Digital Unite will continue to provide the Digital Champion service to Clarion Housing residents.
The new contract follows Digital Unite's focused work with the Clarion Futures Digital Inclusion team over the past five years to develop a thriving Digital Champion programme. In the last 12 months alone over 230 trained Digital Champions have helped more than 1,100 people across the UK.
Phil McGarry is a Clarion Digital Champion. He joined Clarion's Network in February 2018 and has been helping residents with digital skills at Maxwell Park Community Centre in Borehamwood. As well as helping people in his community being a Digital Champion helped Phil back into work because of his training and new-found confidence.
Digital Unite's support comprises its Digital Champions Network (DCN) which provides a strong central foundation for the programme for both Digital Champions and Clarion's Digital Inclusion team. 97% of Clarion Digital Champions said they would recommend the Network's training and the its project management tools have been customised to meet the specific needs of the project.
Alongside the DCN, Digital Unite's Digital Champion Co-ordinators provide mentor support and work closely with Clarion Futures Digital Inclusion Officers to deliver the programme.
The next three years will see Digital Unite supporting the continuing growth of the Clarion Futures Network and extending the reach of the project. This will include identifying and supporting new Digital Champion communities, enhancing the online learning experience and developing the role of 'Super Champions' who can provide valuable peer to peer support for existing and new Champions.
Stephanie Noyce, Head of Money and Digital at Clarion Futures said:
"We are very proud of our Digital Champions' Network and the difference it is making in our communities. It is an integral part of our commitment to transform thousands of lives for the better every year. Digital Unite's high quality of service and structured delivery approach provides a strong framework for our regional digital inclusion activities. We are pleased to be continuing working together to extend our first-class Digital Champion Network even further."
Kathy Valdes, Managing Director at Digital Unite said:
"We are delighted to be continuing our long-standing working relationship with Clarion Futures and their committed Digital Inclusion team and privileged to work with their incredible Digital Champions. In their drive for effective social, digital and financial inclusion Clarion Futures has been a pioneer in using Digital Champions to embed sustainable digital participation. The new contract includes exciting new elements for their Digital Champion model and we're looking forward to bringing those ideas to life, through both our online learning platform and on-the-ground support."
Join our Digital Champions Network
To find out more about our Digital Champion support services get in touch with us today!