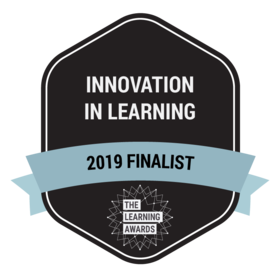 Digital Unite has been shortlisted as a finalist in the Innovation in Learning category for the 2019 Learning Awards  
Organised by the Learning and Performance Institute (LPI) the annual awards for the learning sector celebrate outstanding achievement, best practice and excellence in corporate learning and performance.
Being shortlisted amongst hundreds of entries from around the globe is a huge endorsement of the Digital Champions Network (DCN) as an innovative and pioneering learning solution. With its multi-levelled approach the platform supports organisations (public, charitable/third or private sector) to realise digital transformation through peer learning models. 
Digital Champions help others to understand the benefits of being online and spend time showing them how. These staff and volunteers are already interacting with offliners but need training and tools to deliver meaningful digital skills support.
The DCN is an open source site that trains, supports and resources Digital Champions to cascade learning within their organisations and to service users. In the last 12 months a significant upgrade of the Network has successfully engaged hundreds of Champions and is helping to deliver organisational capability across the UK.
Emma Weston, Chief Executive at Digital Unite said
"We are hugely proud of our Digital Champions Network and of the journey we've been on to keep extending it and keep re-visioning its future. Over the past 12 months we've evolved the Network and worked to improve the quality of the Digital Champions training and learning as well as the project management support. Being named as a finalist alongside some leading names in the e-learning and commercial sectors is testament to the Network's impact and achievements to date."
Join our Network!
Get in touch today to find out how you can be part of our Digital Champions Network and benefit from discounted membership as part of the Lottery funded One Digital programme.