Five new courses to help Digital Champions support those who face accessibility barriers when using digital technology are now available on the Digital Champions Network (DCN).
Helping someone with an accessibility need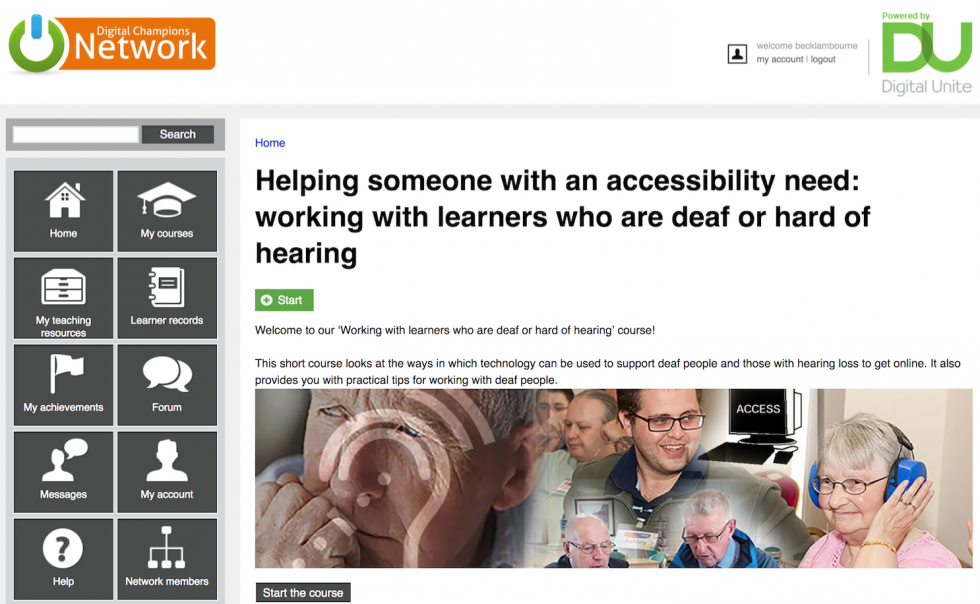 The suite of five courses, entitled Helping someone with an accessibility need have been developed in partnership with accessibility experts, AbilityNet. They show Digital Champions how to sensitively recognise an accessibility need with a learner and then identify appropriate strategies and tools for helping them overcome their specific barrier. 
· Course 1 - Identifying accessibility needs
· Course 2 - Working with learners with a physical disability or dexterity issue
· Course 3 - Working with learners who are deaf or hard of hearing.
· Course 4 - Working with people with learning difficulties and/or disabilities
· Course 5 - Working with people with memory loss
Flexible and verified training
The courses provide the perfect accompaniment to the Network's existing accessibility course Visual impairment and technology which gives an overview of some of the main ways technology can be adapted to help someone with a visual impairment. Each course comes complete with its own Digital Badge which confirms the skills gained as part of the national Open Badges approach to professional verification.
With lack of time cited as one of the key barriers by Digital Champions to not completing more training, the bite-sized courses take around five minutes to complete and can be studied independently of each other and at a time and place that suits.
Supporting thousands of Digital Champions
The DCN is Digital Unite's unique and comprehensive training and support platform for Digital Champions. It provides a range of 19 essential e-learning courses that are designed to meet the needs of Champions working in different settings and with a wide range of learners. The Network also has a moderated peer-to-peer forum, hundreds of teaching resources and data tracking mechanics for programme evaluation.
To date the DCN has successfully trained thousands of Digital Champions across the UK from more than 30 member organisations.
If you would like to know about joining the Digital Champions Network get in touch today!