Article by Kathy Valdes, Managing Director, Digital Unite
As featured in Charity Digital News on Wednesday 9 June 2018.
Digital technology is ever-evolving and skills programmes should be too
Doreen, pictured, is 90 years old. Her eyesight has deteriorated due to macular degeneration and has reached the point where she can't read. With support from a local volunteer Doreen started looking at Google Assist. This meant that instead of reading the text Doreen was able to listen to the messages from texts and Whatsapp and reply to them using her voice.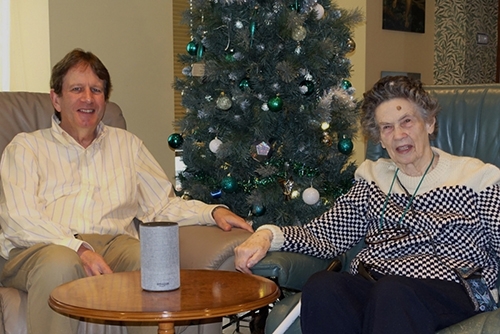 From there Doreen started using Echo Dot so she could listen to audible and kindle books, music and radio stations. It tells her when her medical appointments are due and she makes her shopping lists by speaking what she needs to buy. She can continue to enjoy daily activities enhanced by technology without using a keyboard or touchscreen. By her own admission this smart speaker technology has quite simply changed Doreen's life.
As Doreen's story shows technology continues to evolve. It will never be 'done' and as such the way we engage people with it should evolve too.
It is well documented that around 11m people in the UK have low or no basic digital skills. The challenges of digital inclusion are particularly stark among those on very low incomes and those living with disabilities.
Many of these people are connected to, or have some sort of interface with, a wide range of charities and third sector organisations, all busy doing their day jobs of welfare, advice and support.
As technology changes so does the skillset to use it 
These charities can play an important role in the way people are engaged and supported to get, and sustain, better digital skills. As the beneficiary is already engaged with the charity about something that is of concern or of importance to them, there is a golden opportunity to add digital skills support into it. Training and supporting volunteers and frontline staff to recognise that opportunity can make it even more impactful.
But if we are helping people to get the most out of digital for their own benefit, we need to also embrace the way technology has changed, is changing. As it does, the skill sets to use it evolves too.
A great example is the move from clunky fixed desk top machinery to slick mobile devices. Without the need to understand operating systems and supporting software, tablets and smartphones have, in recent years, helped to break down barriers amongst those previously hard to engage.
One member of our Digital Champions Network, Digital Communities Wales, recently shared examples of how local health and social care organisations were using activity trackers to help people learn more digital skills while improving their health.
Google Earth has been revolutionary in engaging people with technology-fuelled trips down memory lane and playing old-favourites from Spotify and the like has been used to great effect to aid the respite of dementia sufferers.
Once people have been given some basic digital confidence and awareness based around their own needs and interests, the chances are that, like being on a moving walkway, they will be carried along as the technology evolves.
As technology becomes more accessible and smarter, those not on the walkway are at risk of simply moving further into the distance yet the opportunity to engage people with digital in a way that suits them and their daily lives has never been greater.
Join our Digital Champions Network
Our Digital Champions Network trains and supports staff and volunteers to pass on their digital skills to others. Find out more about the Lottery funded opportunities to become a member here.