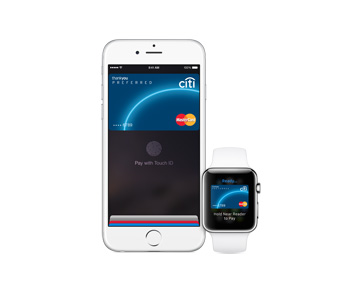 Apple Pay is a service that allows you to make payments using Apple devices such as the iPhone 6, Apple Watch and later models of iPads. 
Apple Pay is an example of a 'digital wallet service', which uses an app on a smartphone or device to make payments instead of using a chip and pin credit or debit card.
To use Apple Pay, details of a valid credit or debit card needs to be added to the app and Touch ID (fingerprint confirmation) must be set up on the device. Where Apple Pay is accepted in shops or restaurants, users simply hold their phone or device near to the contactless reader and press their finger or thumb on the Touch ID to confirm the payment. 
Key features and benefits of Apple Pa
Apple Pay users make payments using the iPhone 6, iPhone 6 Plus, Apple Watch-compatible devices (iPhone 5 and later models), iPad Air 2, and iPad mini 3
To use Apple Pay on an Apple Watch, users double-click the side button and hold the display of Apple Watch up to the contactless reader
The device being used beeps when payment is confirmed
On iPhone 6, iPad Air 2, and iPad mini 3, you can use Apple Pay to pay within shopping apps
You can add several cards to Apple Pay and choose which one is the default
You can select which card you wish to pay with each time you use Apple Pay.