Microsoft Account is the new name for what used to be called a Windows Live ID. If you are using Windows 8, you will find that you need one of these to install or update apps from the Windows Store. You will also need one if you want to use Skype with Windows 8.
A Microsoft Account can also be used to sign in to your accounts on any computer running Windows 8.
If you wish, your existing email address can be used as your Microsoft Account. 
Follow these step-by-step instructions to get a Microsoft Account
Step 1: Open your web browser and type https://signup.live.com into the Address Bar. 
Step 2: Complete the boxes with your name, birthdate and gender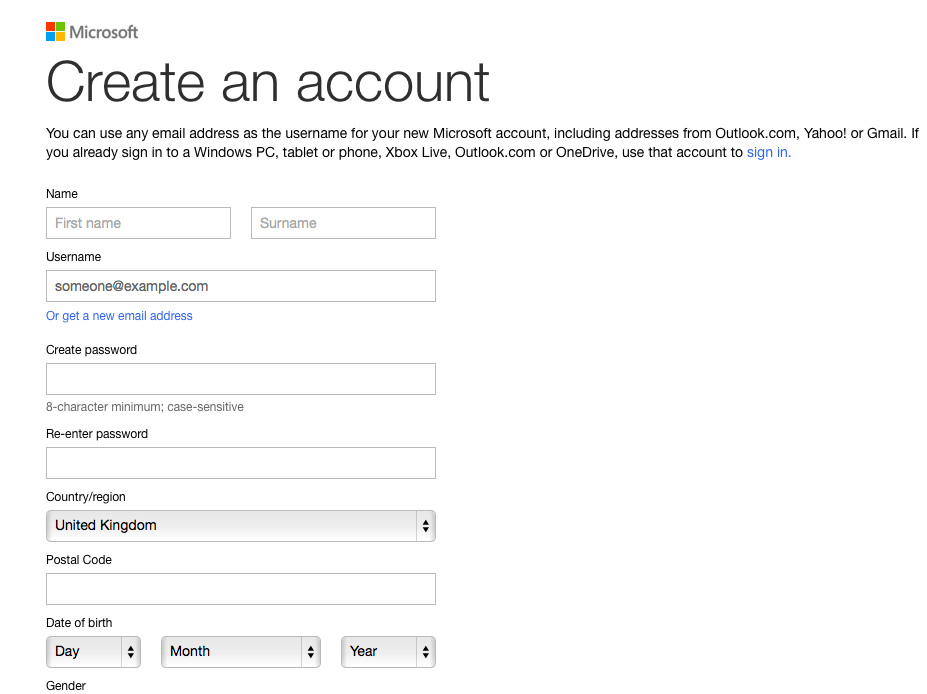 Step 3: In the Microsoft account name box, type your email address. Or, if you don't have one, click Or get a new email. This will allow you to sign up for a new Hotmail email address and will open an additional box in which to type whatever you would like the first part of that address to be. It has to be unique so, if it has already been taken, you will see a message saying it isn't available and you will need to try something else.
Step 4: In the Password box, type your email password. You will need to do this twice. If you chose to get a new email address, whatever you type in this box will become the password for your new account.
Step 5: In the first Phone number box, click the arrow and choose your country code from the drop down list.
Step 6: Type your phone number into the next box. This is in case you lose your password. If you don't want to use your phone number for this, you can choose a security question instead.
Step 7: In the 'Country/region' box, click the arrow to choose from a list.
Step 8: Type your postcode into the 'Postal Code' box.
Step 9: Now complete the CAPTCHA by typing the characters carefully into the box below. 
Step 10: Tick or untick the box to choose whether you want to receive promotional offers from Microsoft.
Step 11: Click I accept
Now, whenever you are asked to sign in to your Microsoft account, you should use the email address and password that you used at steps 3 and 4 above.