If you have bought a new computer recently, the chances are that you are now trying to get to grips with Windows 8. This is the latest Microsoft operating system which has been installed on all new Windows computers since the latter part of 2012.
Windows 8 looks quite different from Windows 7. This is because it is designed to also work with touchscreen computers and tablets.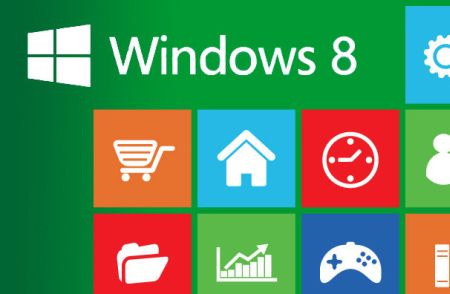 The main differences:
When you log in to Windows 8, the first screen you see is the new 'Start Screen', also known as 'Metro'. It still has the familiar 'Desktop' as well but we'll come to that in a minute.
Instead of Icons, the new Start screen has 'Tiles'. You click these to open your 'Apps' (short for Applications). If you can't find a particular tile, do a right mouse click in the space at the bottom of the screen and click All Apps.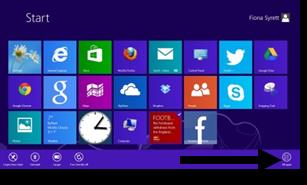 In Windows 8 we can use apps and programs. Apps open full screen in Metro; programs open on the Desktop just as they did in Windows 7.
Additional apps can be downloaded from the Windows Store.
Windows 8 comes with an antivirus program called 'Defender'.
Apps don't have to be closed by clicking a X in the corner – instead, just press the Windows key on your keyboard to return to the Start Screen. Optionally, an app can be closed by dragging it down from the top of the screen with your mouse, with the left button held down – or with your finger if you are using a touchscreen.
Windows 8 doesn't have a Start Menu. Instead, it has a 'Charms Bar' (see right) which is where you go to shut down and use other tools such as 'Search'.
Whereas in Windows 7 you might have used Windows Live Mail for your email, Windows 8 has a new 'Mail' app.

Instead of having separate contacts for email, Skype and social networking e.g. Facebook, you will find all your contacts together in the new 'People' app.

As mentioned above, Windows 8 does still have a Desktop similar to Windows 7. To find this, click the Desktop tile. Traditional programs such as Microsoft Word open on the desktop in the normal way and still have to be closed using the X in the top right hand corner. 

Windows 8 includes two versions of Internet Explorer 10, one which opens from a tile on the Start screen and also one which looks more like version 9 and opens from an icon on the Desktop. Programs can still be pinned to the taskbar by right clicking your mouse on an icon in the taskbar and choosing Pin this program to taskbar.