It's only natural that, when you take a picture, you want someone else to see it. That's kind of the point of photography! Luckily, there's a wealth of options available to you to share photos online and make your pictures visible for family, friends or anyone else you want to see them.
You'll need:
Photo-sharing websites
About 90% of people who take pictures share them online. As a result of this huge demand, there's now a vast number of free photo-sharing websites to choose from.
Among the most popular are Flickr, Photobucket, Shutterfly, and, of course, Facebook. If you use the micro-blogging site Twitter, TwitPic is another great way of getting your pictures out there. All these sites are easy to set up, and through them, your pictures can reach audiences as large or as small as you like.
Windows Live Photo Gallery offers some very useful tools for sharing photos on some of these websites, providing upload buttons that let you publish photos directly from Windows Live Photo Gallery.
Below we'll look at the photo-sharing websites it publishes to and show you how to do it.
Follow these step-by-step instructions to share photos using Windows Live Photo Gallery
Step 1: First, ensure that you're in Windows Live Photo Gallery's 'Home' tab, located on the top left of your screen. You'll see small versions ('thumbnails') of all your photos.
Step 2: Select a photo or group of photos on your main screen. To select a group, hold down Ctrl on your keyboard and click each photo you'd like to include.
Step 3: On the top right of the 'Home' tab screen, you'll see a section of buttons labelled 'Share'. Among these are ones offering you direct uploads to Facebook, Flickr, Windows Live SkyDrive (an online file storage and sharing service) and Windows Live Groups (a service within Windows Live that lets users create social groups for sharing and discussion). If you want to share a video, there's also a button to upload videos to YouTube.
Step 4: When your selection is made, click the button for the site to which you'd like to upload your picture(s). In this guide, we'll be uploading a photo to Flickr. First, open an account in Flickr, if you haven't done so already. Then, going back to Windows Live Photo Gallery, click Flickr.
A pop-up window will appear, asking you to sign into Windows Live.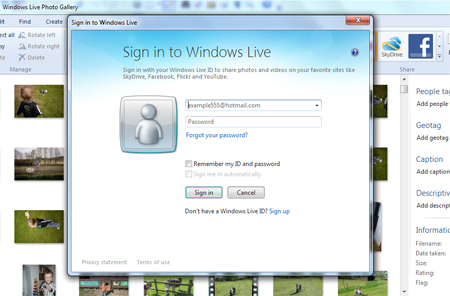 Step 5: Once you've signed into your Windows Live account, you'll see another pop-up window asking you to authorise Windows Live to publish pictures on your Flickr page. Click Authorize.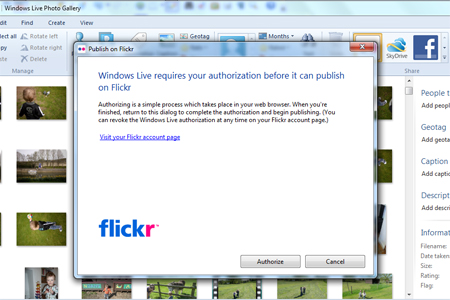 Step 6: Now your default web browser will open and you'll be brought to the Flickr login page where you'll be prompted to sign into your Flickr account. Enter your login details and click Sign In.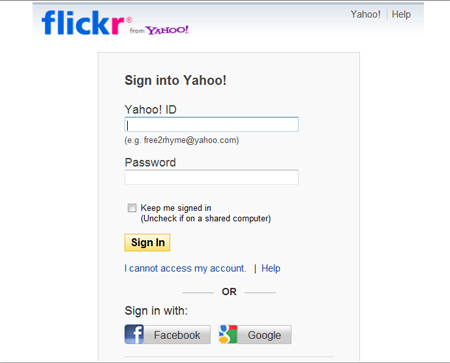 Step 7: Flickr will once again remind you that Windows Live Essentials (the name of the software in which Windows Live Photo Gallery is a component) wants to link to your Flickr account.
As this is a genuine request initiated by you, click Next underneath the text that reads: 'If you arrived at this page because you specifically asked Windows Live Essentials to connect to your Flickr account, click here.'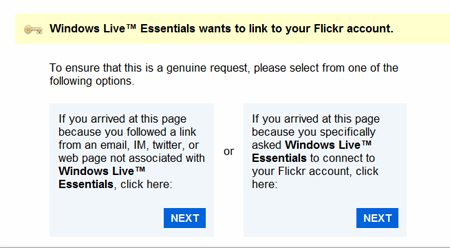 Step 8: You'll now be shown a list of what this authorisation entails. Again, you will be asked if you want to authorise this request. Don't get frustrated! Flickr is just trying to protect you. Click OK, I'll Authorize It.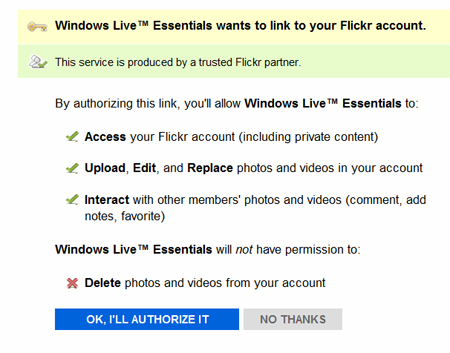 Step 9: You'll now see a green tick mark indicating that you've successfully allowed Windows Live Essentials to publish photos to your Flickr page. Close this window and go back to Windows Live Photo Gallery to resume publishing your photo on Flickr. NOTE: You will only have to go through this authorisation process the first time you publish a photo to Flickr using Windows Live Photo Gallery.
Step 10: Once authorisation is complete, click Next on the pop-up window asking you to resume your Flickr upload.
Step 11: A new pop-up box will ask you if you want to change any of the default Flickr settings to your photo, such as its size and whether it will be visible to everyone or only to people who are listed as contacts. Make any changes desired, and then click Publish.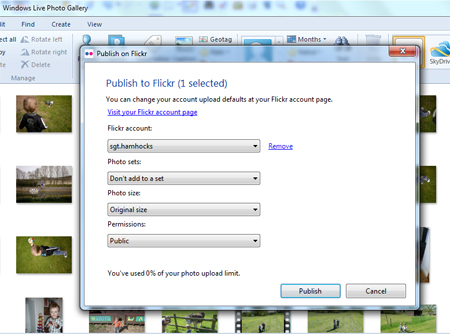 Step 12: Windows Live Photo Gallery will now upload your photo to Flickr.
Online digital photo-printing websites
Many online digital photo-printing companies like Snapfish, Kodak EasyShare Gallery and Photobox will let you set up accounts and create online photo albums on their websites.
These sites often offer a number of basic editing tools, and of course, keeping your photos on one of them makes it very easy to print your photos should you wish to do so.
Emailing your photos
Finally, the most direct method of sharing your photos is simply to email them to the people you want to see them. This gives you direct control over who and how many people view your pictures. And most free email accounts these days, such as Gmail or Hotmail, offer 1GB or more of storage space, giving you plenty of room to email photos.
Follow these step-by-step instructions to email pictures from Windows Live Photo Gallery
Step 1: Within the 'Share' section of options in Windows Live Photo Gallery is an 'Email' button. To email a photo to someone, click this button once.
Step 2: A pop-up window will ask you to select what size of photo you would like to email. Once you've made your choice, click Attach.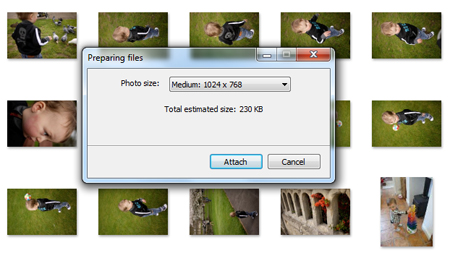 Step 3: Windows Live Photo Gallery will then attach your photo to an associated email software such as Outlook or Entourage.
Jeff Meyer writes about camera techniques and other aspects of photography for PhotoRadar.com.