Universal Credit is a new benefit that the Government is currently rolling out for people on low income or out of work. Universal Credit is a single monthly payment which will slowly replace some of the existing benefits and tax credits.
There are some differences between Universal Credit and the benefit system it replaces:
• You must apply for Universal Credit online
• Housing costs are included in the Universal Credit payment
Full service
By December 12th 2018, the Universal Credit full digital service will be rolled out across the UK, for new Universal Credit claims or people having to make a claim for Universal Credit due to a change of circumstance. 
This guide will show you how to apply for Universal Credit        
To complete the application and apply for Universal credit online you must provide evidence of identity. In particular, a person must provide one of the following:
EU Passport with photo ID
Non EU Passport with photo ID
Identity Card for EU
Residence Permit
Permanent Residence Card
Biometric Immigration documents
Immigration Status Document
UK Driving Licence with photo ID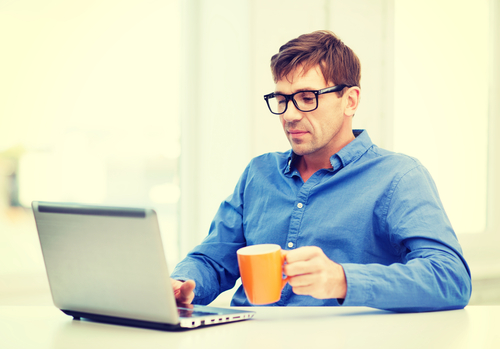 Then you will need the following documents and information about yourself.
Proof of your address (an official letter from the bank or energy company)
Rent agreement and your landlord's address
Any charge made for maintenance on a property which has been leased
National Insurance number
Bank account details for Universal Credit payments to be paid into
Details of any savings or capital investments including shares or property that you own
Details of any other income (income from an insurance plan or pension)
Details of how much you earn from work including any recent pay slips
Details of any other benefits already received
You will need to bring your identification with you to your Universal Credit interview as the purpose of the interview is also to check you are who you say you are.
How to sign up for Universal Credit
Step 1: Signing up
Signing up for Universal Credit is simple, to register go online via the link https://www.gov.uk/apply-universal-credit. Click on the green button that reads 'Start now' to begin your application.
Make sure you don't walk away from your computer or leave your application open and inactive as the form will not save and you will need to start from the beginning again. 
The claim may take up to 30-40 minutes to complete.
In the text field enter your post code, this is the post code of your home address. Once you have entered your post code click on 'Start'. Alternatively, if you already have an account you can sign in by clicking the link at the bottom of the page.
Once you have started your application you will see this page. This is a security page that ensures your application is protected online. In box 1, you will see a random generated message, you need to copy the letters you see in this box into box 2.
Once you have done this select 'Continue'.
Step 2: Can you claim?
The next page will assess whether you are eligible to claim for this benefit, please take time to read the information on the page as it explains the process for claiming online. If you're successful, you'll usually get your first payment 1 month and 14 days after you made your claim.
In the text field at the bottom of the page you will need to add your national insurance number and your post code, then click on 'Can you claim?'.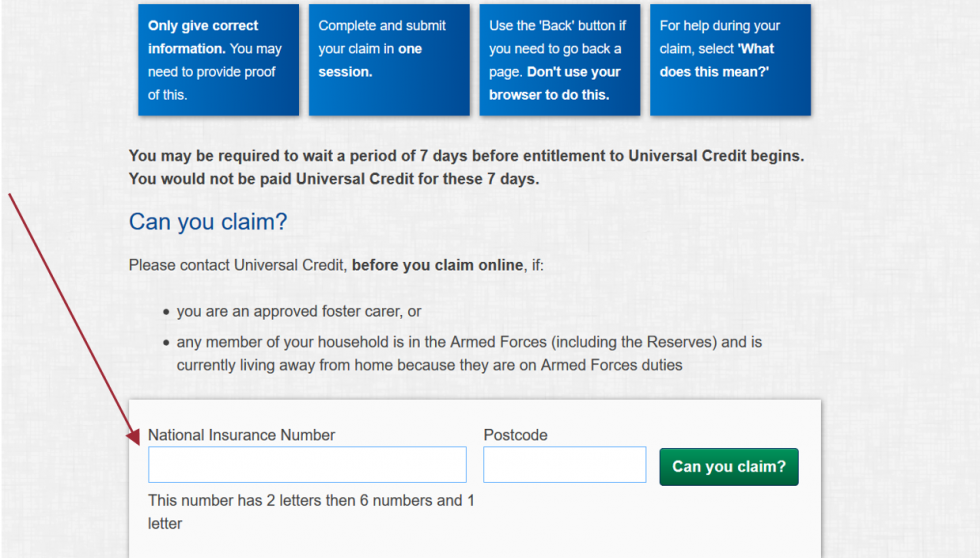 For this quick check you need to let Universal Credit know if you have a partner, click 'Yes' or 'No' and then click on 'Continue'.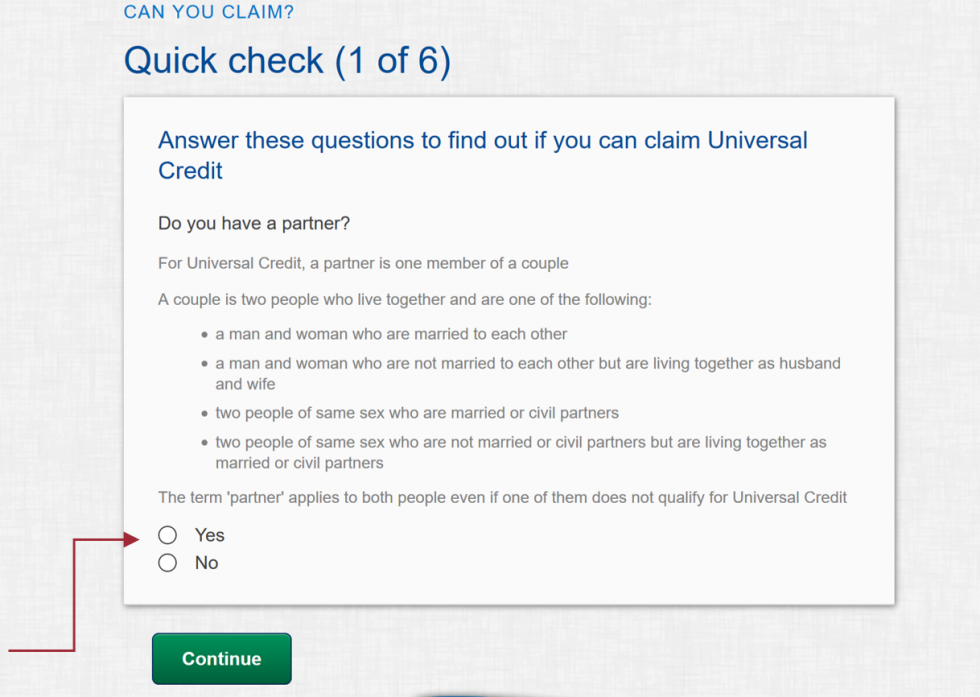 In the next slide there are more boxes to tick so please complete them and select 'Continue. Once you have completed the 6 slides you will be taken to a page that lets you know whether you are eligible to claim.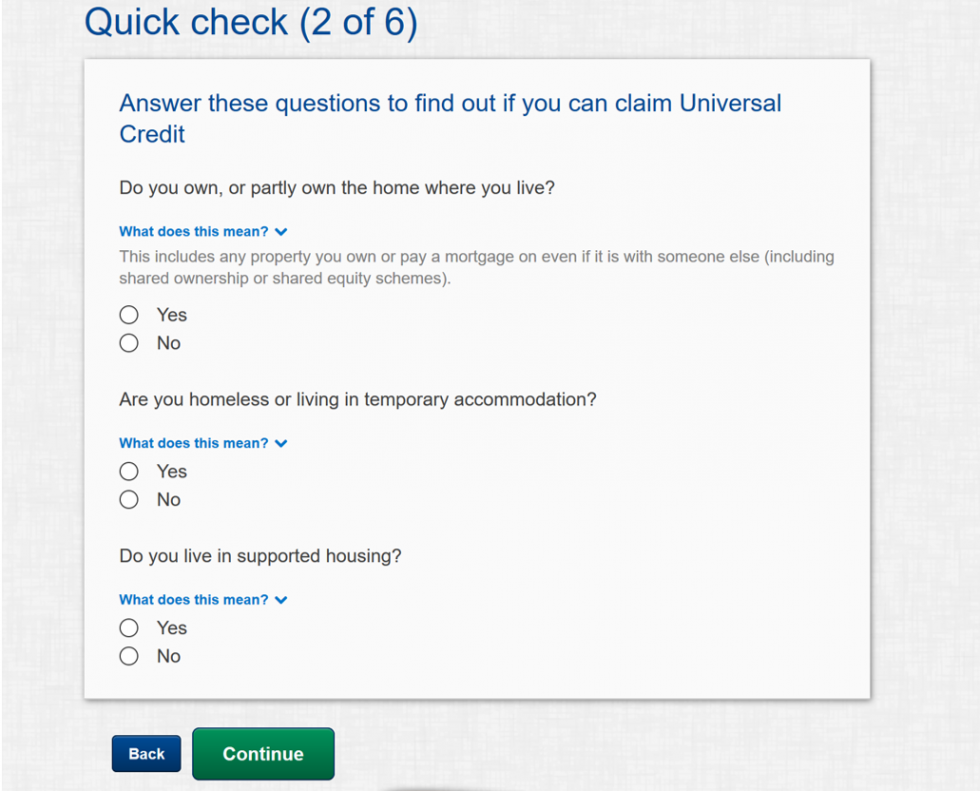 If you see this page this means you will not able to claim this benefit based on your answers in the application.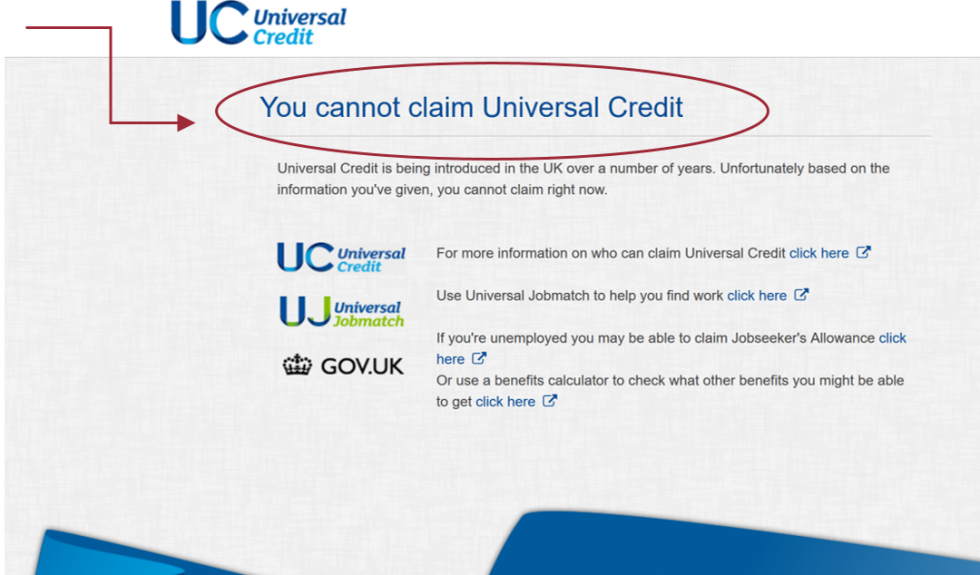 If you are successful, you will see this page below with all of the information that you have entered, this means you are eligible to claim for this benefit online.
Take the time to check that this information is correct, you can edit any of your answers and national insurance information by clicking on 'Edit details'.  After this part of the claim you will not be able to change your details so you will need to confirm that it is correct.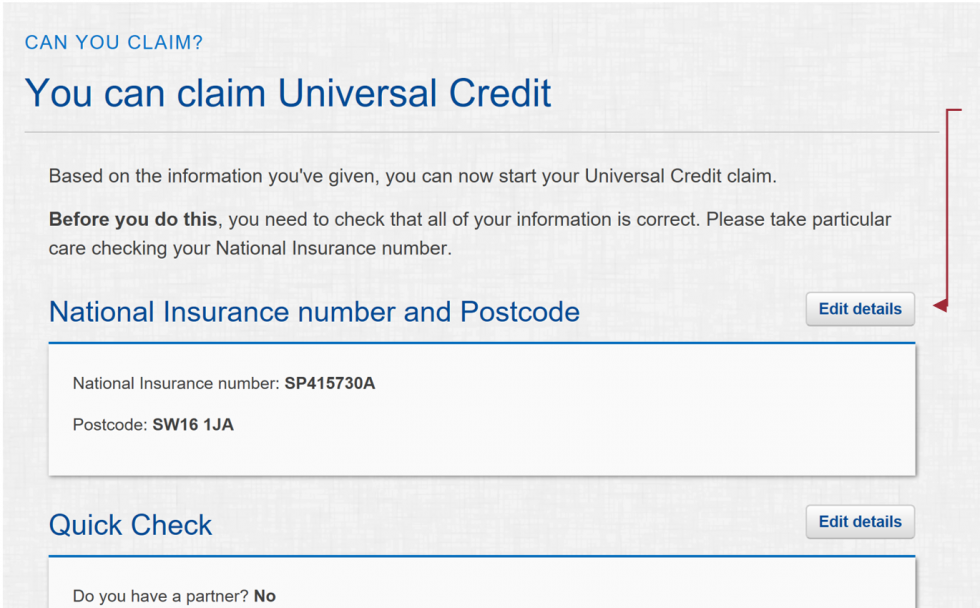 Step 3: Start your claim
Now you will need to customise your claim by answering the following questions on the page.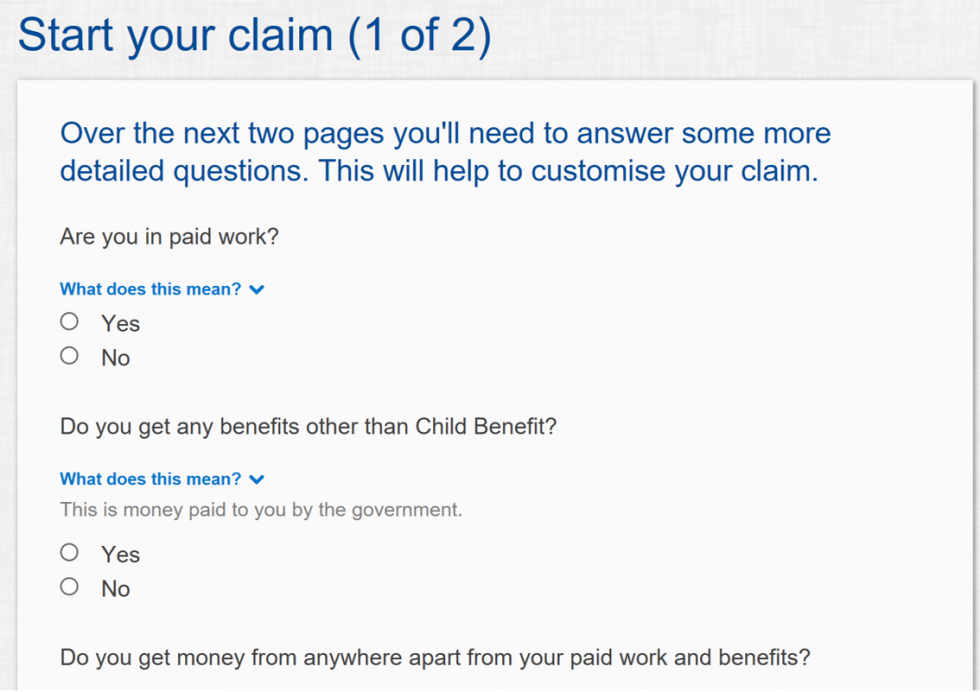 There are two parts to this claim, please answer both slides, then click submit. You have now reached the end of this section, click on 'Continue'.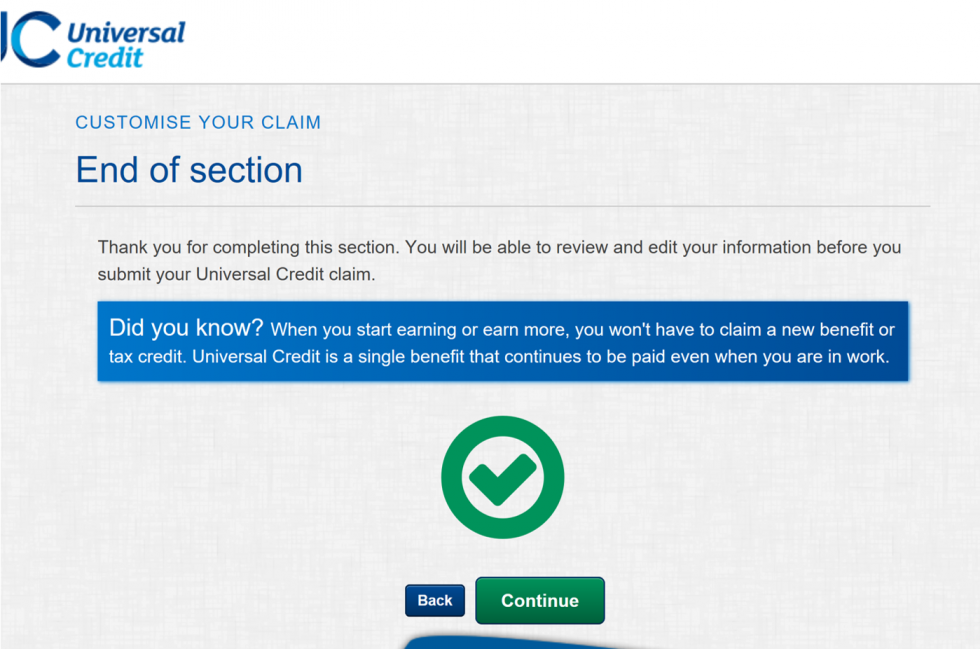 Step 4: Claim overview
You will now reach the Claim overview section. There are a few details you will need to fill in, this includes your basic details, circumstances, and your payment details.
Let's start with 'Your basic details'. You will need your home address, mobile and landline numbers to complete this section.

Step 5: Your details
Fill in all the details about you including your name and date of birth. You can fill in the text fields by simply clicking on the white boxes and filling them in. The drop down menus can be selected by clicking and choosing the right option.  Once you have finished click on 'Continue'.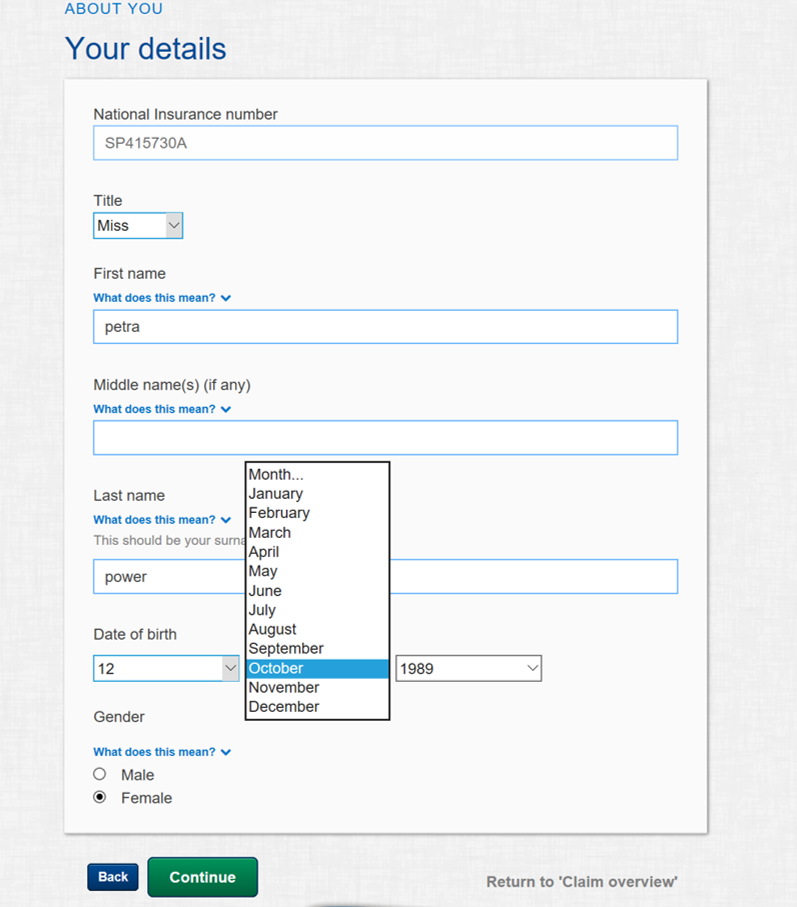 Fill in the rest of your details. You can find your address by typing in your post code and clicking on 'Find address'. This will open up a bigger list of options for you to choose, click on 'Continue' to carry on with your application.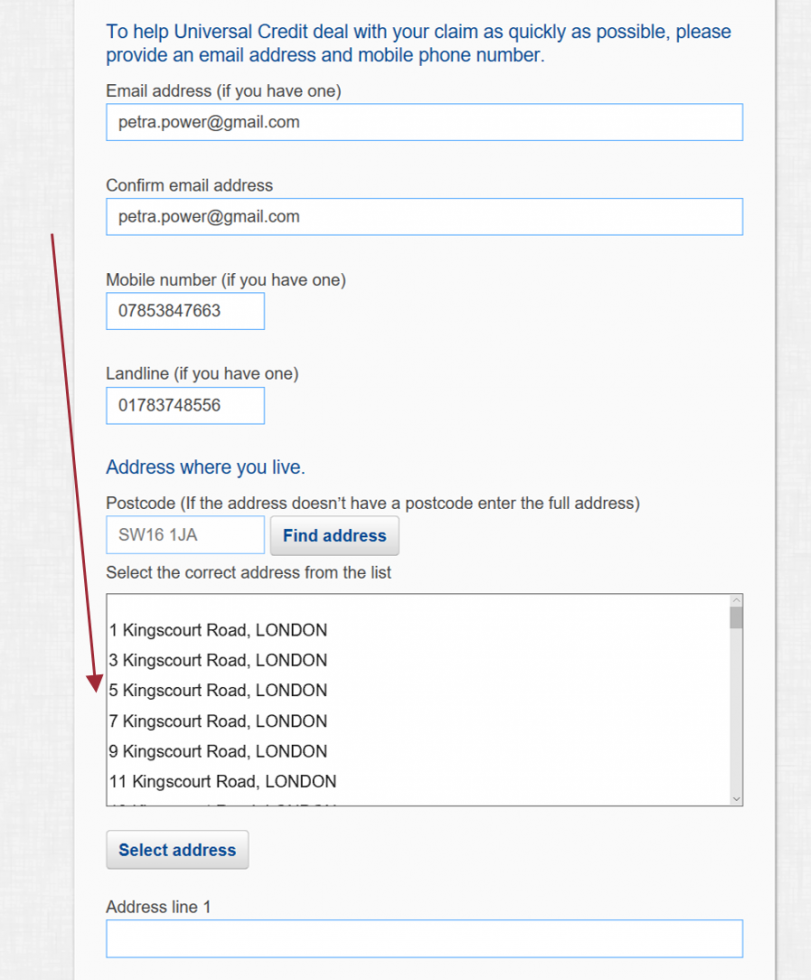 For this application you will need to have a registered email address so that information about your claim can be sent to you via email. 
Click 'Continue' to complete the section.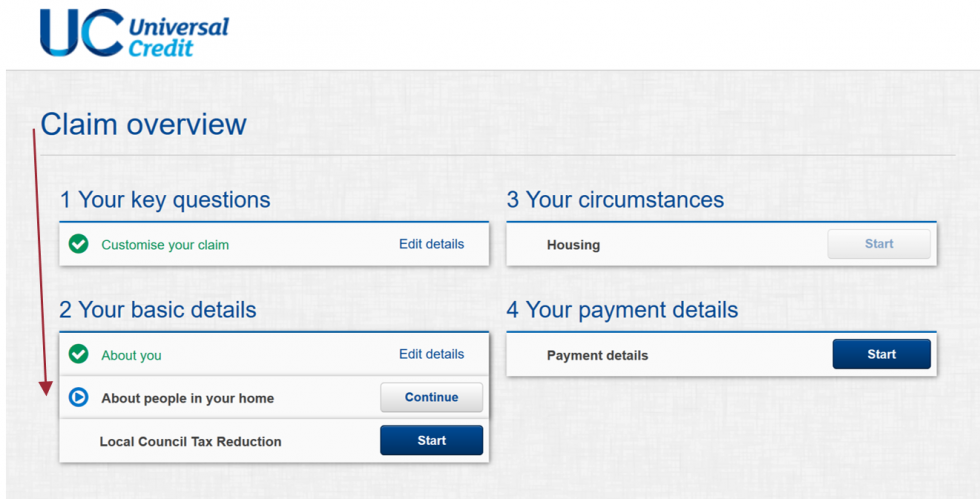 Step 6: About people in your home
In this section you can add the details of the people that live with you. To add someone, click on 'Add a person'. If there is more than one person in your household, you will need to fill the 'About people in your home' section. This section is about people who live in your home, including any children you are responsible for and anyone who is not financially dependent on you.

Fill in the form as you have been doing. In this section you can add more than one person that you live with and at any time you can go back and edit their information (Simply by clicking 'Edit person' as demonstrated below)

When this section is complete click on 'Complete' and this will take you back to your claim overview.
Step 7: Local council tax reduction 
Next, we want to fill in the 'Local Council Tax Reduction' section. Here you will need to answer questions regarding your council tax, complete the questions and click on 'Continue'.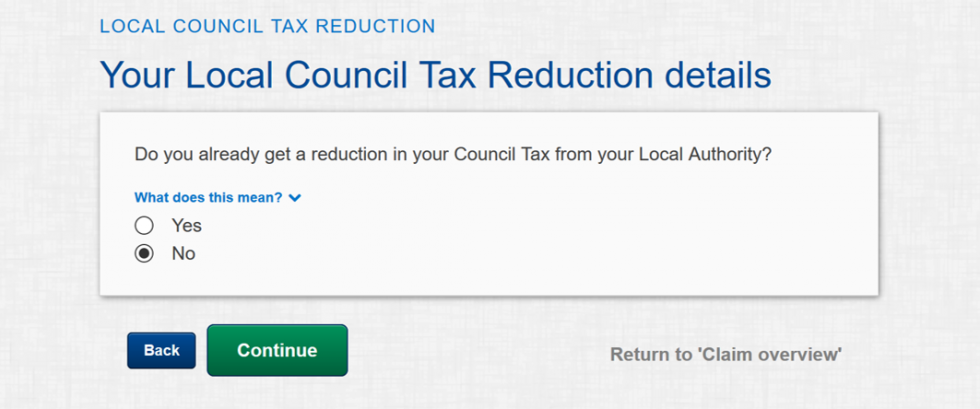 Step 8: Your circumstances
Based on the answers to your initial claim, you may or may not have to answer the 'Circumstances' section, fill this section in accordingly if you need to and click on 'Continue' once you are done.

If you do need to fill in this section, please do so. Have your rent agreement and landlord details including property address to hand.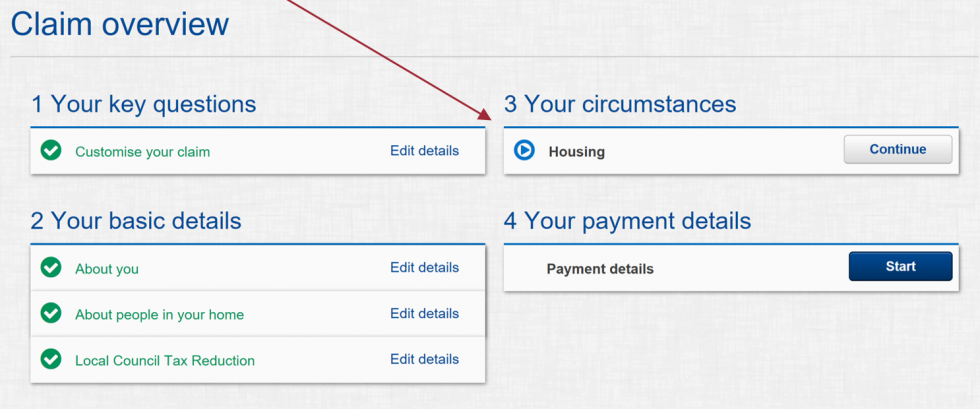 Part of this section will ask you about your rent, fill in the details of this and click on the drop down to choose more options, click on 'Continue' when you are done. You can add or remove a cost by clicking 'Add cost' or Remove cost".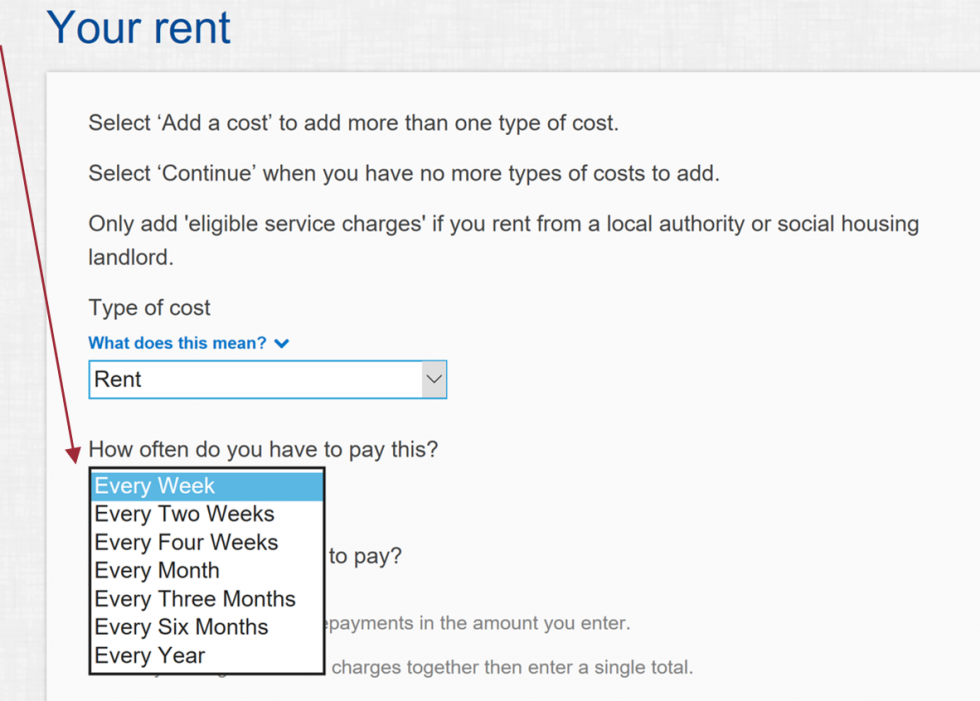 The next page will take you to 'Who you pay rent to'. Fill this out in the same way and use the 'Find address' button to search for your address. Carry on filling in this section until you reach the end.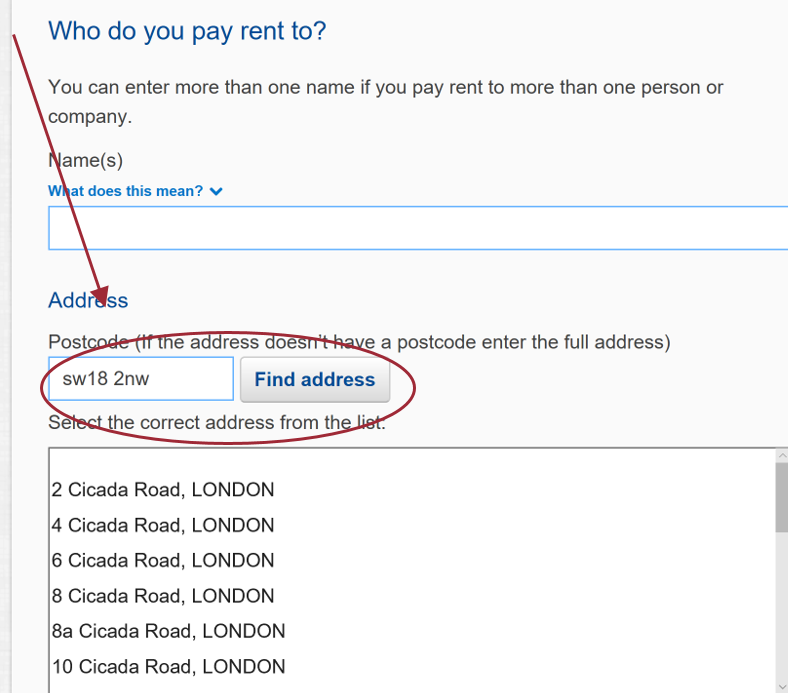 Step 9: Your payment details
The last section is 'Your payment details'. This is the account which your Universal Credit will be paid into each month. You will need to have your sort code and account number to hand for this section.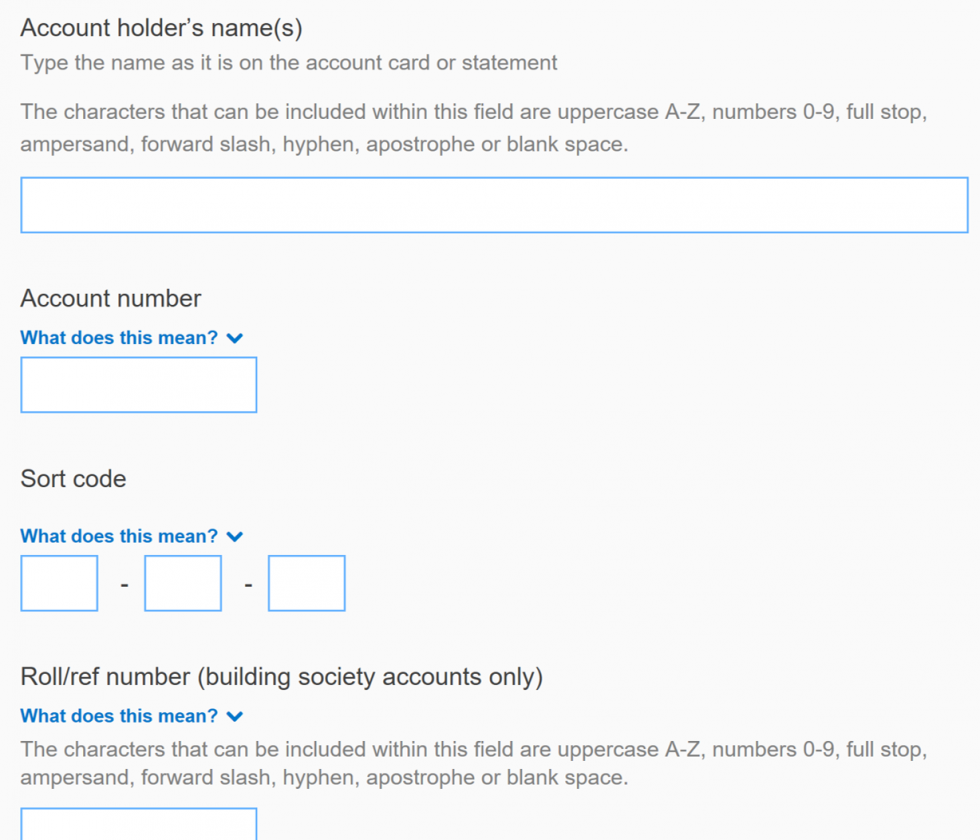 More Questions and Answers
The 7 day waiting period for UC has ended and a claim now starts from the beginning of the application. This means that if Universal Credit is paid on time, claimants will wait five weeks for their first payment instead of six weeks
If you are using a public computer, don't leave it unattended or let other people see your personal details
Consider using extra security on a private computer, such as InPrivate browsing in Internet Explorer or an Incognito window in Chrome, to stop anyone else from being able to access the webpages afterwards
You will be contacted with the email address and phone number you provided in your sign up, this should take a few working days.  You will then be invited to go to an interview at your local job centre for assessment.
You can also use Citizens Advice Preparing for your Universal Credit Interview to remind you of what evidence to take, how to prepare for the conversation about your claimant commitment, and what questions to ask your work coach
Remember, if you miss your interview, your application will be cancelled and you'll have to start again!
Here are some useful links
Watch this video for a full introduction to Universal Credit
Click here to take the 'Find out how ready you are' questionnaire on the DWP site which will help you prepare for your Universal Credit application.
If you need assistance with Universal Credit or applying online, please ring the following numbers:
Lines are open from Monday to Friday, 8 am to PM.
Telephone: 0345 600 0723
Welsh language (make a claim): 0800 012 1888
Welsh language (report changes): 0345 600 3018
Textphone: 0345 600 0743