Whether you want to book a flight, a hotel or a package holiday, it's easy to do it online and there are plenty of deals to be had. In this guide, we're going to show you how to book a package holiday with a tour operator.
You'll need:
a computer with an internet connection
a credit or debit card.
Follow these step-by-step instructions on how to book a holiday online
Step 1: Check out a price comparison website. These are useful tools for searching for the best deals for your particular holiday. Sites such as travelsupermarket.com and Teletext Holidays compare prices from various tour operators and travel sites to find the cheapest holidays that match your criteria.
Step 2: Another option is to go straight to the website of a tour operator that you'd like to use. In this example, we're using Thomas Cook, but most tour operators follow similar procedures.
On the home page, fill in your holiday specifications such as destination, departure date and length of stay, and click Search (green looking glass icon).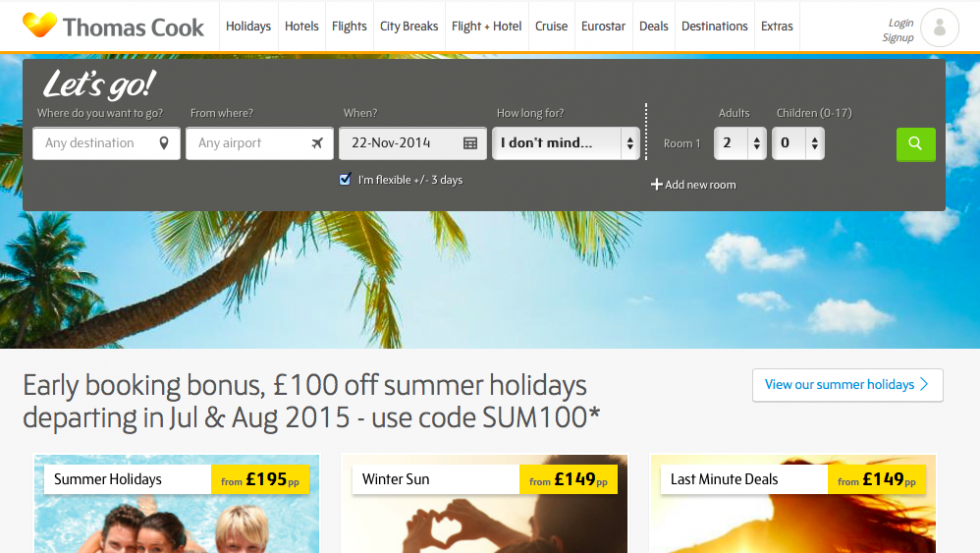 The website will show you that it is searching for your best match.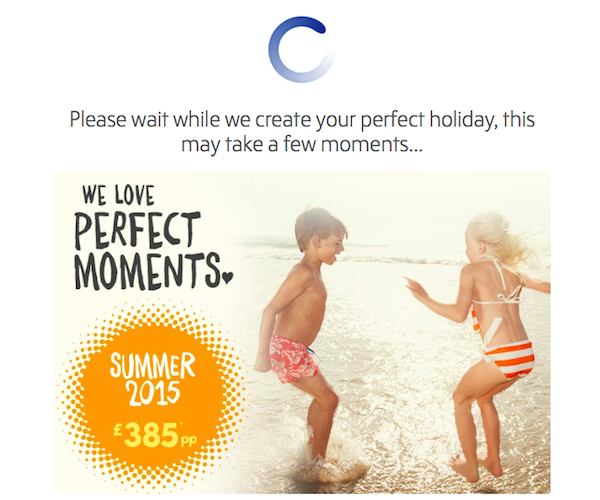 Step 3: You'll now see a list of hotels that Thomas Cook thinks match your search criteria. For each, you'll be given the price, dates, type of holiday and usually an image of the hotel. The search results will be ordered by what is considered a best match. To order by price, click on Sort by and choose Price (lowest to highest). 
Clicking MDetails will give you more details about the hotel's facilities and location. Where possible, there will also be a link through to the hotel's reviews on Trip Advisor. 
Once you've made your choice, click Details.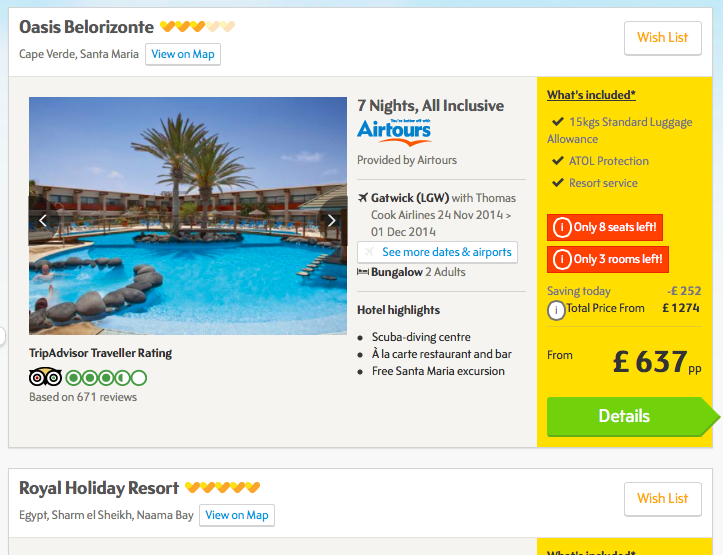 Step 4: You will be taken to a new page, displaying all the details of your holiday plus the total cost including any supplements or discounts. At this point, you may be able to add extra items to your holiday such as travel insurance or extra baggage allowance. When you've made your selection(s), click Book now.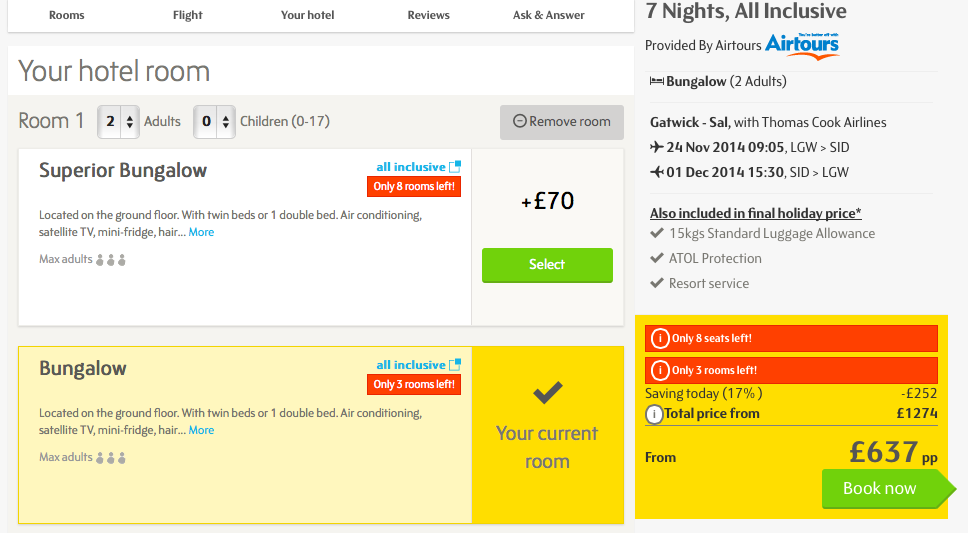 Step 5: A page will be displayed offering extra options such as travel insurance for your trip and the option to add a charitable donation. When you are happy with your selections, click Continue with selections shown.
Step 6: You now need to fill in personal details such as your name and address, as well as the names and dates of birth of any travelling companions if you're booking for more than yourself.
Be sure to use names exactly as they appear on your passport and those of the people going with you – that way, your tickets and passports will match, which will make for an easier time at passport control.
Once you've filled in all the boxes, click Continue.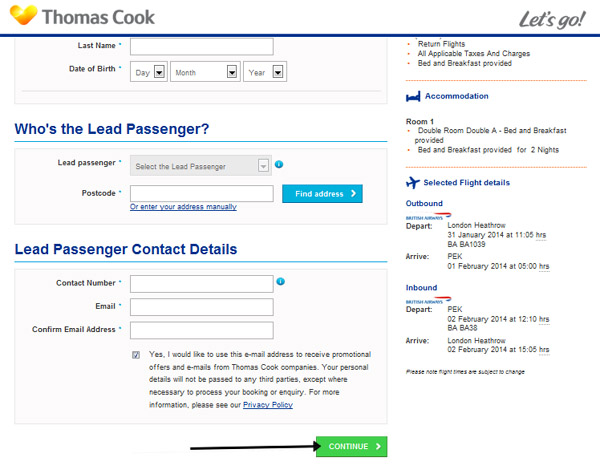 Step 7: You'll now be asked for your payment details. Credit card transactions may incur a fee, but this should be stated here. (However, some tour operators and airlines add the credit card fee only at the very end of the payment procedure.) Once you've filled in your details and have indicated (by clicking on the relevant links) that you've read and understood the terms and conditions of the tour operator, click Confirm and Pay.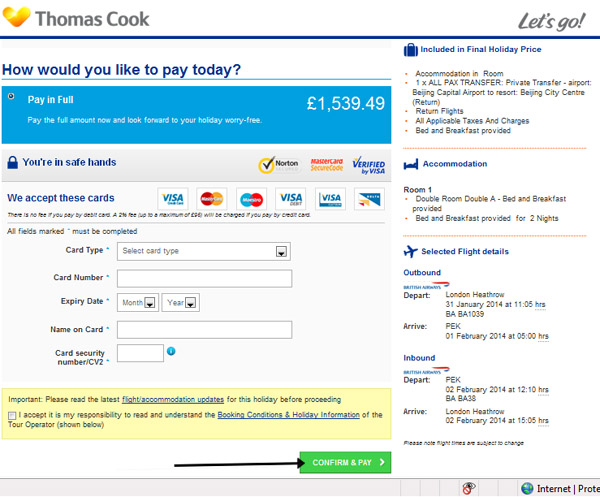 Step 7: Once the payment has been confirmed, you'll receive an email from the tour operator with all the details of your holiday, as well as a reference number. It's worth printing out this email as proof of receipt. In any case, you'll need your reference number to check in at an airport as well as when contacting your tour operator if there are any changes to or problems with your holiday.
Jo Munday is an experienced writer of online tutorials.