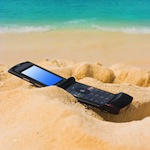 When you travel abroad, it's important to decide ahead of time whether you will take your mobile phone and to take steps to make sure you don't end up paying the Earth to use it! 
1. What to do before you go
How will you want to use your phone? Some providers allow you to use the bundle or allowance you have at home when travelling, or may have special packages for using your phone abroad, but always check what happens when you get to your limit.
You might find it better to buy an international SIM card which can offer lower prices when travelling in different countries or to buy a local pay as you go SIM card at your destination so that you will pay local prices.
2. Are you insured?
Unfortunately thieves often target tourists, so make sure that you have insurance to cover your mobile phone in the event of loss or theft. Some insurance policies may also provide cover for unauthorised use, so check the terms and conditions. You may also be covered under your home insurance – check your policy or ask your provider what is included and if it covers you taking your phone abroad. Also, ensure you have a passcode on the handset and SIM to make it more difficult for anyone else to use. 
3. Data Roaming
This means that you connect to an overseas network and calls are routed via that network provider instead of your home network, which can mean costs are greatly increased. It's best to turn off data roaming before you travel, otherwise your phone could connect automatically to a network without you realising it. If you are going to use data roaming, check the charges carefully as they differ if you travel within the EU or outside.
4. Use wifi instead of 3G
If you still want to use the internet on the phone, it is much cheaper to browse the web using local wifi hotspots instead of the mobile internet connection. This can be accessed in places like hotels, cafes and restaurants and may even be free. 
Also, it is free worldwide to receive a text, so get family or friends to text you rather than call.
5. If your phone is lost or stolen abroad
It's important if your phone is lost or stolen to inform your provider immediately so that they can bar the SIM, to avoid you incurring any high charges from someone else using your phone. Also make a note of your IMEI number, which is a unique 15 digit serial number of the phone. The provider can block the phone if you give them this number so that no-one else can use it. You can find your IMEI number by keying *#06# into the phone or taking the battery out as the number is behind this. If you have mobile phone insurance or your phone is covered under your home insurance, let your policy provider also know as soon as possible.
Karen Maxwell is a Digital Unite tutor and assessor/trainer of computer accessibility.