It is estimated that there are over 150 million blogs on the internet. It would be impossible to list them all, but we hope to give you a taste of the huge choice available.
There are blogs on almost every subject, blogs with just text, blogs with photographs and blogs with video. There are serious and informative blogs, humorous blogs and online diaries that simply allow their bloggers to let off steam.
Blogs that follow people's journeys, whether through the world or through a life-changing event, are often fascinating to read. An example is WanderingScribe, an autobiographical blog written by a young woman who, due to unforeseen events in her life, was living alone in a car at the edge of a wood. It was eventually published as the book Abandoned.
News and media blogs
Bad Science – The online home of Dr Ben Goldacre's Guardian column, in which he looks at misrepresentation of scientific 'facts' in the media and politics.
Technorati – A blog search engine that lists blogs by popularity – both rising and waning – and features the 'hottest' blogs on any day.
Historical blogs
The Diary of Samuel Pepys – This blog was launched on 1 January, 2003 and has been publishing an entry from Pepys's famous diary each day since. Pepys himself started his diary on 1 January, 1660.
The Orwell Diaries – Appearing 70 years to the day since each entry was originally written, George Orwell's diary from 1938 on has been appearing as blog posts in real time since 2008. Orwell started his diary as he headed to Morocco with his wife Eileen, to recuperate from injury and illness, and ended it in 1942 (as the blog will end in 2012) as World War II raged.
People and lifestyles
Tout Sweet – A blog about life in a rural French village as lived by a former London fashion editor.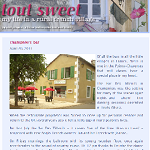 Square Sunshine – The thoughts and observations of a grandfather.
Debbie Brixey is a Digital Unite tutor based in south London.