This guide will teach you how to sign up to Facebook. By the end of the the guide you will know how to join Facebook, add friends or 'people you may know' and also how to add a cover photo or profile picture to your account.
Like most social networking sites, Facebook asks its users to create a user profile to join the worldwide network. This is entirely free and can contain as little or as much information as you want. Once you have created your profile you can also adjust the privacy settings to specify what details you want to be made public.
How to join Facebook
1. Go to the Facebook website. Under Sign Up type your information into the boxes.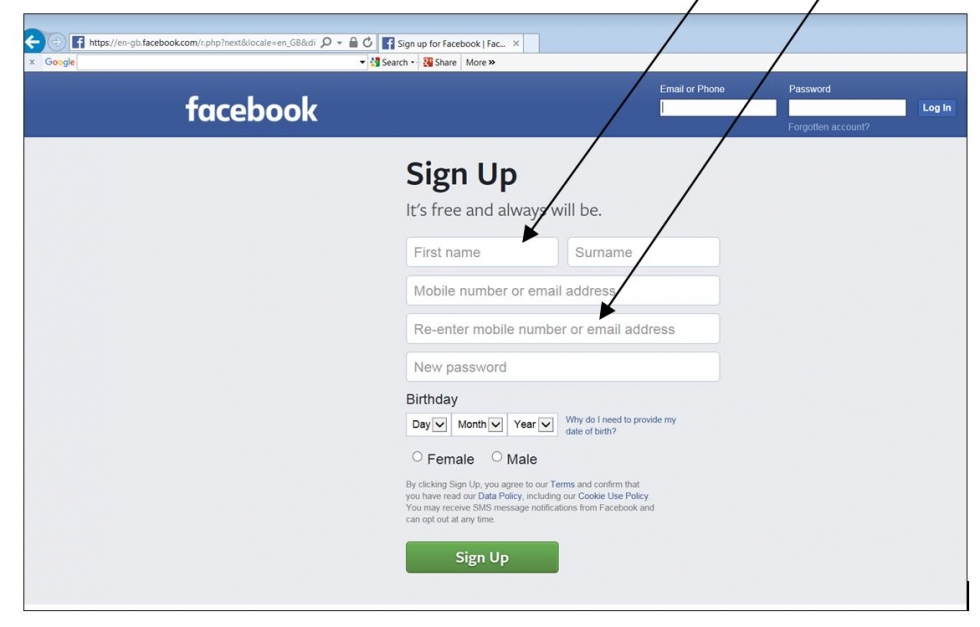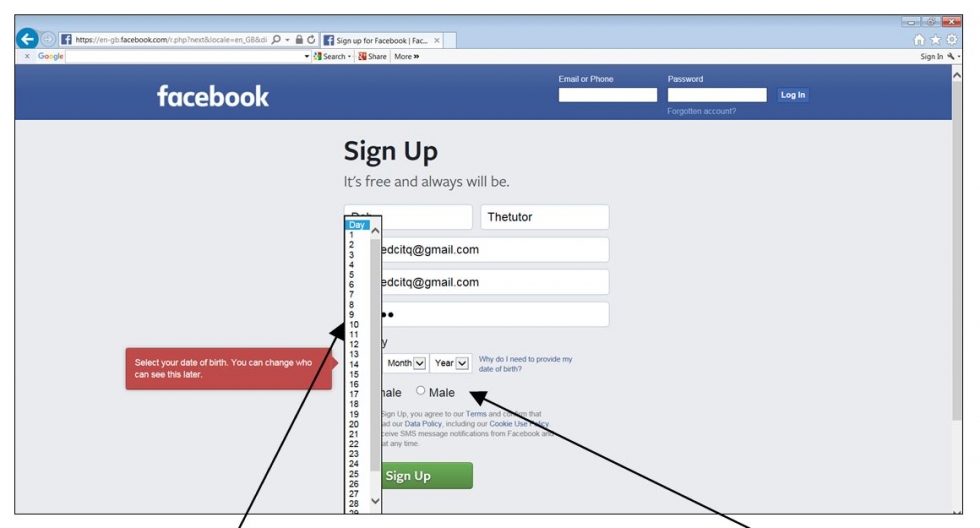 The birthday boxes have the information in drop down boxes and, when you click on the arrows, they will display a list for you to select the correct dates. You should also click on the round button next to either male or female. When you have completed these boxes click on the green button to Sign Up.
2. Facebook will send an email to the email address you provided. This is to ensure that you have given a real email address and one that you genuinely have access to. Click on the button Confirm Your Account. A numeric confirmation code is also provided and you may be asked to type this in.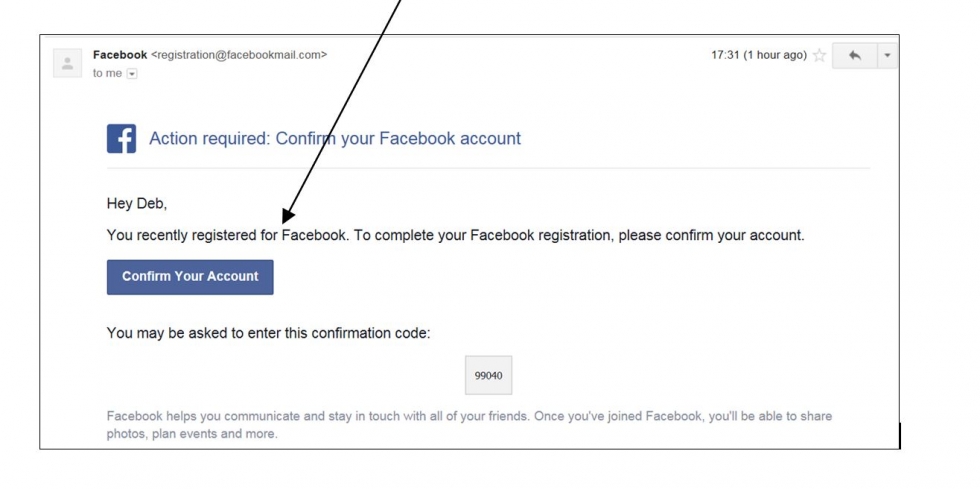 3. Facebook will now open your profile and ask you a series of questions to help you get started. Step 1 is to help you find friends who are already using Facebook.
Facebook will suggest people it thinks you may know and give you a list with profile photos so you can recognise them. If you would like to connect with someone on this list click on the Add Friend button. This will send a Friend Request to them – it is their choice whether or not to accept your request.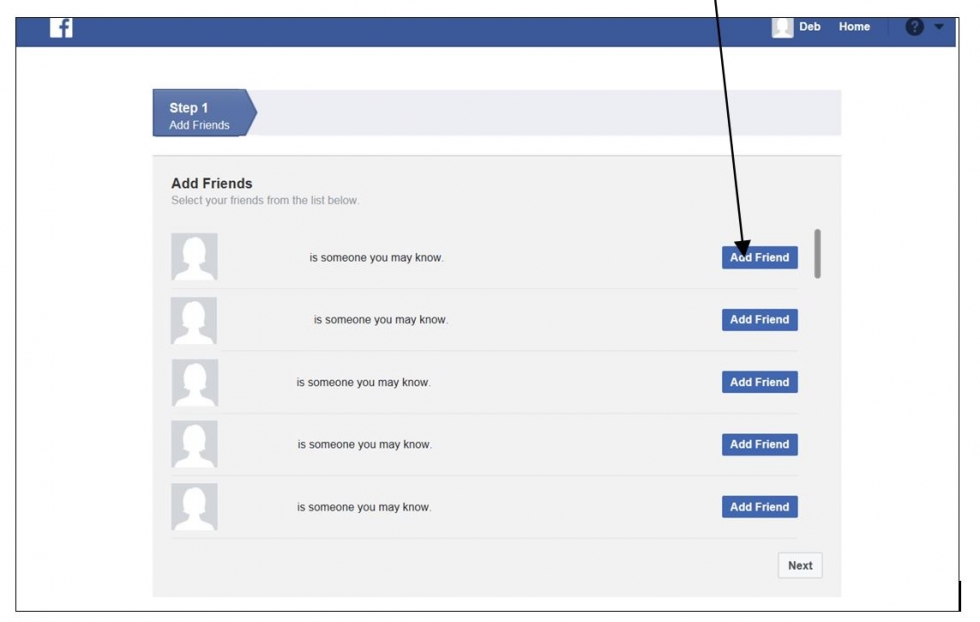 Click on the Next button if you do not recognise or wish to connect with anyone in this list.
4. On the Welcome page Facebook gives you the opportunity to connect with people in your email address book/contacts. It does this by taking the email address that you used to create your profile. If you want to see who it suggests click on Find Friends and it will access your email contacts to match them up with Facebook users.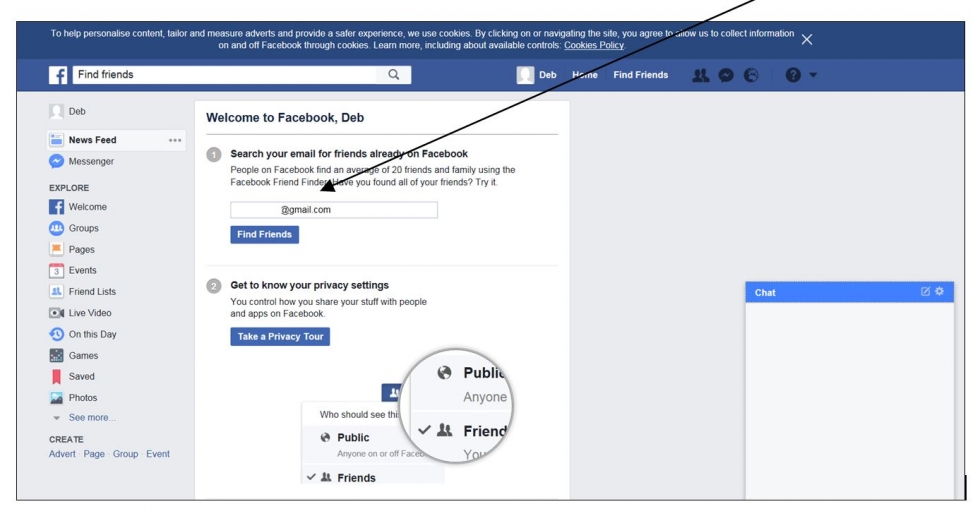 5. Next the Welcome page suggests that you get to know your privacy settings. See our guide Privacy settings: How to stay safe on Facebook
6. Add a Profile Picture. You can use either a photograph that is on your computer or can be accessed from your computer (for instance on a USB) or, if you have a webcam that takes still photos, then you could take a new photo of you.
Many people choose to put a picture of something other than themselves for their profile, for instance a cartoon or favourite pet. If you choose not to put a photo at this time your profile will appear with the head and shoulders outline that you see below. For further information on uploading photos see our guide How to upload photos to Facebook.

7.  Facebook is all about connecting with people so step 4 allows you to search for people you might know by typing in their names.

Don't worry if you can't think of many people at this stage you can always look for people at a later date, indeed you can continue to add to your friends list for as long as you have a Facebook account!
Your new Facebook Profile
Once you have done all of this your new Facebook page will open.
The first thing you will see is an option to change what is known as your cover photo. This is a large image that appears at the top of your personal page and is different to your profile photo. It can be of a scene that you like, a party, a cartoon, a flag or anything else that you feel is important to you…or even just looks nice.
To add your own photo click on OK

You have two choices either upload a photo or choose from photos that you have already put in Facebook. If this is a new Facebook account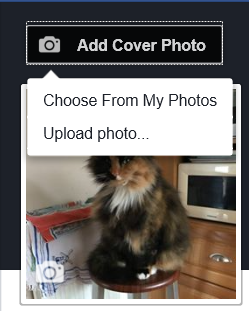 then you will not yet have any so you will need to upload a photo.
When you click on Upload photo a window opens allowing you to navigate to where you keep your photos, for instance in Pictures.
Click on the image that you would like to appear and then click on Open.
Your new image will appear with a message telling you to "Drag to Reposition Cover". By clicking on the image and holding the mouse button down you can move your picture up and down so the most important part of the image is clear.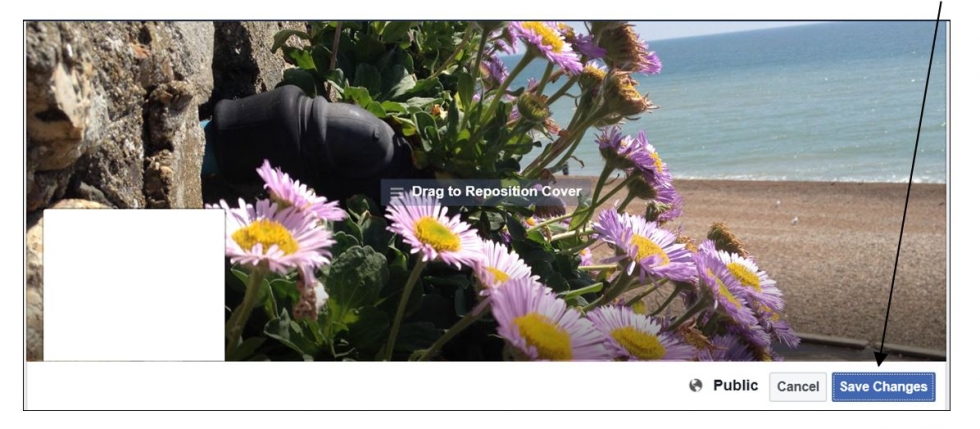 Once you are happy with the way the image looks click on Save Changes.
We hope you have enjoyed this guide and you are now able to sign up and join Facebook to connect with friends and family. Have your tried reading any of our other Facebook guides? Click on the Next Steps links below to see more of our Facebook guides.