How to connect to the internet
All modern computers and laptops are capable of connecting to the internet, as are many other devices, including mobiles, tablets, e-readers, televisions, video games consoles.
There are two ways of getting the internet at home. The most popular way is to have your telephone line (also known as a 'landline') converted to broadband so that it can carry normal phone calls and internet data at the same time.
However, if you don't have a landline or if you want to be able to use the internet when you're out and about, you might prefer mobile internet from one of the mobile network providers. This can be used anywhere there's a mobile signal but does tend to be slower and more expensive than broadband through a landline.
In this guide, we'll explain how to get the internet at home and how to connect your computer to it, using a landline.
You'll need:
a reasonably up-to-date computer
a telephone socket, preferably the master phone socket, and a spare power point. It's best to have both of these near the computer to avoid having wires trailing across the floor.
Follow these step-by-step instructions to connect to the internet
Step 1: Choose an internet service provider (ISP). This could be the company that provides your telephone line or it could be one of the many independent providers. To help you choose, have a look at one of the many comparison websites and ask people you know for their opinion.
When choosing a supplier, you need to take into account the various packages on offer. These will differ in price depending on the maximum speed they offer and the monthly usage allowance.
The speed is measured in megabits (Mb). A 5Mb connection speed is perfectly acceptable for viewing websites. However, if you want to be able to play games or watch TV online or share your internet between two or more computers, you should choose higher than this. Superfast broadband is available to 78% of homes and businesses in the UK - and this is increasing all the time, so many ISPs offer speeds above 50Mb. But the speed you actually get also depends on many other things, not least the distance of your computer from the telephone exchange and the condition of the cables. This can be because of the copper telephone wires being used.
Some ISPs, particularly the mobile suppliers, impose a monthly download limit or usage allowance. This is measured in gigabytes (Gb). To put this in context, 1Gb will allow you to visit approximately 10,500 webpages or download around 205 songs.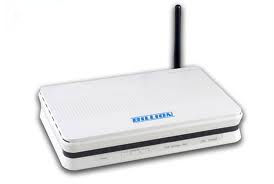 Step 2:
Having chosen an ISP and signed the contract, you'll have to wait a few days while your line is converted to broadband. During this time, you should receive a letter with your username and password and the hardware you'll need: a small box called a 'router' and its attachments. You can see an example on the right.
Step 3: Once you're told that your broadband is active, you can set up your router. It should have come with three cables:
a network cable to connect the router to your computer
a power cable
a  cable that will go between your router and a microfilter (see below).
Plug one end of  the network cable into the appropriately shaped socket in the router, and the other end in a similarly appropriately shaped socket in your computer.
Take the power cable and plug one end in the router and the other in a nearby power point.

You should have also received a microfilter (
see left
). This splits the signal in the telephone wire in two: voice and broadband. You plug the dangly end of the microfilter into your telephone socket. Then in the sockets at the other end, you plug in (1) the cable from your own telephone and (2) the cable that came with your router. As these two sockets are different shapes, you can't plug a cable into the wrong socket. Finally, plug in the other end of the router cable into the router itself.
You'll also need to install a microfilter in any other telephone socket in the house that's in use. Not doing this can result in loss of internet speed and interference on the line. If no router is being used with a socket, you'll leave one of the microfilter's sockets empty.
Step 4: When you get the router, you should also receive a CD. Once you've set up the router, all you need to do is put the CD into your computer and follow the step-by-step instructions. If you don't want to do this yourself, some companies offer a home installation service and, for an extra cost, will send an engineer to set up your broadband connection for you.
Fiona Syrett is a Digital Unite tutor.
Got a question?
Got a question?
Click here to ask our online community and tutors.