The Kindle was originally a series of eBook readers designed and marketed by online retailer Amazon. With a Kindle you could shop for, browse, download and read eBooks, newspapers, magazines, blogs and other digital media using wireless networking. 
Amazon has also branched out into tablets, in the form of the Kindle Fire range. In this guide, we will focus on the eReader. 
You'll need:
a Kindle
a computer with a broadband internet connection
an Amazon account
a credit or debit card to pay for new content (optional).
This guide is based on a PC running Windows 7 and Internet Explorer 10, but the steps in this process are very similar for Mac users or if you're using a different browser, such as Chrome/Firefox/Internet Explorer11 or 12/Safari, etc.
Follow these step-by-step instructions to use a Kindle
Step 1: Turn on your Kindle. All Kindle models have the power button along the bottom. Some models, like the Kindle Keyboard, use a sliding power button. Others, like the Kindle Fire, require you to press and hold the button.
Step 2: On the Kindle and Kindle Keyboard models, you can navigate through the menu using the directional buttons, also known as the five-way controller, because of the four direction buttons and the "Enter" button in the centre.
With the later Kindle Fire and Kindle Touch models, you swipe your fingers across the touchscreen.
All models except the Kindle Fire have a Home button which takes you back to the main menu.
Step 3: The first time you use your Kindle, you are prompted to join a wifi network. Using the controls on your Kindle, from Home press the Menu button, and then, using the five-way controller or touchscreen as appropriate, select Settings, Wi-Fi Settings, and scan the list for your home wireless network. Select it, and then enter the password. If you have a device with 3G or 4G, you can miss out this step and use the built-in Whispernet cellular connection, although you may want to add your wireless network later, as it's usually faster.
Step 4: You then need to register your Kindle to an Amazon account. Once again using the controls on your Kindle, from Home, go to Menu, Settings, and then Registration. Specify the Amazon account you want to use for your Kindle: 
If you already have an Amazon account, enter the email and password associated with your Amazon account. Select Register. Your name will appear as the 'Registered User' when registration is complete. 
If you do not have an Amazon account, select the 'If you do not have an Amazon account' option and follow the on-screen instructions to set up a new Amazon account. 
Step 5: The Kindle comes preloaded with the user's manual and some dictionaries. You can choose these, or later books from your Kindle library, by either clicking at the centre button of the five-way controller or by tapping on the touch screen. 
Step 6: You turn the pages by using the page turning buttons on the left- or right-hand side of the Kindle e-readers, or, on the touch screen versions, by swiping your fingers on the screen, or tapping the right or left sides on the screen.
Step 7: To charge your Kindle, you plug the small micro-B USB end into the Kindle and the normal USB plug end into either the three-pin wall socket adapter that is supplied with the Kindle, or the USB connection of a powered-on PC or laptop. Most USB connection ports can be found on the front of PCs, to the side or at the back of laptops, and on some monitors and keyboards. To find the correct port look for the USB symbol 
Step 8: Amazon makes it easy to buy books in all genres, but there are also many free classics available. Over two million books published before 1923 are now in the public domain, and therefore copyright-free. Many of these, together with other free publications, are available from Amazon.co.uk. Simply search Amazon.co.uk for 'Free Kindle books'.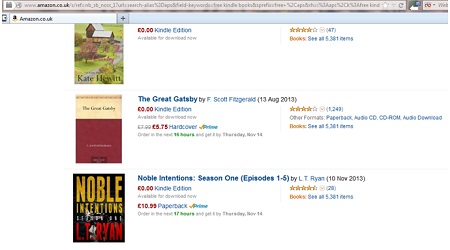 Any Kindle titles you buy on Amazon is saved to your account and sent automatically to your Kindle - as long as it has an active Internet connection. If you have a basic Kindle, this is limited to books, magazines and newspapers. Kindle Fire users can also access videos, music and games.  
Step 9: You can also email personal documents to your registered Kindle devices, supported Kindle reading applications and Kindle Library in the Cloud. From Amazon's Your Account page, use the drop-down menu to select Manage Your Kindle.  

Click Personal Document Settings on the sidebar. Your device's email address is listed beside the Kindle's name, usually in the form of username@kindle.com. Click Add a new approved e-mail address to add your email address to a whitelist that allows you to email personal documents. You can also add email addresses for other people whom you have agreed can send content to your Kindle. To send a document to your Kindle, you then simply attach it to a new e-mail, or forward an existing e-mail with it attachment to the 'Send-to-Kindle e-mail address'.
Step 9: If you don't have a wireless connection, you can transfer books, magazines, or newspapers from a computer to your Kindle Keyboard using the USB cable you received with your device. Go to Amazon's Manage Your Kindle page and click Actions… beside the Kindle content you want to transfer. Select Download & Transfer via USB. From the drop-down menu, select your Kindle and then click Download.  
There are many other things you can do with your Kindle For example, you can also browse the Internet using your Kindle's built-in wifi connection or 3G, if your model supports it. On the Kindle, Kindle Keyboard and Kindle Touch the browser is included along with other experimental features, which you can access from the Menu. On the Kindle Fire, select Web on the Home screen to open the Amazon Silk browser.  
You can also configure social networks to share notes, text and ratings from your Kindle. On the Kindle and Kindle Keyboard, go to the Settings page and navigate to Social Networks. On the Kindle Touch, go to Settings, click Reading Options and choose Social Networks. On the Kindle Fire, go to Settings and choose My Account.
Done!
Jacklyn Williams is a Digital Unite tutor.