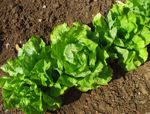 More and more of us are becoming green-fingered and growing our own. But if you're a gardening novice, how do you know when to trim your hedges or plant your veggie seeds? What's the best way to prune a rose bush or an apple tree? What's the best soil for a hydrangea, and do heathers prefer light or shade?
Fortunately, these days there are loads of useful websites packed with information to help you turn your patch into whatever kind of garden you most desire, whether it's grass, produce or flowers.
Try these gardening websites – they're some of the best!
Siobhan O'Neill is an experienced freelance writer living in Surrey.
Updated June 2023