If you have a blog and would like to include a YouTube video in a blog post or article, it's very easy to do. 
You'll need: 
A computer with access to the internet
A blog or other web publishing space.
Follow these step-by-step instructions to embed a YouTube video into a blog post
Step 1: Go to www.youtube.com and find a video would you like to embed. There are some fine films on the Digital Unite channel if you are looking for inspiration… 
Step 2: When you have found your video, you should see a Share option under the name of the video.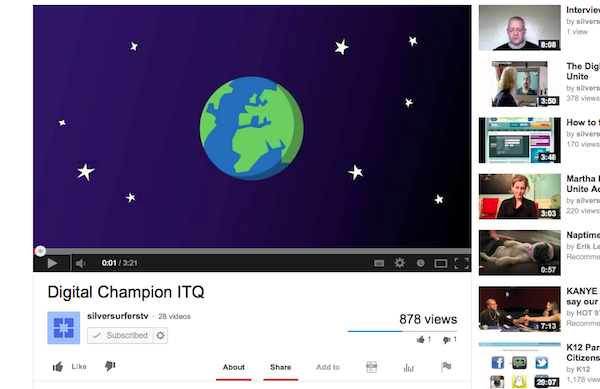 Step 3: Click Share and then click Embed.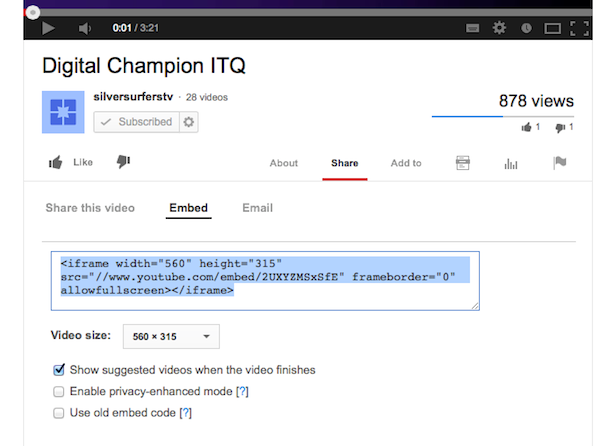 Step 4: You should be shown some 'code', select this using your mouse or keyboard shortcut, then copy it. You can change the size of the video player that will be embedded, but if you are unsure about these advanced options, leave the default sizes and settings untouched. 
Step 5: Go to the blog post into which you would like to embed the YouTube video. You will need to view 'source' or view 'html'. 

Step 6: Paste in your YouTube video code. 
Step 7: When you are ready, save and publish your blog post. You should see the YouTube video embedded and ready to play.