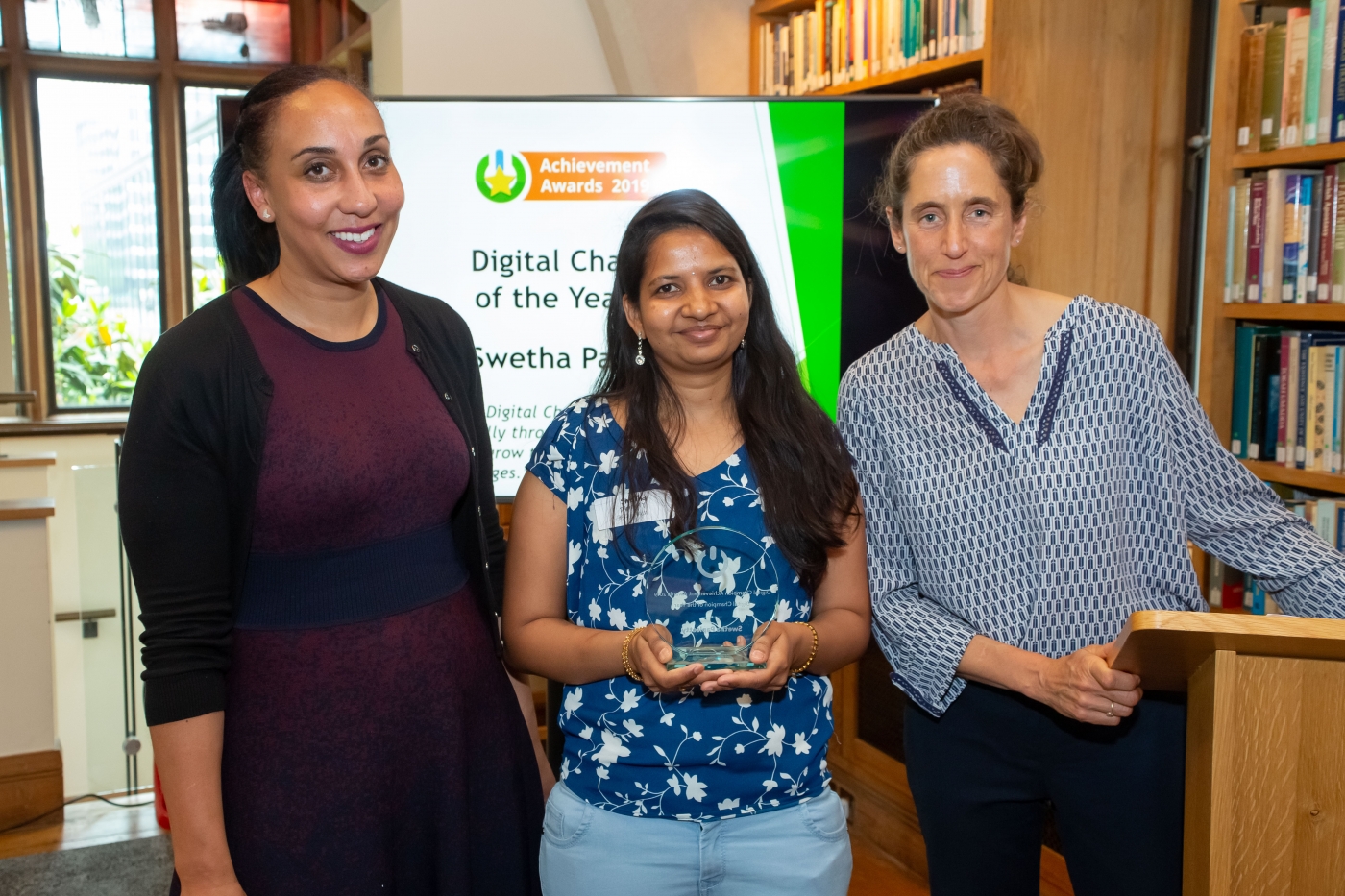 Swetha Papisetty was named Digital Champion of the Year in our recent Achievement Awards 2019 and is a Digital Champion with housing provider, Poplar Harca in East London. Poplar Harca joined Digital Unite's Digital Champions Network as part of the Lottery-funded One Digital programme.
Swetha (pictured centre with Tanya Spence from Clarion Futures and Emma Weston from Digital Unite) is an Indian national who arrived in the UK just over 18 months ago. She started employment and training with Poplar HARCA to gain essential work experience. She learned about their Digital Champions project at that time and immediately applied to be a Digital Champion. Swetha has been very busy ever since!
Making a difference in a short space of time
In less than four months Swetha helped dozens of local people with a variety of digital tasks. Through her support with using Microsoft Word to write CVs and covering letters Swetha has also successfully enabled people to get back into work.
In addition, Swetha supported parent learners at her local primary school to email a letter to the Headteacher to offer more digital skills support to other parents. These parents now have the confidence they need to receive and respond to emails from the school about their children.
Practical lessons using real-live examples
Swetha has inspired the learners to learn more by suggesting they send e-mails to each other during group sessions and made them search for events in the neighbourhoods as well as part-time jobs that they can forward to each other.
Swetha said: "It was very interactive which everyone enjoyed. They felt like a family where anyone was allowed to make mistakes and not feel embarrassed. They just felt free to ask each other for help when they got stuck. At the end of the session, some have agreed to attend local events during the Easter break while others were happy to explore the job sites that they have learned to navigate."
"The online training and support that is on the Digital Champions Network is a great resource to be able to dip into as and when I need it. I like to prepare well for my sessions and there is some great info on there to help me do this, such as the session planning tools."
Swetha, what's the highlight of being a Digital Champion so far?
"There have been many highlights but helping one of my learners secure a full time job is definitely one of them. Being able to give learners more confidence, particularly the over 50s, in using the technology such as emails, smart phones, booking online GP appointments and completing Universal Credit Forms is another. I also find that I learn something every time I teach a class, and that's wonderful for me."
"It's a great way to get to know people in your Community"
When we asked Swetha what she would say to other people interested in becoming a Digital Champion she was quick to respond.
"It's a great opportunity to work with others, as a sort of social service. And it's a great way to mingle with different local communities, social institutions and groups of people. Give it a go!"
Hear more from Swetha on what she enjoys most about being a Digital Champion in this short video: https://vimeo.com/367976059
Like more information on Digital Championing?
Click here to get more information on becoming a member of the Digital Champions Network and join Swetha and hundreds of others.