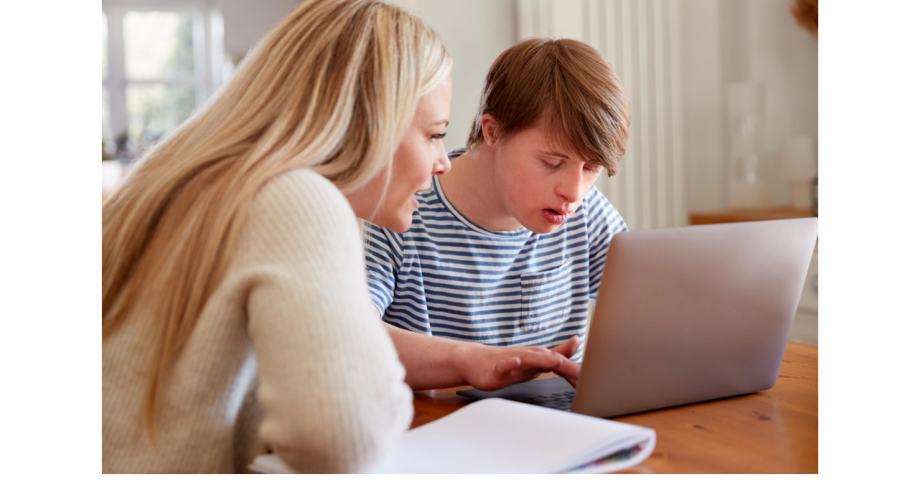 New practical guides about helping people with learning disabilities to use digital technology are now available for free on our website! 
As one of the most digitally excluded groups in society, people with learning disabilities need help to take their first steps towards using and enjoying the internet.
These easy-to-follow guides have been developed by Professor Jane Seale in partnership with Digital Unite as part of a Knowledge Transfer initiative, funded by the Open University. They are designed to fill in the current knowledge gap of how to help people with learning disabilities understand more about technology in general before they receive specific digital skills support. And, by using practical strategies, the guides give supporters confidence to know they are providing the right help in the right way.
Presented in a clear and step by step format, the guides include:
There are also two session plans to help people teach adults with learning disabilities about technology in a structured way. Covering The good and bad things about technology and What could I use technology for, the plans include thought provoking exercises and videos with real-life case studies to provide an engaging and meaningful learning experience.  
Professor Jane Seale at the Open University (OU) said:
"The lack of access to technology and support to use it has a profound effect on the health and well-being of people with learning disabilities. We know from recent OU research that parents, paid and voluntary carers and support workers, teachers and health and social care professionals can play an important role in enabling people with learning disabilities to access and use technologies. However, this is dependent on the level of digital skills that those in support roles have, and we know that many of them report a lack of digital confidence and competence.
"By combining our expertise with Digital Unite, we hope these guides and session plans will help people with learning disabilities to better engage with digital technologies and improve the capacity and capability of those who support them."
This new collection of resources is an extension of Digital Unite's current support for helping people with learning disabilities to get online. Our Aspire project helps people with learning disabilities build essential digital and workplace skills. It provides e-learning and online resources to help staff, carers and volunteers confidently teach new skills to adults with learning disabilities and trains adults with learning disabilities to develop their own confidence and knowledge to help others.