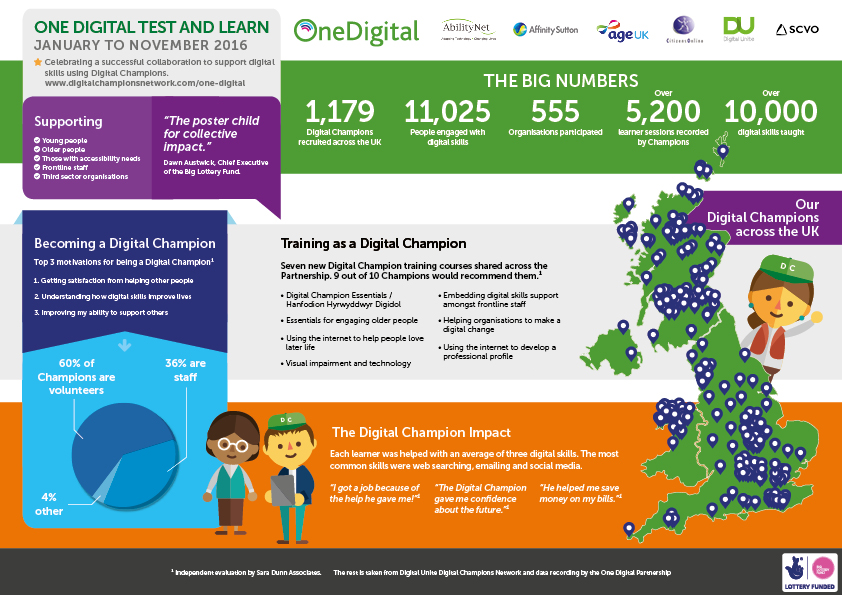 With over 1,100 Digital Champion reaching more than 11,000 people with digital skills across the UK, the One Digital partnership is celebrating the end of a highly successful Test and Learn programme.
One Digital is a unique collaboration between six diverse and distinct organisations; AgeUK, AbilityNet, Affinity Sutton, Citizens Online, Digital Unite and Scottish Council of Voluntary Organisations (SCVO).
Launched in January 2016 and supported with a £2million investment by the Big Lottery Fund the one-year programme spanned the nations (England, Scotland and Wales) and a diverse population.
Each Partner delivered a specific project within the One Digital wrapper, representing a different society group who face digital inclusion barriers but all Partner projects use consistently trained and supported Digital Champions as the golden thread.
Now, as a new infographic shows, the programme has realised significant achievements in just 11 months:
-      1,179 Digital Champions recruited across the UK
-      11,025 people engaged with digital skills
-      555 organisations participated
-      Over 5,200 learner sessions recorded by Champions
-      Over 10,000 digital skills taught
For more information visit www.digitalchampionsnetwork.com/one-digital.