In spring 2015, we came together with Age UK, Clarion Futures, Citizens Online and Scottish Council of Voluntary Organisations (SCVO), to consider how together, we could deliver better and sustainable digital skills to more people.
In a climate where there are less funds available, more must to be done with less. How might we be able to pool our reach, expertise and skill to achieve a greater impact in the delivery of digital skills?
Could we come together and collaborate with a shared vision and shared investment to provide solutions that can adapt, proliferate and sustain?
The result was One Digital, a Lottery-funded, UK-wide programme to help thousands of people across the UK to get online through inspiring, training and supporting hundreds of Digital Champions nationwide. It was our response to the changing and changed digital skills environment.
Now four years on, collaboration between these diverse partners continues to flourish and we can proudly say that, collectively, we have so far helped more than 16,500 people benefit from being online.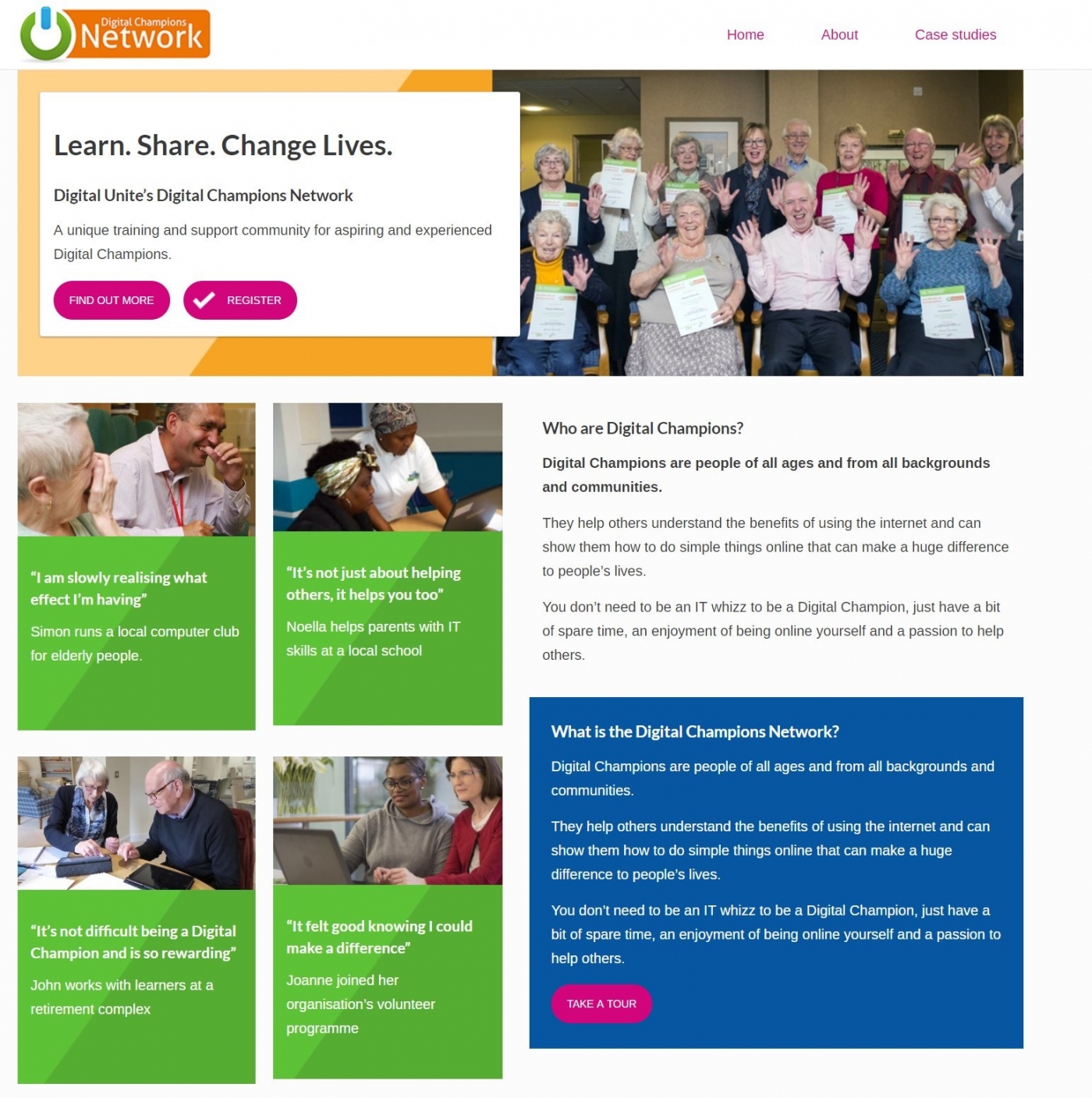 For our part, since One Digital's inception, we have provided the core foundation for the programme through our Digital Champions Network. The Network is an open source platform that trains, supports and resources Digital Champions (DCs) to cascade learning within their organisations and to service users. Every One Digital partner uses the Network to train and support their cohorts of Champions across a wide range of sectors.
We've worked with the partners to develop new online training courses for their specific communities that have benefitted the whole partnership. This includes courses on engaging older people with Age UK to bilingual resources to support Citizens Online's deep dive project in Gwynedd.
We've customised the Network's reporting mechanics to support their project delivery and developed personalised training pathways that are tailored to specific groups. We've created a much more dynamic and extended platform that is being used effectively by hundreds of organisations within the One Digital programme.
In the last two years we've also welcomed around 170 of our own members, from county councils, housing providers and trade unions to care homes, charities and community groups. We've provided free access to micro-organisations delivering digital skills in the heart of their communities and subsidised membership to those who need to build the capacity and skills to drive their own digital change.
The huge growth in our Network community, which currently has over 3,000 Digital Champions, has enabled us to understand more about what works and what doesn't; to evolve and develop the way we help organisations realise digitally-enabled service transformation. Our recent national Learning Award is testament to that.
We're hugely proud of our Network and the central role it has played in One Digital, but the sum of One Digital is greater than any of our parts. The programme has thrived and achieved its huge success because of the goodwill, energy and dedication to the collaboration that each partner brings. In the words of Dawn Austwick, Chief Executive of the National Lottery Community Fund; One Digital is the poster child for collective impact.
Vote for One Digital in the DL100 Awards!
One Digital has been shortlisted for the Digital Skills or Inclusion Initiative of the Year in the DL100 Awards 2019.  We'd love you to vote for us at https://digileaders100.com/digital-skills-or-inclusion-initiative. Voting closes at midday on Friday 10 May. Thank you.