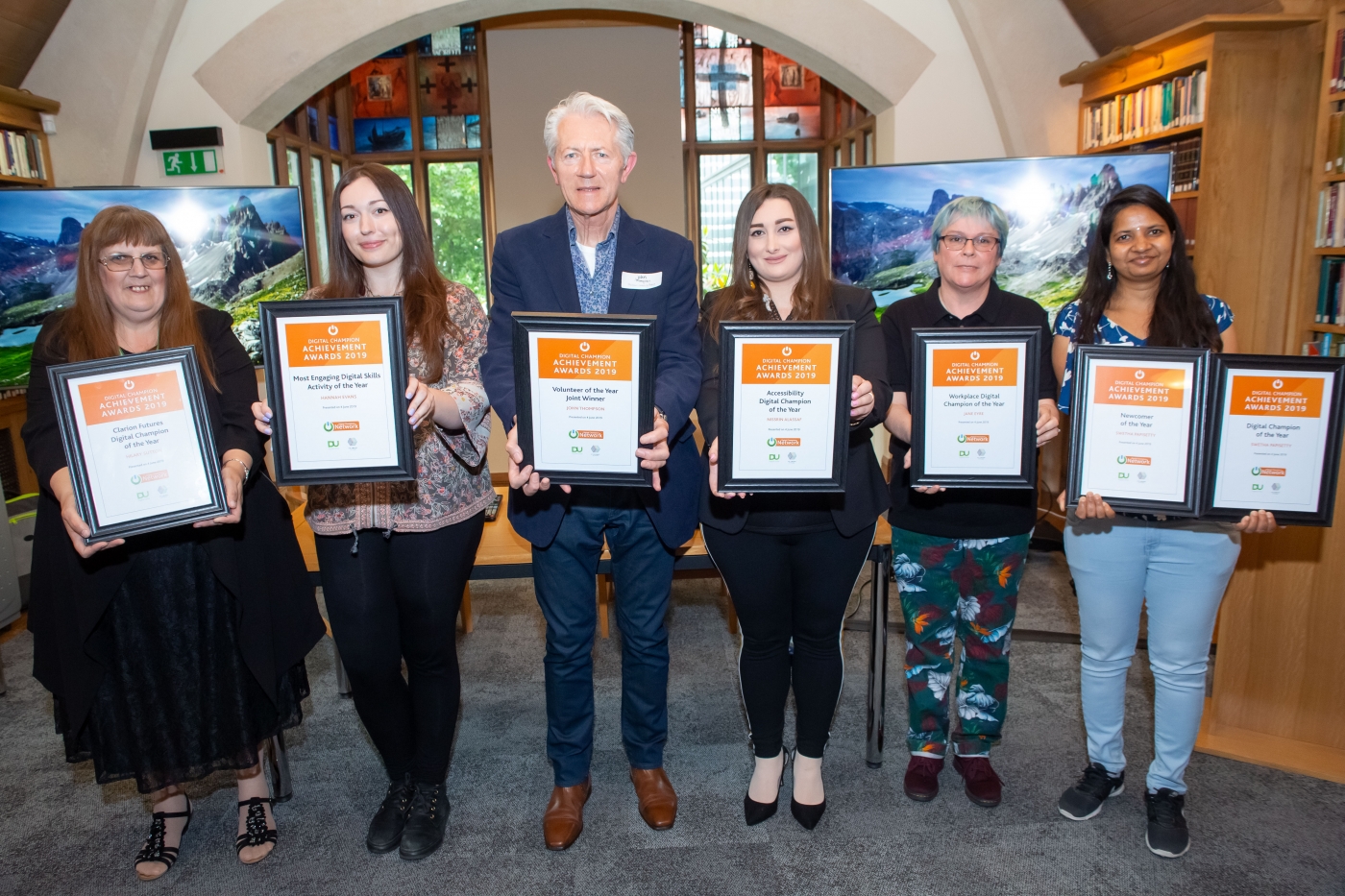 As part of national Volunteers' Week, a group of inspiring Digital Champions have been commended at an Awards ceremony in London (Tuesday 4th June) for giving their time and commitment to helping people get online.
The Digital Champion Achievement Awards 2019 are run by leading digital learning and skills provider, Digital Unite, in partnership with Clarion Futures, the charitable foundation of Clarion Housing Group.   Scores of nominations came from members of Digital Unite's Digital Champions Network¹, and seven Champions were successfully chosen by a panel of judges for their positive impact within their workplaces and local communities. 
Having digital confidence and skills improves employability, financial inclusion, social mobility and health and wellbeing for individuals. Despite this 11.9million adults don't have the Essential Digital Skills needed for day-to-day life and 6.1 million are 'digitally disengaged'. Over half of employees (53%) don't have the digital skills needed for work.²
For organisations, a digital first approach can unlock business efficiencies and cost savings but skills are needed to realise this; the digital skills gap is costing the UK economy £63 billion a year in the lost potential for additional GDP³.
Digital Champions (DCs) are an effective way to improve digital skills and build digital confidence for those who need encouragement, training and help to make the most of digital in their everyday lives and at work. Appropriately trained, supported and empathic DCs can provide tailored support to learners in any context or environment.
The 2019 Achievement Award winners represent a range of contexts where digital championing is proving powerful:
Newcomer of the Year – Swetha Papisetty. A newly arrived Indian national, Swetha became a Digital Champion with Poplar HARCA to gain essential work experience. In less than four months Swetha helped dozens of local people with a variety of digital tasks. Through her support with using Microsoft Word to write CVs and covering letters Swetha has also successfully enabled people to get back into work. In addition, Swetha supported parent learners at her local primary school to email a letter to the Headteacher to offer more digital skills support to other parents. These parents now have the confidence they need to receive and respond to emails from the school about their children.
Volunteer Digital Champion of the Year – John Thompson (Joint winner). Following early retirement John wanted to give back to his local community and use the skills he'd gained in his professional life. Being a Digital Champion with Phoenix Community Housing was the perfect way to do this. He volunteers his digital skills at his nearby Jobcentre Plus and runs Digital Dropin sessions at a local community building, The Green Man.  John has helped over 70 people so far with some being supported every week for months. He is also a mentor to other Digital Champions and actively helps to engage new Champions so that more local people can benefit from this vital support.
Volunteer Digital Champion of the Year Stephen King (Joint winner).  As a Clarion Futures Digital Champion Stephen works with job seekers and community members at a local job club. Originally joining the job club seeking work himself it became clear he had a gift for helping others. Stephen now spends every week showing people who are disengaged from technology how useful the internet can be for a variety of issues, demonstrating sites such as Gumtree and eBay. Despite his own health and mobility limitations Stephen sets a great example to others with similar issues, always encouraging people with disabilities to try new things.
Workplace Digital Champion of the Year – Jane Eyre. Jane is the leading learning representative in the UNISON branch at Blackpool Victoria Hospital. As the NHS continues to digitise its systems, supporting hospital staff with digital learning has become increasingly important. Along with providing oneto-one Digital Champion support to her colleagues, Jane has set up a Digital Champions programme, engaging 18 workplace volunteers as fellow Champions. Using the resources in Digital Unite's Digital Champions Network Jane has also created a six-week Computers for Beginners course for staff which runs at lunchtimes and in the evening.
Clarion Futures Digital Champion of the Year – Hilary Sutton. Hilary began her Digital Champion journey as a learner herself and after completing her own digital skills course, signed up to be a Digital Champion. Volunteering twice a week at the Bure Valley House retirement scheme Hilary has a wide range of learners with different needs including sight problems, epilepsy, arthritis and depression. Hilary helps each one overcome their own digital skills barriers in a relaxed and calm way enabling her learners to feel comfortable and confident to use technology on their own. 
Accessibility Digital Champion of the Year – Nissrin Alassaf. Nissrin came to the UK from Syria as a refugee in 2016 but had difficulty adjusting to her new life in Ealing .  Nissrin joined the 'Working West London'  BBO Community Fund/ESF project  and then subsequently became a  Volunteer Digital Champion for Action West London  (a charity and social enterprise). Becoming a Digital Champion for Action West London gave Nissrin the opportunity to regain her confidence and sense of purpose. With her language skills, and previous experience as a journalist for a Syrian TV channel, she works with Arabic learners to make digital technology available to those whose first language is not English.  Her own personal experience means she is able to empathise with them and build their trust. Nissrin now feels she can do anything!
Most Engaging Digital Skills Activity – Hannah Evans. As a Digital Champion for Poplar HARCA, Hannah uses innovative ways to support families improve their English skills through digital.  Hannah supplements the traditional curriculum learning with real life situations,  encouraging learners to find out online about local social activities to avoid becoming isolated. She showed them how to use a healthrelated website to find nearby activities with some subsequently joining local organised cycles and others booking tennis lessons. The learners have also researched and found local volunteering opportunities to further improve their English.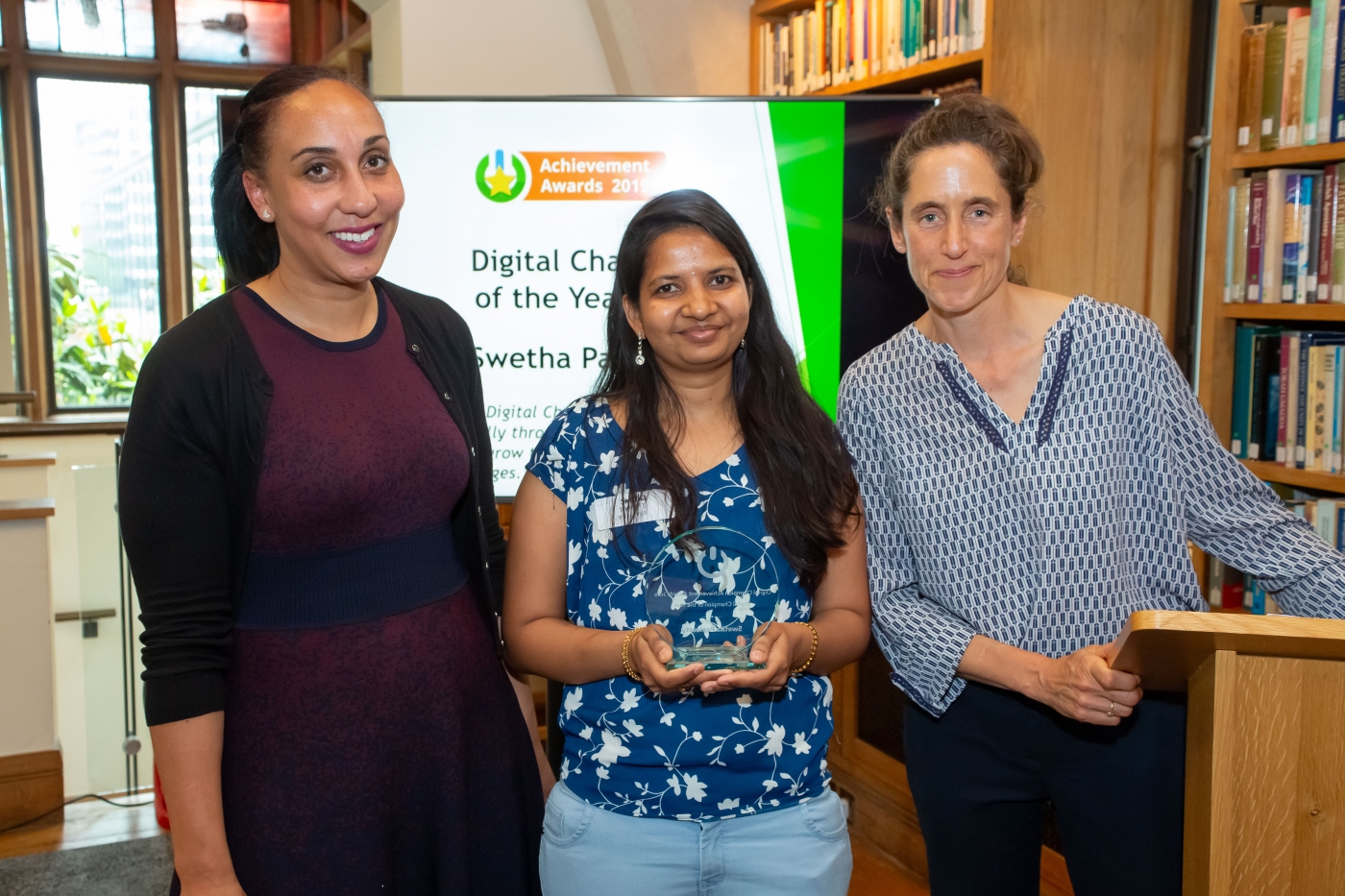 Amongst the seven finalists, the overall Digital Champion of the Year 2019 was named by the judges as Swetha Papisetty (pictured with Tanya Spence of Clarion Futures and Emma Weston, Digital Unite) in recognition of the way she has grown personally through her role and enabled others to grow too.
Emma Weston OBE, Chief Executive at Digital Unite said: "Digital Unite believes that people ultimately make digital technology work for other people and that they – we! – are the key to unlocking its benefits, appropriately and sustainably, for others.
"Digital Champions embody people power! These Award Winners show that digital championing is not just about providing help for beginners. It's about keeping people engaged, keeping them learning – keeping them curious - so that as digital tech continues to evolve, they do too.  I'm particularly excited by supporting the development of people-first, learning-first characteristics in the workplace. All organisations have the opportunity to unlock their digital potential by empowering their people."
"We are proud to be supporting these brilliant Digital Champions through our Digital Champions Network. And we are delighted to be in an ongoing partnership with Clarion Futures; they set a shining example in social housing with their vision for DC-led growth at all levels of the organisation and within their communities."
Photo caption, left to right: Hilary Sutton, Hannah Evans, John Thompson, Nissrin Alassaf, Jane Eyre and Swetha Papisetty
 ¹ Digital Unite's Digital Champions Network is an award-winning online platform that trains, supports and resources Digital Champions (DCs) to cascade learning.  It has over 150 member organisations and supports thousands of DCs nationwide.
² Lloyds Digital Consumer Index 2019
³ House of Commons Science and Technology Committee 2017
Carousel title
Celebrating national Volunteers' Week with award-winning Digital Champions
How can a Digital Champion approach help your organisation?
Take our online assessment to find out. 
It takes 10 minutes. There are no strings attached. At the end, you get a tailored report with recommendations and a free, practical guide to running a Digital Champions project.