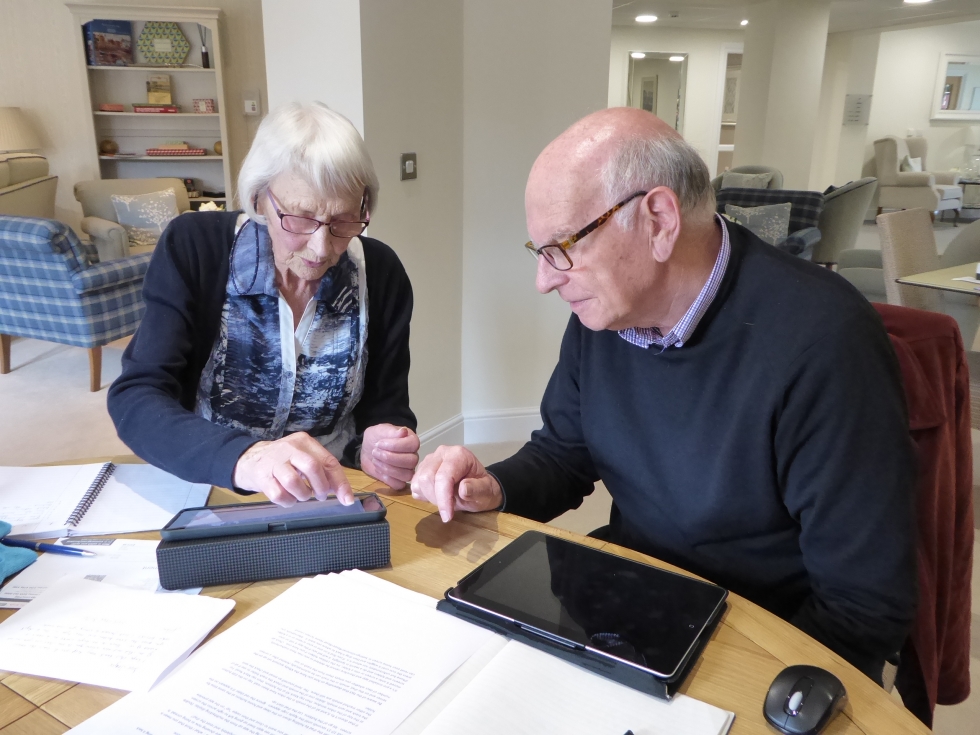 John Peberdy became a Nottinghamshire Digital Champion in August last year. Retired and in his late 70s John had several years' experience with using computers and was keen to put his knowledge to good use in his local community. Since joining the Network John has been working with learners at a local retirement complex in Hucknall, Nottingham using 'hand me down' tablets and iPads.
John said: "Having had a career as a university lecturer and professor I have always enjoyed sharing my knowledge and experience with my students. In fact I was one of the first academics in my department to introduce computing as an office tool.  
"Recently I've been helping residents at Whyburn Court. Most of my learners are aged over 75 and complete computer beginners. I've been showing them the basics such as how to set up a tablet, sending emails, using Skype, retrieving lost emails, accessing the news and using the BBC iPlayer.
"I very much enjoy working on a one-to-one basis – lots of older people like having a mentor, whether it be for the technological help and/or the social stimulus. Often well-meaning relatives buy them some kit, say 'this is how it works' and then leave, seemingly not remembering or being aware that there would have been none of this technology around in the past.
"It's been great to help people with different issues. I showed one lady how to send emails and how to use skype to communicate with family abroad. Another lady had had emails sent to her by a relative with photos attached but had no idea how to access and view the photos. I've also really enjoyed meeting new people and people that I wouldn't otherwise have met as many of my peers are academics.
"There's a new retirement village open shortly in Stapleford, which is a little nearer to where I live and I will be finding out if I can help there too.  
"It's not difficult being a Digital Champion. In fact all the necessary tools are available on the Digital Champions Network. Even though you may think that people are going to ask you complex questions, the fact is that the majority of my work has been showing people how to do simple basic tasks. So give it a go. It really is so rewarding and interesting."