Jane (pictured with her adorable dog Whisky!) is a Sustainable Transport Officer at Waltham Forest Council. She saw the opportunity to volunteer as a Digital Champion in the Council newsletter and decided to sign up as she wanted to share her skills with local people.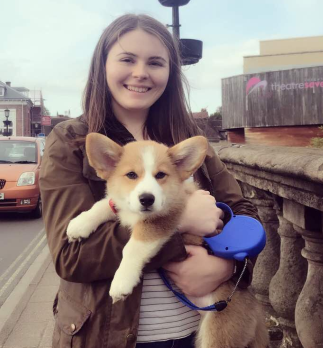 Jane works full-time for the Council but was still able to fit in volunteering around her working week. She has just completed 8 weeks as a Digital Champion in a local GP surgery in Walthamstow, where she has been helping patients sign up to the Patients Online service. Jane has really enjoyed the flexible nature of the role and has so far helped 40 local people sign up to the service:
"It is a really simple thing to do to get people to sign up to Patients Online, but many people weren't aware that the service even existed. Many people were really appreciative and were really pleased to find out that they could order their repeat prescriptions or book appointments online.
"Having the training and support through the Waltham Forest Digital Champions Network has been really useful and interesting and given me the confidence to get out there and offer my help. I think most people take the skills they have for granted, and don't realise that by sharing their knowledge they can really help others. Once you have the confidence it is a lot easier to be a Digital Champion than you think and so rewarding too."
For more information on the Waltham Forest Digital Champions Network visit www.digitalchampionsnetwork.com/waltham-forest
Get in touch
To find out how to join Digital Unite's Digital Champions Network and benefit from Lottery funded membership get in touch with a member of the team today!