There is such a wide range of people who volunteer their time as Digital Champions, but something they almost always have in common is their enthusiasm for helping others. The biggest reasons people sign up to become Digital Champions is 'getting satisfaction from helping others'.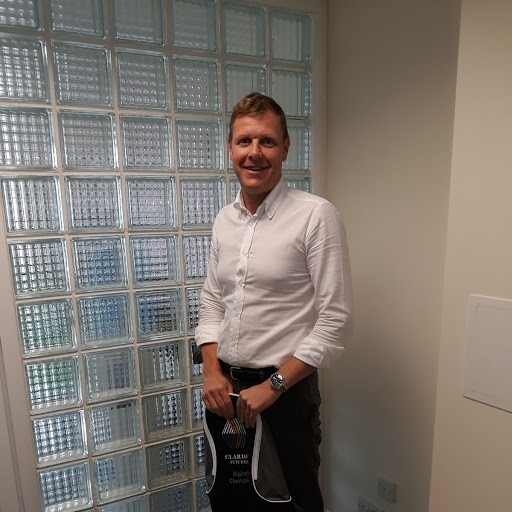 One Digital Champion who has definitely enjoyed his role is Duncan from Kent. Duncan (pictured) has worked in education for 24 years and was, until recently, was a Headteacher in a primary school. Whilst taking a career break to explore new opportunities, he decided to volunteer and chose to become a Digital Champion. He felt that the opportunity matched his skills well whilst also recognising the importance of getting people engaged in the digital world.
Duncan has been supporting job seekers in a Clarion Futures Jobs Club to make better use of computers as it increasingly becomes a requirement of Universal Credit.
'Being a DC is a hugely rewarding experience'
"Not only does being a DC give you the opportunity to refine your IT skills and knowledge but it also enables you to explore the best methods and strategies to help others learn and understand. I found being a Champion a hugely rewarding experience and I thoroughly enjoyed the role. I was well supported by other colleagues and this enhanced the experience further. I saw the confidence of those with whom I worked grow and it was a joy to see how, by becoming more familiar with IT/technology, they were able to complete tasks more quickly, accurately and reliably to help themselves and develop greater independence.
"My teaching style has evolved as my role has expanded and I have adapted my approach to suit individuals. I have found that working with others from different backgrounds and experiences has widened my understanding of their needs and views, learning much both about computing and society at the same time. I would wholeheartedly recommend getting involved in work as DC – not only are you giving back to your community, meeting new people and discovering new IT skills yourself but volunteering can open doors and opportunities elsewhere, including the job market."
'The training was an enjoyable experience'
Duncan was supported in his role through training courses on Digital Unite's Digital Champions Network. After completing the Digital Champions Essentials course he said: "It was very easy to navigate through the course and the hyperlinks to the various web-pages and help guides were excellent. It was an enjoyable experience, also helped by the fact that it wasn't time sensitive. Knowing that you could stop, take a break and then go back for more without worrying about 'timing out' was a good feature."
Join our Digital Champions Network today!
Click here to find out more about joining Digital Unite's Digital Champions Network as both an organisation or an individual.