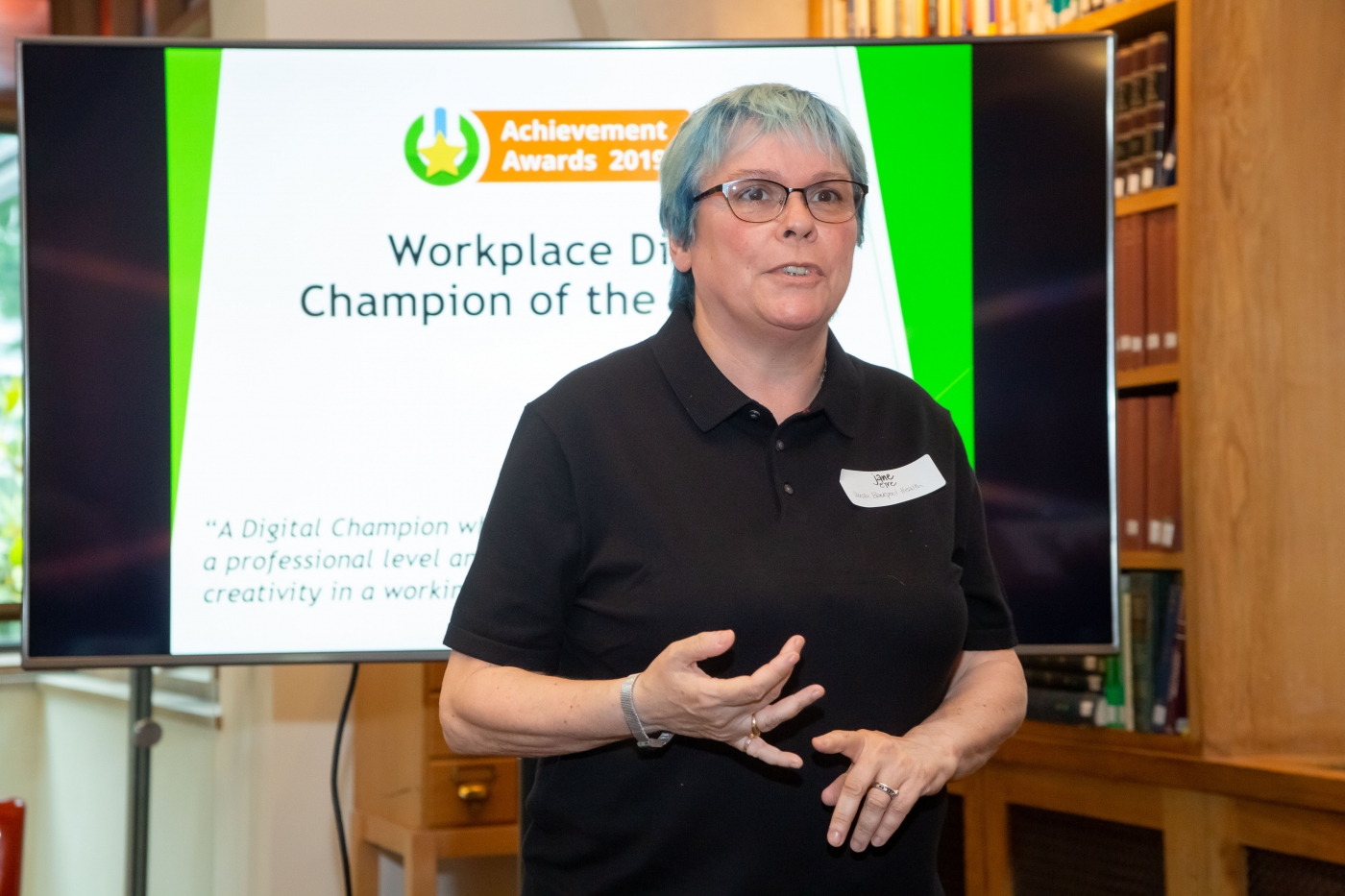 Jane Eyre was named Workplace Digital Champion of the Year in our recent Digital Champion Achievement Awards 2019.
Jane is the Leading Learning Representative in the UNISON branch at Blackpool Victoria Hospital and is responsible for running engaging learning activities in the workplace on a whole range of topics.
UNISON joined Digital Unite's Digital Champions Network as part of the Lottery-funded One Digital programme to help their members gain the digital skills and confidence they need for employment and learning opportunities. As the NHS continues to digitise its systems, supporting hospital staff with digital learning has become increasingly important.  Along with providing one-to-one Digital Champion support to her colleagues, Jane has set up a Digital Champions programme, engaging 15 workplace volunteers as fellow Champions.
Using the resources in Digital Unite's Digital Champions Network, Jane has also created a six-week Computers for Beginners course for staff (which includes outsourced staff such as the domestic service company) which runs at lunchtimes and in the evening.
We talked with Jane about her Digital Championing journey.
Why did you become a Digital Champion?
"I became aware of the role of Digital Champion through my National UNISON LAOS lead and I decided to take on the role because I realised it would help me in my capacity as Lead Learning Representative and give me access to new training materials".
How did you find the training?
"There are a great deal of practical resources on the Digital Champions Network.  I enjoyed the training and it gave me some great tips and ideas for training other people from different walks of life, ages, abilities and interests. It includes topics like compiling a training session for individuals and groups ( i.e. Session plans), working with people with memory loss, getting customers online.
"I love the Digital Unite session plans. I've made a few tiny amendments to suit our own situation, but they are brilliant!"
What have been your highlights so far?
"The teaching we have done so far has been for the domestic staff but our future training will cover every job level.  I got really good feedback from the domestics and they really enjoyed the course we ran and felt so much more confident in using the technology.
"There was one man in particular. Peter*, a Domestic Supervisor, who attended the 6 week Computers for Beginners course. He was cowering when he started, but 6 weeks later he left saying: " I have learnt more in 3 lessons that I never thought I would learn. Ever." He was in fact like a new man!
The other highlight that Jane mentions is attending our Digital Champion Achievements Awards ceremony on London in June as pictured with Tanya Spence from Clarion Futures (left) and Emma Weston OBE from Digital Unite (right). The judges said Jane was "A Digital Champion who has excelled at a professional level and shown super creativity in a working environment."
What have been some of the challenges you've faced?
"Some of the struggles have been negotiating time out for staff to attend the courses – we agreed that the staff members would give half an hour of their time and the company would give half an hour of its time.  
"Some people are adamant that using a smartphone, tablet or PC is not for them because they don't need to use the internet.  You then have to try and show them why being online is advantageous in this day and age and that you can trust it".
"Part of my remit is to upskill the lower banded staff such as the domestics, catering staff, porters, housekeepers, healthcare assistants etc so they can use technology better.  We started with the domestic staff as their management team had expressed great interest in this. We are looking to put the course on again in the autumn for more staff. The demand is there".
"Have a go – you don't have to be an expert"
Jane's advice to anyone who is thinking about helping others get online is to have a go!
"It's not necessary to be an expert, rather someone who enjoys helping people whether that's to help them shop online, or set up an email account to keep in touch with family."
Click Here to find out more about joining Digital Unite's Digital Champions Network as both an organisation or an individual.
*Name changed