To celebrate Learning at Work Week (13-19 May) and its theme of 'shaping the future' our new infographic highlights how Digital Champions can support and cascade learning in the workplace to realise service transformation of the future.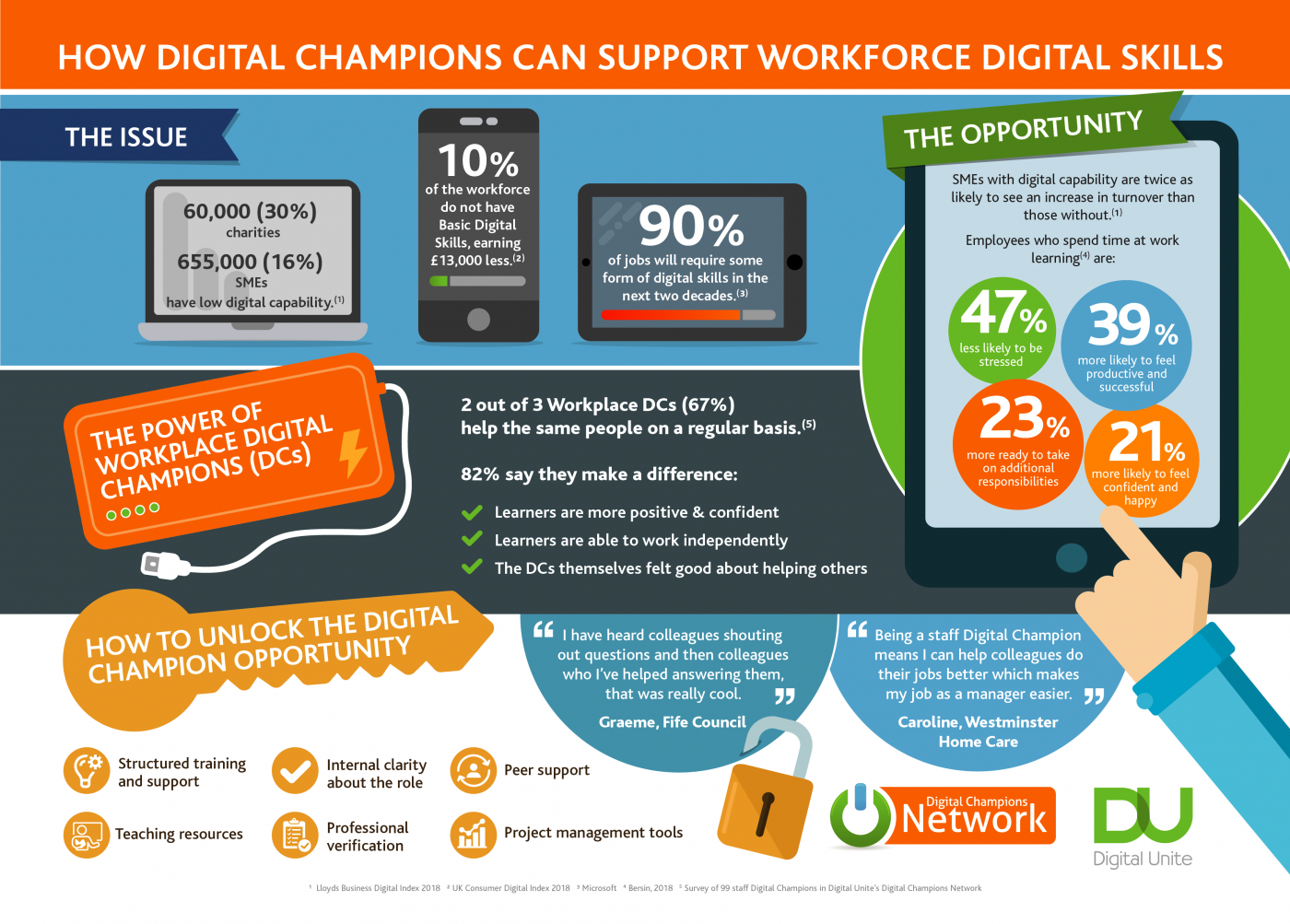 Digital skills are now a workplace essential but despite this, many charities and SMEs are lacking the digital capability they need to unlock more turnover, achieve greater efficiency and support their staff.
To achieve digitally enabled service transformation, staff and customers need to learn; the knowledge and skills to make digital 'work' for them and the confidence and strategies to apply them.
In our view the only feasible way to achieve learning at scale, and cost effectively, is to use a peer or champion approach to embed cascade digital skills. As the only organisation that focuses exclusively on vocational training and support for Digital Champions, we've seen how Champion models allow people to:
Develop their own digital skills
Develop other 'soft' skills
Develop mentoring and engagement skills
Work with others and develop teaching and social skills
Cascade those benefits in other areas of their lives
Find new routes into further learning and volunteering
As our infographic shows, that feeling of personal satisfaction from learning, and applying that learning, can also add to wellbeing and effectiveness. Employees who spend time at work learning are less likely to be stressed and more likely to feel confident and happy.
Our Digital Champions Network was our response to the peer-to-peer learning approach. It's an open source platform that trains, supports and resources Digital Champions (DCs) to cascade learning within their organisations and to service users. It also has tools and metrics for project managers, further supporting a blended approach to driving change through learning.
Amongst our extensive Network membership we can evidence this wider move to employee-led learning. Over half of our 3,000 Digital Champions are providing digital skills support in the workplace and, crucially, they are helping customers and service users too.
The opportunity is undeniable. In a recent survey of our Network Digital Champions helping colleagues, 82% said they made a difference, just by helping when they can, usually at their desk and on an ad hoc basis. It is exciting to think how workplace Digital Champions could help shape the future if they were supported to learn about digital skills and how to cascade that learning to others.
Join our Digital Champions Network
To find out how our Network can support peer to peer learning in your workplace get in touch with us today.