New Digital Champion training to support people with payslip legislation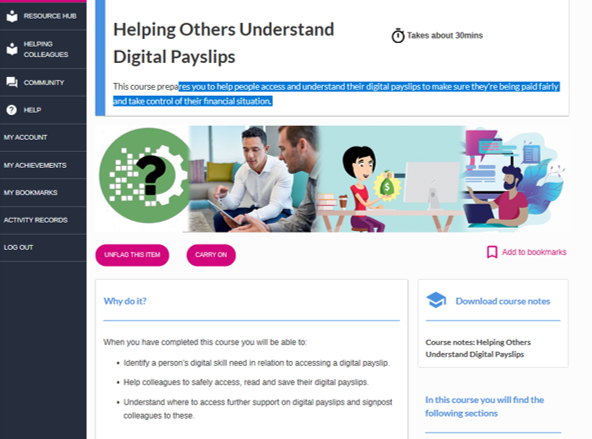 Following new legislation this year, Digital Unite has teamed up with UNISON to create new accredited training that shows people how to help colleagues with their digital payslips.
Digital payslips are increasingly common as many organisations move their internal processes online. As of 6 April 2019, legislation now requires employers to provide workers, as well as employees, with itemised payslips. These payslips must also show hours with variable rates of pay so that workers, particularly those on casual and zero-hour contracts, can ensure they are receiving the minimum wage.
These new regulations mean that about 300,000 workers[1] are receiving payslips for the first time and, for many, using them online can be daunting.
The new CPD-accredited training, Helping Others Understand Digital Payslips, is aimed at staff who are Digital Champions at work and who help colleagues improve their digital skills.  It shows Digital Champions how to support others with accessing and understanding their digital payslips to make sure they are being paid fairly. It covers topics such as how to identify a person's digital skill need from the outset and showing someone how to read and save digital payslips in a safe and secure way. It also signposts people to further digital support if they need it.
The course is available on Digital Unite's Digital Champions Network, an award-winning training platform for staff and volunteer Digital Champions. UNISON joined the Network in 2018 and currently has around 40 Digital Champions helping their members across the UK with digital skills.
Katie Shaw, National Learning & Development Organiser at UNISON said: "This new course on digital payslips is another way we are responding to a changing membership and a changing world. As workplaces become more digitised, employers are forgetting that some of their workers need help to get online and the skills to navigate the digital world. Our Digital Champions are successfully helping their colleagues get digitally active in the workplace and are benefitting from the essential training and resources in the Digital Champions Network. Understanding how to help people with digital payslips is an important addition to the knowledge and skillset of our Digital Champions."
Find out more
To learn more about our Digital Champions Network and how it can support your organisation with digital skills get in touch with a member of our team today.
---
[1] Department for Business, Energy and Industrial Strategy