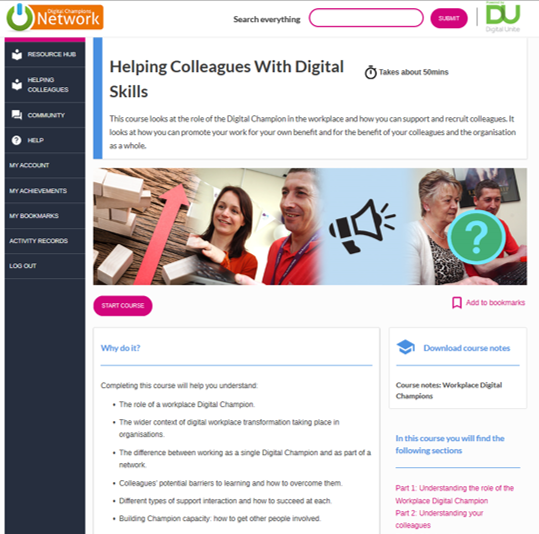 A new accredited online course and dozens of new resources have been launched by Digital Unite to train staff as Workplace Digital Champions and improve digital skills across an organisation.
Recent research showed that half of UK employees (53%) do not have the digital skills needed for work and two-thirds (66%) don't receive the support they need in their workplace¹. Having staff trained as Digital Champions can cascade digital skills across an organisation and improve its digital capability.
The new course, entitled Helping Colleagues with Digital Skills, is available on Digital Unite's award-winning Digital Champions Network. It is based on feedback from existing Workplace Digital Champions and has been developed in partnership with Elizabeth Marsh of Digital Work Research.
The course shows an employee how to:
help colleagues with digital skills in different situations, from at desk support to planned sessions and using Skype
adapt their approach to different audiences, such as frontline staff and senior management
deal with reactive requests and proactively find opportunities to offer support
understand and overcome colleagues' learning barriers such as time, confidence or a fear of looking foolish
help colleagues get to grips with their organisation's own online tools and systems
recruit colleagues as Digital Champions and promote their own success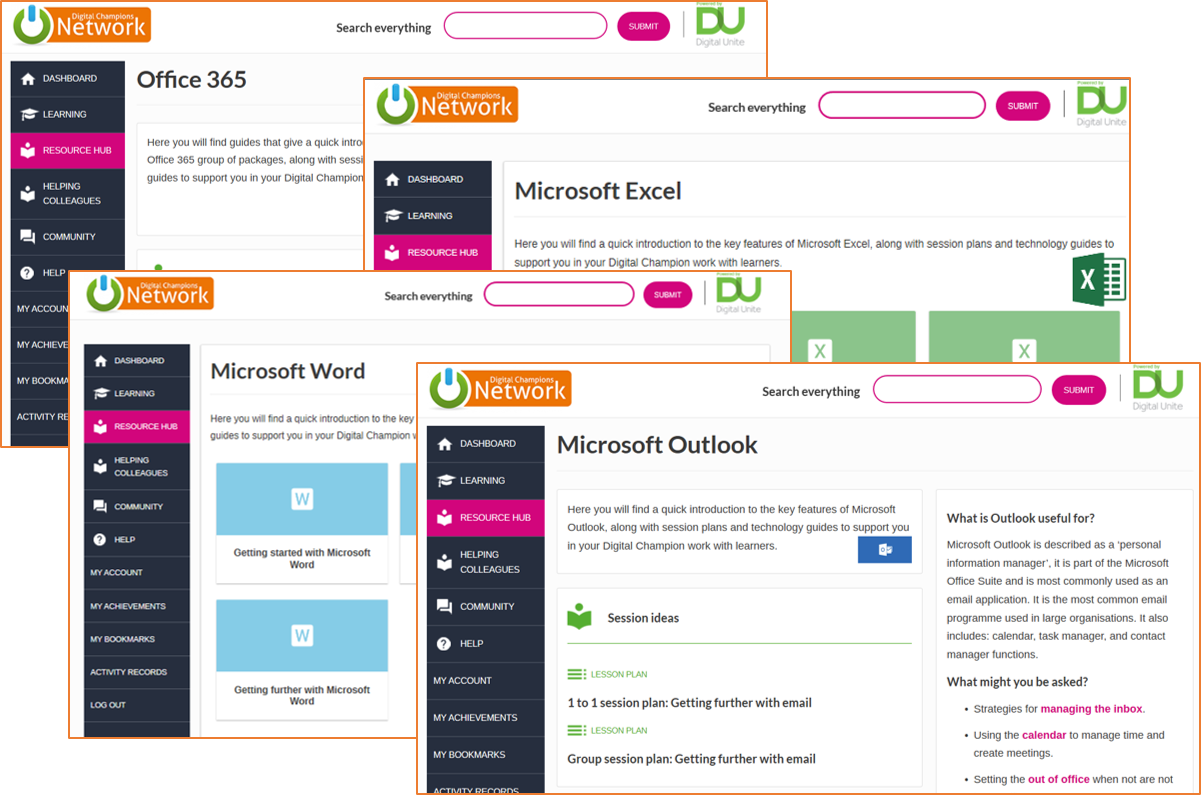 The e-learning comes complete a range of learning resources that support both Digital Champions and the colleagues they're helping. This includes over 40 how-to guides on Microsoft Office programmes including Word, Excel and PowerPoint, session plans and templates to promote their role.
Graeme Houston, Housing Management Officer at Fife Council, helps his colleagues as a Workplace Digital Champion. Graeme said: "Since doing the Digital Champion training, I have changed my approach –  rather than hitting buttons and solving problems for colleagues I now try to help them help themselves. There has definitely been a positive reaction to this and I spend more time with people now, helping them to get the hang of things. Yes, it takes longer but you have to speculate to accumulate and the gains are enormous. Often, I help colleagues and then see them helping other colleagues. I have also heard people shouting out questions and then colleagues who I've helped give them the answer. That was really cool!"
Emma Weston, Chief Executive of Digital Unite said: "The digital skills gap is costing the UK economy £63 billion a year in the lost potential for additional GDP ² and employers can help to improve skills, confidence and overall digital literacy through their workplaces. By creating Digital Champion models an organisation can deliver learning and skills at scale and cost effectively. Our established and award-winning Digital Champions Network is a one-stop-shop for setting up, running and monitoring champion led digital skills projects. With this new workplace training, developed in partnership with members of our Network, it further cements its role in supporting organisational-wide digital transformation programmes."  
Train your staff as Workplace Digital Champions today!
Click here to get in touch with us to find out how you can join our Network for as little as £995.
---
[1] Lloyds Digital Index 2019
[2] House of Commons Science and Technology Committee 2017