We are delighted to be part of the exciting new phase of One Digital which has received further investment from the Big Lottery Fund following its successful Test and Learn activity.
Our Digital Champions Network (DCN) will continue to be central to this digital skills programme that, over the next three years, is aiming to train and support over 4,000 Digital Champions who can go on to help more than 40,000 learners.
One Digital is an established and successful collaboration between five distinct and diverse organisations - Age UK, Affinity Sutton, Citizens Online, Digital Unite and SCVO. Launched in January 2016 the pioneering programme helped over 11,000 people engage with digital skills in just 11 months through the creation of a UK network of 1,100 Digital Champions.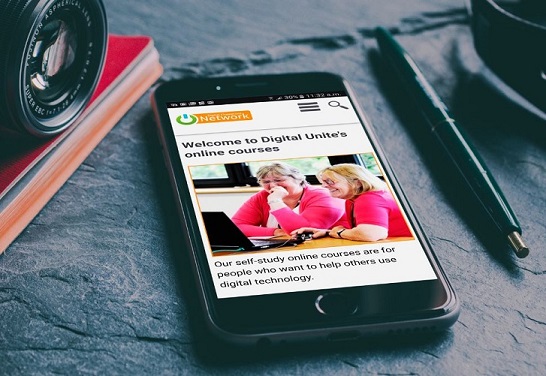 Developing the capacity of people and organisations through the creation of Digital Champions  is now commonly regarded as a key solution to sustainable digital participation. Indeed Digital Champions were identified as a key recommendation of the House of Commons Science and Technology Committee as they reported on the UK's digital skills crisis last summer.
As a train-the-trainer platform, our Network provides essential and structured training and support to turn staff, residents and volunteers into effective Digital Champions who can promote the confident and continued use of the internet in local communities.
Used across the One Digital partnership to train and support over 950 Digital Champions in just 15 months an independent evaluation* showed that 9 out of 10 would recommend the DCN's training.
As One Digital enters this momentous new phase, we will continue to innovate by making the Network smarter, more compelling and more effective for Digital Champions so their impact on the ground is greater.
We will also be inviting organisations from a wide variety of sectors to join the DCN and use its framework to create their own movement of Digital Champions who can go on to improve digital participation for their target audiences.
Kathy Valdes, Managing Director for Digital Unite said:
"We are thrilled that One Digital has received further funding and incredibly excited at the new opportunities this now opens up to other individuals and organisations. The last 12 months have clearly shown the sustainable and widespread impact Digital Champions can have with supporting people with digital skills at a local level.
"Digital Unite is the only organisation that focuses exclusively on vocational training and support for Digital Champions. As such our Digital Champions Network is uniquely placed to further realise the potential of this critical digital skills support. Using our evidence base and a learner-led co-design process, we will be using new technologies and training approaches to extend the Network to make the Digital Champion model even more effective and impactful across the UK."
Get in touch today!
To find out how your organisation can create its own Digital Champion movement through the One Digital programme get in touch.
*Independent evaluation for One Digital in 2016 by Sara Dunn Associates