An exciting redevelopment informed by our UK-wide Digital Champion community
Get involved today!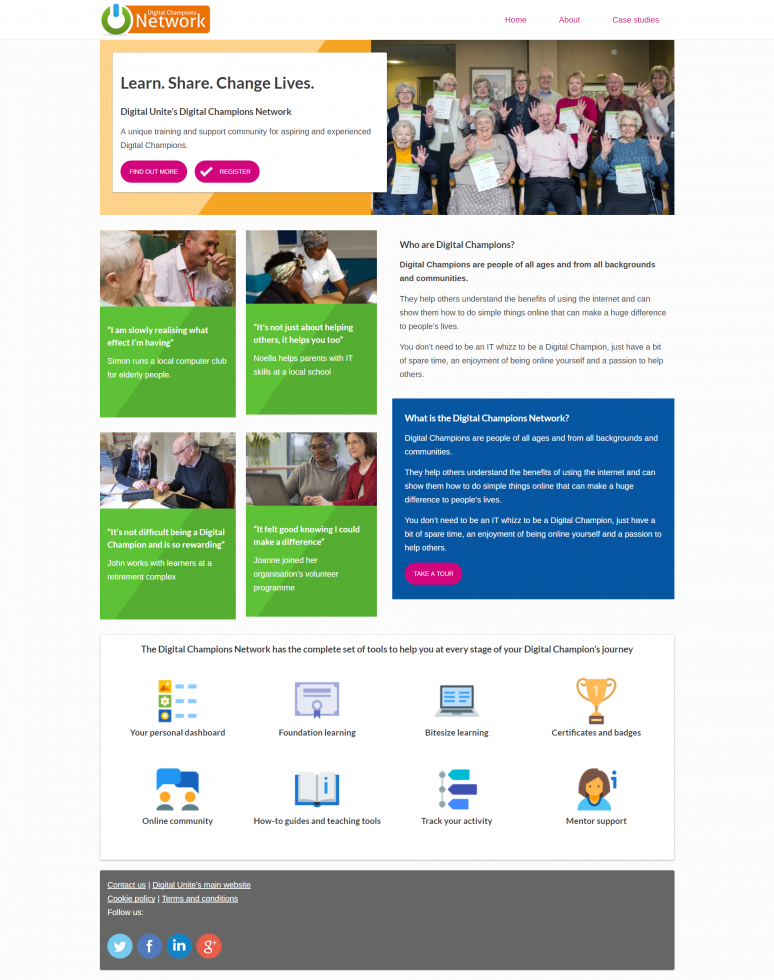 We are delighted to announce the launch of our new and improved Digital Champions Network. Underpinned by Digital Champion insight and research the Network offers even more training and resources to help Champions deliver effective digital skills support across the UK. 
Digital Champions are now regarded as a key tool in achieving sustainable and widespread digital participation and supporting digital transformation across organisations. Independent research recently showed that Digital Champion support can help to realise tangible improvements to people's lives, indeed over 80% of those supported reported increased confidence in their basic digital skills and increased motivation to use them¹.
The Digital Champions Network is our unique training and comprehensive training and support system for aspiring and experienced Digital Champions. Having trained thousands of Champions since its initial inception in 2013, this exciting redevelopment forms a natural part of the Network's evolution.
The update has been informed through a learner-led co-design process and evidence base gathered amongst the Network's existing community of Digital Champions. Feedback showed that the training and support areas most critical to maximising a Digital Champion's role are:
-      Peer to peer support
-      Information on the latest technology and software
-      Material for teaching sessions and leave behind items for learners
-      Access to mentor support
-      Short, bite-sized learning that's easily fitted in around busy lives
-      Simple tools to record learner information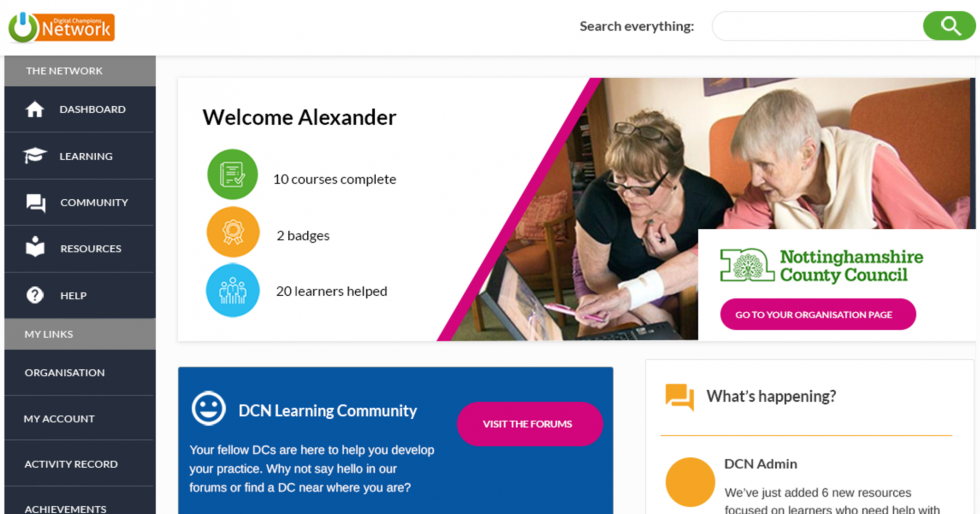 In response the upgraded Network now offers a wide range of self-study online courses to meet a Digital Champion's role and training needs. All of the courses are linked to the national Open Badges schemes to evidence personal and professional development. There is also a new and structured Resource Centre collating over 500 ready-to-use training and teaching resources and a new web app enabling Champions to record their learner interactions quickly and easily.
A new project management dashboard means member organisations can evaluate their Digital Champion impact at a glance enabling them to review and refine on-the-ground activity.
Emma Weston, Chief Executive of Digital Unite said: "We are incredibly excited about this new iteration of our Digital Champions Network. Through extensive user insight the upgrade responds to the changing face of today's digital skills landscape and the evolving needs of organisations and the Champions themselves, both professionally and personally.
"We have already seen the way our train the trainer platform has helped to create skilled and motivated Digital Champions across the UK who have successfully gone on to cascade better digital skills in their communities and workplaces. Now with its enhanced range of training and teaching tools and flexible organisational support the new Network provides an even more powerful and unrivalled foundation for embedding and sustaining successful Digital Champion programmes."
Would your organisation like to be part of the new Digital Champions Network?
For a limited time only Digital Unite is offering exciting opportunities to join the Network on a funded or part funded basis. To find out more get in touch today, read more here>>
¹Sara Dunn Associates for the One Digital programme 2016