Sandra Hyde is a Digital Champion who set up and runs a Computer Club for her local WI group – Westham Evening WI in Westham, East Sussex.
She joined Digital Unite's Digital Champions Network for free as an independent Digital Champion as part of the Lottery funded One Digital programme.
How Sandra became a Digital Champion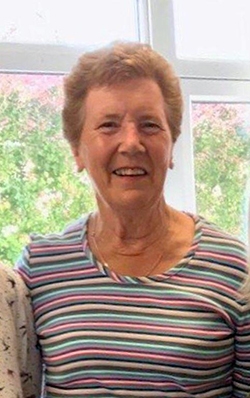 Sandra had been using the technology guides on the Digital Unite website and found the information so useful and easy to digest, that she wanted to spread the word to others. She had struggled to find the right information to solve many of her own computer problems once past the complete beginner stage.
Realising that many of her WI friends were only using their tablets and phones for minimal use, she suggested forming a Computer Club in the autumn of 2016. With the necessary WI approval the first meeting was held in January 2017. It continues to run on a monthly basis, with a short break in the summer.
Sandra found the learning materials on the Digital Champions Network really helpful particularly the templates, including editable flyers to advertise a training session and the group session plan templates. Her new knowledge from these materials increased her confidence hugely.
Who has Sandra helped?
There have been several ladies who have been very grateful for Sandra's help. Here are a couple. There are many more.
"I have gained confidence and am not frightened of using my phone for more things e.g. taking pictures, learning about all the settings etc. Having the support of an excellent and patient tutor. Learning from others in the group in a social and convivial way. Can't wait to return in September. Sincerely appreciative." ~ M.J
"Gosh, where do I begin with what I've learnt from Sandra in computer club? How to write and send an e mail. How to retrieve discarded mail [very useful for me!!]. How to shop on line, so useful for someone who is limited in when she can get out like me. How to buy and send greeting cards, look up recipes. How to have virtual tours of museums and art galleries, and most important you have given me confidence [and my husband too] to look up virtually anything. Thank you so much. Starting this club was a brilliant idea!" ~ A.S
"It's very rewarding and has given me so much confidence" 
"The highlight for me as a Digital Champion so far was being invited to Digital Unite's 21st Birthday event that took place at the BT Tower in London last September. I met some amazing and inspirational people. The event was extremely well organised and the speakers were first class. Being invited was not only a great opportunity personally but attending also gave me confidence to continue learning and sharing that knowledge with others." 
Sandra's thought on anyone else thinking of becoming a Digital Champion
"Go for it! You get an awful lot in return. You will gain an extensive amount of knowledge from the resources that Digital Unite provides and the encouragement from everyone at Digital Unite is wonderful. And you will gain confidence!"
Find out more
If you are helping others with digital skills and would like to benefit from access to Digital Unite's Digital Champions Network as an individual member just complete this short application form here.