Because we find the best conversations about digital skills are had in small informal groups we're running two of our popular roundtables in September. Each one is delivered in partnership with a subject matter expert and is aimed at housing providers, local authorities and charities. Choose from being a digital first organisation or building digital skills in the workplace, or both!
Naturally spaces are limited so register today.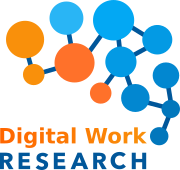 Building digital skills in the workplace
Thursday 12 September, 2pm - 4pm
Somerset House, London
We have teamed up with Elizabeth Marsh from Digital Work Research to talk about building digital skills capability amongst employees through Digital Champion support and the importance of assessing workplace digital skills.
Click here for more information and to register.
-----------------

Being a Digital First organisation
Thursday 24 September, 2pm - 4pm
Somerset House, London
Combining over 40 years' experience in digital inclusion we'll be talking alongside Citizens Online about how to improve digital participation amongst staff and in local communities to realise a digital first future.
Click here for more information and to register